Montana is the 4th largest state in the United States.  But its population is small.  At 1,042,520 people, the state's population is about equal in size to San Jose, California.  With such a low population, there's plenty of room to roam, in the countryside and in the cities.  
Many residents are of northern European ancestry, German, Irish, English, and Norwegian.  Native Americans find home here, as well.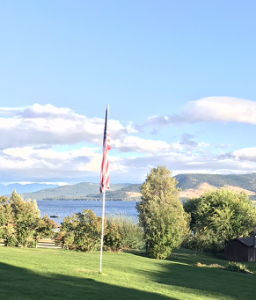 Eastern Montana is an area of vast rolling plains. Grasslands with few trees dominate the landscape. Huge wheat farms and cattle ranches are common.
In central Montana, the plains are dotted with small mountain ranges.Cattle ranching and farming are a way of life. Mule deer and antelope roam the prairies throughout this region.
Western Montana is a region of magnificent mountains. Welcome to the Rocky Mountains. The Absaroka Range near Livingston is covered with snow much of the year and peaks reach over 11,000 feet in elevation.  The wild and pristine landscape is home to mountain lions and grizzly bears.
Rainfall is low in most areas, often less than 13 inches, annually. Temperatures in western mountain valleys are generally moderate the year-round. In eastern areas, on the plains, days can be very hot in the summer and very cold in winter.
A good share of visitors in Montana are attracted by  the wonders and scenery found in Yellowstone National Park and Glacier National Park.  About four million visitors tour Yellowstone each year, and more than three million visitors go to Glacier.  But the state has much more to offer those who take time to explore and experience lesser know attractions.
Savvy visitors seek out and enjoy the state's many interesting historical places and cultural events. They find many wonderful museums in cities, big and small. In the great outdoors, fishing, hiking, camping, and horseback riding are popular activities.  It's an ideal and fun place to vacation.
Old west traditions live on across Montana.  Cowboys drive cattle into the mountains to feed on lush summer grasses. Native Americans celebrate their customs at events in Helena and other cities.  The "Treasure State" is amazingly beautiful and has super friendly people.
Population of Major Cities and Towns
Major cities: •Billings, pop. 110,323 •Missoula, pop. 72,364 •Bozeman, pop. 45,250 •Helena, pop. 31,169 •Great Falls, pop. 59,178 •Butte, pop. 34,553
•Glendive, pop. 5,332 •Kalispell, pop. 22,761 •Miles City, pop. 8,647 •Lewistown, pop. 5,870 •Havre, pop. 9.846 •Dillon, pop. 4,257
Travel Regions
Travel regions shown here are based on geographical, historical, and cultural characteristics common to various areas of the state.
 Yellowstone Country
The southeast and south-central region is Yellowstone Country.   Visitors to this region enjoy vast prairies and, in the western section, towering mountains.  Some cities are Billings, Glendive, Miles City, Forsyth, Red Lodge, and Livingston.  Billings (pop. 110,323) is the chief city along I-90 and the upper Yellowstone Valley.  Billings is a trade, medical, and entertainment center for a vast area including the Bighorn Basin in Wyoming.  Billings is a good base from which to make forays to major attractions in the region. Yellowstone National Park, the Little Big Horn Battlefield National Monument, and Cody, Wyoming are not far from Billings  Yellowstone Country
Wonderland
It's easy to say that the southwest region is Wonderland.  Tourists flock to this region for outdoor activities, cultural events, and more.  Fun is everywhere.  Some cities are Bozeman, Dillon, Hamilton, Butte, and Missoula.  Bozeman and Missoula are the major cities in Wonderland.  Bozeman (pop. 45,250) is located in the Gallatin Valley, surrounded by magnificent mountain ranges.  The Gallatin Range and the Madison Range, south of Bozeman, rise more than 10,000 feet and have peaks covered with snow much of the year.  Missoula (pop. 72,364) is home to the University of Montana and the mighty Grizzlies.  Wonderland
Ranchland
The central region is Ranchland.   Rural landscapes here are exceptionally beautiful.  Some cities are Lewistown, Roundup, Townsend, and Helena.  Helena (pop. 31,169) is a friendly town with lots to offer visitors.   An early day gold mining camp, it's now the state capital and a major tourist center. The main part of town lies at the foot of the mountains and overlooks the beautiful Helena Valley. The entire Helena Valley is rimmed by mountains on all sides. Ranchland
Discoveryland
The northeast and north-central region is Discoveryland.  Early-day explorers in this region followed the mighty Missouri River.   Some cities are Culbertson, Glasgow, Havre, Shelby, and Great Falls.  Great Falls (pop. 59,178) is the largest city. Many people who live in Discoveryland go shopping in Great Falls.   Holiday Village, the main mall in Great Falls, with over 80 stores, is located south of the downtown area on 10th Avenue South. Barnes & Noble bookstore is in the same area of town.  Discoveryland 
The Wilderness
The northwest region is The Wilderness, an area of wild and pristine landscape.  If one imagines what a wilderness is like, this is the place.  Some cities are Whitefish, Columbia Falls, Kalispell, Polson, and Ronan.   Kalispell (pop. 22,761) is the largest city in the Flathead Valley.  Glacier National Park is the huge attraction in this region. In Glacier, visitors see some of the most spectacular landscape in North America.  The Wilderness.
Travel tip: Be prepared for large changes in  temperatures even in the same day. This is true for the summer months too.  Many areas are at a high elevation and the state is far north.  Think chilly or cold.  The best advice is to take along clothing to "layer up" when conditions change.  During the summer a wool sweater and a spring- or fall-like jacket of medium-weight is a good choice.
Travel tip:   How far is Missoula or Helena?  Montana is a very big state and distances between major cities can be as much as 100 miles or more.  Plan ahead with the DOT's distance calculator.
Of interest to Montana visitors:
State Parks | Dude Ranches | Museums | Outfitters | Yellowstone National Park | Glacier National Park | Ski Resorts | Golf Courses
Enjoy The Scioto River Band and
Catherine Leigh perform:
Welcome –  Willkommen – Bienvenu
– いらっしゃい – Bienvenido