Montana is the 4th largest state in the United States.  But its population is small.  At 1,042,520 people, the state's population is about equal in size to San Jose, California.  With such a low population, there's plenty of room to roam, in the countryside and in the cities.  
Many residents are of northern European ancestry, German, Irish, English, and Norwegian.  Native Americans find home here, as well.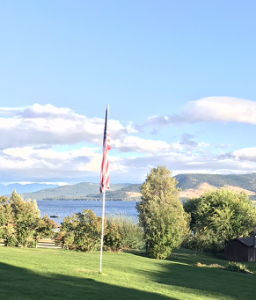 Eastern Montana is an area of vast rolling plains. Grasslands with few trees dominate the landscape. Huge wheat farms and cattle ranches are common.
In central Montana, the plains are dotted with small mountain ranges.Cattle ranching and farming are a way of life. Mule deer and antelope roam the prairies throughout this region.
Western Montana is a region of magnificent mountains. Welcome to the Rocky Mountains. The Absaroka Range near Livingston is covered with snow much of the year and peaks reach over 11,000 feet in elevation.  The wild and pristine landscape is home to mountain lions and grizzly bears.
Rainfall is low in most areas, often less than 13 inches, annually. Temperatures in western mountain valleys are generally moderate the year-round. In eastern areas, on the plains, days can be very hot in the summer and very cold in winter.
A good share of visitors in Montana are attracted by  the wonders and scenery found in Yellowstone National Park and Glacier National Park.  About four million visitors tour Yellowstone each year, and more than three million visitors go to Glacier.  But the state has much more to offer those who take time to explore and experience lesser know attractions.
When visiting Montana, enjoy the state's many interesting historical places and cultural events. You'll find many wonderful museums in cities, big and small. In the great outdoors, fishing, hiking, camping, and horseback riding are popular activities.  It's an ideal and fun place to vacation.
Old west traditions live on across the state.  Cowboys drive cattle into the mountains to feed on lush summer grasses. Native Americans celebrate their customs at events in Helena and other cities.  The "Treasure State" is amazingly beautiful and has super friendly people.
Population of Major Cities and Towns
Major cities: •Billings, pop. 110,323 •Missoula, pop. 72,364 •Bozeman, pop. 45,250 •Helena, pop. 31,169 •Great Falls, pop. 59,178 •Butte, pop. 34,553
•Glendive, pop. 5,332 •Kalispell, pop. 22,761 •Miles City, pop. 8,647 •Lewistown, pop. 5,870 •Havre, pop. 9.846 •Dillon, pop. 4,257
Travel tip: Be prepared for large changes in  temperatures even in the same day. This is true for the summer months too.  Many areas are at a high elevation and the state is far north.  Think chilly or cold.  The best advice is to take along clothing to "layer up" when conditions change.  During the summer a wool sweater and a spring- or fall-like jacket of medium-weight is a good choice.
Travel tip:   How far is Missoula or Helena?  Montana is a very big state and distances between major cities can be as much as 100 miles or more.  Plan ahead with the DOT's distance calculator.
Local Montana Search for Tourists
Services for tourists and other travelers are often described on websites produced and published by Montana businesses.  These websites help you find things to do, attractions, lodging, guest ranches, restaurants, parks, museums, and much more.  Some local websites also offer beautiful art, western wear, and special gifts.
iYaak™ is a search engine for finding local travel-related businesses in Montana.  Using iYaak local businesses are a click away without the clutter displayed in Bing and Google searches. Note, national chain businesses are generally not included in this database, so searching other sources may be helpful too.
Get the best information available for planning a splendid vacation with iYaak search.
Search iYaak:  To find top eateries in Helena, for example, enter:  Helena restaurants; or to find cabins or other special lodging, enter: vacation rentals.


iYaak.com
Of interest to Montana visitors:
State Parks | Dude Ranches | Museums | Outfitters | Yellowstone National Park | Glacier National Park | Ski Resorts | Golf Courses
Enjoy The Scioto River Band and
Catherine Leigh perform:
Welcome –  Willkommen – Bienvenu
– いらっしゃい – Bienvenido