The Wilderness   (northwest Montana) Kalispell – Glacier National Park – Whitefish – Flathead Lake – Polson
Northwest Montana is mostly a vast wilderness region. Mountains and forests dominate the landscape in The Wilderness. Much of the region owes its character to the massive ice sheets which covered the area during the great ice age of several thousand years ago. When the ice retreated, it left behind sculptured mountain peaks and broad valleys.
A special area of The Wilderness is located east of U.S. Highway 83. The area extends over 80 miles south from Glacier National Park and is divided into three parts, the Great Bear Wilderness, the Bob Marshall Wilderness, and the Scapegoat Wilderness. This area is larger than the state of Delaware and very remote.
Grizzly bears live in the rugged mountains of northwest Montana. Many are found in Glacier National Park. E. W. Nelson, in his book on the Wild Animals of North America, wrote that with the arrival of white men grizzlies became very shy and even the slightest unusual noise would cause a grizzly bear to run away. Nelson warned, however, a grizzly bear should still be considered dangerous.
Wildlife biologists at the Montana Fish, Wildlife, and Parks Department estimate that 1,250 grizzlies live in western Montana in 2016.  As recent as 2001, a conservation organization paid Montana ranchers $16,000 for the lose of 25 cows and calves, 11 sheep and lambs, and several fowl caused by a hungry grizzly bear.
Glacier National Park
Glacier National Park is located near Kalispell. The Park is famous for its spectacular scenery. Viewing the high mountains, beautiful alpine meadows, and many gorgeous lakes, fed by melting snows, is an enjoyable experience for everyone.
According to the NPS, more than half of visitors to Glacier Park go hiking.  Many well-developed trails guide your way.  The Park offers over 700 miles of hiking trails.  Hiking is a great way to take in the Park's spectacular scenery.
Glacier National Park is home to a great diversity of plants and wildlife. During the summer, the Park's meadows are filled with wildflowers. The Indian Paintbrush, a flowering plant, is a favorite of young and old alike. Lake McDonald and Saint Mary Lake add to the beauty of the landscape and the mountains. Wolves, bears, moose, deer, mountain goats and elk live in the Park. Buy The Insiders' Guide to Glacier: Including Flathead Valley and learn more about the Park and nearby Flathead Valley.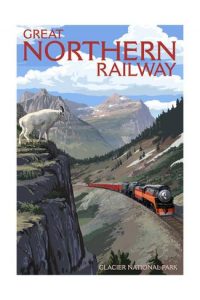 The main route through Glacier National Park is the Going-To-The-Sun-Road. Going-to-the-Sun-Road can be a "white-knuckle drive for visitors," says T. Kenworthy, in a recent story in USA Today. Check out Glacier National Park's Web site for more information. For weather near the park, go to the Weather Channel for the current conditions and forecast for Kalispell, Montana.
Some 10,000 years ago and earlier, ice sheets (glaciers) covered much of North America, including areas of Montana.  Remnants of the glaciers still exist in Glacier National Park.  The most famous is Grinnell Glacier, located in the heart of the park.
For outdoors fun such as hiking, rafting, fishing, and biking in and around Glacier National Park contact Glacier Guides and Montana Raft in West Glacier, Montana.
Kalispell 
Kalispell, Montana (pop. 22,761) is the largest town in the Flathead Valley. The weather in Kalispell is a little on the cool side, because of the city's northerly latitude and an elevation of 2,965 feet. During the summer, average minimum temperatures are in the 45 to 48 degree range. Still, average maximum temperatures, during the same period, are very comfortable, in the 72 to 84 degree range.
Montana Raceway Park is the big attraction during the summer in Kalispell. The track is one quarter mile oval inside and 3/8 miles outside. Racing fans are entertained by racers driving hobby stocks, bombers, cruisers, and Formula 1/Indy cars and more. All very entertaining for the entire family, say the track's owners.
At the Red Lion Hotel (406) 751-5050 guests enjoy dining in a fine restaurant. The Kalispell Grand Hotel (406) 755-8100 offers nice accommodations.
Tourists can choose from many fine Kalispell, Montana restaurants. The Tupelo Grille serves seafood,steaks, pasta, and more, plus offers a great wine list. Vivienne's Fifth Street Cafe is very popular. The cafe serves breakfast and lunch. The sandwiches and daily specials are extra good. Rocco's Restaurant, located east of Kalispell on U.S. Highway 2, is another favorite dining spot.  ScottiBelli's Ristorante Italiano in downtown Kalispell is for diners who like great Italian cuisine.



Top Ethnic Cuisine:
Scottibelli's (Italian)
Casa Mexico
Chinatown Restaurant
Blue Samurai Sushi Bar & Grill (Japanese)
Edelweiss Bistro (German, in Missoula, Montana)
On your arrival in Kalispell, check out the Kalispell Chamber of Commerce Visitor Center at 15 Depot Park for more information about the region around Kalispell.
Whitefish
Whitefish (pop.  7,279) is the Aspen of the North. Located a few miles from the west entrance to Glacier National Park, Whitefish is a year-round playground. The nearby Big Mountain Resort offers some of the finest skiing in North America. In the summer, many visitors flock to Whitefish to play on beautiful Whitefish Lake. Water craft rentals, such as canoes, boats, and pontoons, are available for an outing on the lake.
Others find enjoyment on Whitefish's fabulous 36-hole golf course. All of this in an outdoors of uncommon natural beauty. Shopping and partying are very popular too.
An old man, living in Dixie, recently said "in Whitefish, Montana half the town is bars, the other half western stores." And "the bars have good food and splendid hospitality."
After a fun-filled day in Northwest Montana, travelers find super accommodations at the Firebrand Hotel in Whitefish, Montana (406) 863-4055.  For dining, try The Buffalo Cafe (Est. 1979), with breakfast served until 2:30 pm.
Columbia Falls
Columbia Falls (pop.  5,241) is a gateway city to Glacier National Park, and is located about 17 miles west of the Park's entrance on U.S. Highway 2. The Columbia Falls Chamber of Commerce offers a nice online map of the area. Columbia Falls is a year-round hot spot for outdoor recreation. Meadow Lake Resort offers lodging and a championship 18 hole golf course. Big Sky Waterslide Park and numerous groomed snowmobile trails are fun for all. The Flathead River (with North fork, Middle Fork and South Fork, designated as "Wild & Scenic Rivers") flows near Columbia Falls as it meanders south to Flathead Lake.
For special lodging, try the historic Belton Chalet (888-235-8665) in the nearby town of West Glacier, Montana. The Belton Chalet features a neat taproom, with excellent food.  The Belton Chalet's Grill Dining Room offers many choice entrees. It's worth driving miles to savor Grilled Salmon paired with Flathead cherry BBQ sauce, served by the friendly and professional staff at the Belton Chalet.
Another good choice for lodging is The Great Bear Inn, 5672 Blankenship Road, Flathead National Forest, Columbia Falls (406) 250-4577.
Flathead Lake Area
Flathead Lake, a few miles south of Kalispell on U.S. Highway 93, is one of the major outdoor attractions in this region. Flathead Lake is the largest, natural freshwater lake in the West. The lake is about 30 miles long and 12 to 14 miles wide.
About 25 fish species inhabit Flathead Lake. Fisherman enjoy catching cutthroat trout, lake trout, and lake whitefish. The University of Montana's Flathead Lake Biological Station has all the pertinent facts about the lake. Flathead Lake is also a wonderful area for camping, hiking, boating and wildlife watching. Lucky for tourists, the Montana Department Fish, Wildlife & Parks maintains several units of Flathead Lake State Park near the lake.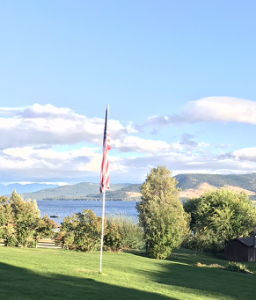 Look for the cherry orchards along the east side of the lake. Growers harvest the cherries from the second week of July through the second week of August. When the cherry harvest is underway, stop at any of the numerous roadside stands along Montana Highway 35 south of Bigfork to buy some of Montana's favorite treat. The Mission Mountain Winery makes extra good wines at its headquarters in Dayton on the west shore of Flathead Lake. The winery is open for tasting from May through October.
Bigfork
Bigfork, pop 4,270, is a growing community.  RVers and campers heading for Glacier National Park or Flathead Lake often stop for a night (or longer) at Outback Montana RV/Tent Campground, located about 4 miles south of Bigfork and southeast of Kalispell. Outback Montana RV/Tent Campground is only 1 mile from Flathead Lake. Nearby is Eagle Bend Golf Course. This is an ideal spot for an outdoor barbecue or just a walk in the wild. Golfing is popular in other areas too.
The Coyote Roadhouse Inn (406-837-1233) offers excellent lodging for travelers in the Bigfork area. The Swan River Inn is a bit pricey, but it is extra nice, features dining, and has a great location in downtown Bigfork near all the action (406)-837-2328. Mountain Lake Lodge, just five miles south of Bigfork is also very nice but again expensive (406)-837-3800.  Cabin lodging is another choice in Bigfork.  Bigfork Stage Cabins, a short distance from downtown, offers three cabins in a rural setting.  (406) 837-1133.
Seeley Lake
Highway 83, southeast of Bigfork, passes through wilderness country.  The highway follows the spectacular Swan and Seeley Valleys and is bordered by the Swan Mountains on the east and the Mission Mountains on the west. Highway 83 is a heavily forested scenic route between Kalispell and Missoula. The towns of Swan Lake, Condon, and Seeley Lake provide all the essential services for the area's many visitors.
Wild rivers, beautiful lakes, and magnificent alpine forests make Montana's wilderness an ideal destination for camping, hiking, wildlife viewing, nature photography, and other outdoor activities.
At Amazon.com, buy a book about Montana's Bob Marshall Country : The Bob Marshall, Scapegoat, Great Bear Wilderness Areas.  Outfitters and guides in Seeley Lake and other towns know the region well and are ready to help visitors enjoy a trip into the wilds. Gary Noland's Seeley Swan Pathfinder describes many recreational opportunities offered by businesses in the Seeley and Swan Valleys.
Polson
Buffalo still roam Montana's prairies at the National Bison Range, a few miles south of Polson (pop. 4,777), near the village of Moiese. Hundreds of buffalo and numerous elk, mule deer, bighorn sheep, and mountain goats live on a 19,000 acre refuge, managed by the U.S. Fish & Wildlife Service. The refuge is a delight for birders, too, with some 205 bird species.
In the small town of Pablo, a few miles south of Polson, on U.S. Highway 93, visitors experience Native American culture at the People's Center. The People's Center, a venture of the Salish, Kootenai, and Pend d'Oreille Indian Nations, has a wonderful collection of artifacts, photographs, stone tools, and dance outfits. The gift shop sells works of local Native American artists. The Tribes also offers lodging, plus a superb restaurant and lounge at KwaTaqNuk Resort (303 U.S. Highway 93 East, Polson). 800-882-6363.
St. Ignatius Mission in St. Ignatius, Montana, on the Flathead Indian Reservation, is a special place in the Flathead Valley.   Built in the early 1890's, the church has fabulous original paintings on the walls and ceiling by Brother Joseph Carignano.  This Catholic Church is located south of Pablo on U.S. 93 or about 42 miles north of Missoula.
Hot Springs
Hot Springs (pop. 557), located about 30 miles southwest of Flathead Lake is famous for its hot mineral springs. The hot mineral water is thought to have therapeutic value for many of life's common ailments. The city boasts a new outdoor hot mineral pool at the Symes Hotel (406) 741-2361. Other fine indoor bathing facilities are offered at the Wild Horse Hot Springs and the Hot Springs Spa.
Many tourists go to northwest Montana to see the grandeur of the mountains and enjoy outdoor activities in a pristine environment. Others want to experience wild nature. The Montana wilderness is truly enjoyable.

Copyright © 2018 John Sandy