You need to log in to create posts and topics.
Glacier National Park - Montana wilderness
46 Posts
10 June 2019
Glacier National Park is located in northwest Montana near Kalispell. The park is famous for spectacular scenery. Viewing high mountains, glaciers, alpine meadows, and pristine lakes, fed by melting snows, is an experience of a lifetime.
After the great Ice Age of recent geologic time ended, the mountains of northwest Montana, once blanketed by thick glacial ice, reemerged.  Only this time, the mountains showed a new presence, so much more beautiful and grander than before.  The glaciers sculpted the mountains in ways unimaginable and in such fashion that man could never dream of.  And the land near mountain peaks was transformed by the development of new landforms.  The result: A unique glacial ecosystem was born.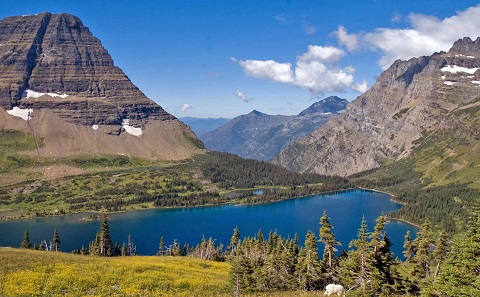 Hidden Lake in Glacier National Park. Photo by Lisa McKeon. Courtesy United States Geological Survey (USGS).
Today, the splendor of Glacier National Park rivals any other landscape in the United States.  Glacier-carved mountains stand tall in the sky.  Crystal clear alpine lakes and grassy meadows add beauty and elegance to the landscape.  The mountains, verdant valleys, and alpine lakes in combination are what makes Glacier an amazing place to see and explore.  It's easy to say that Glacier is America's most splendid park to visit.
The Lewis Range of mountains covers much of Glacier National Park and includes some of the highest peaks in Montana: Mount Cleveland at 10,479 feet; Mount Jackson at 10,057 feet; Mount Siyeh at 10,019 feet; and Mount Stimpson at 10,146 feet. Due to high elevations and a far northly latitude, glaciers in Glacier National Park have remained active long after glacial ice disappeared in other parts of the United States, outside of Alaska.
The glaciers in the park are not as extensive as in recent history and the geologic past; nevertheless, park officials still count 26 active glaciers.  Jackson Glacier and Salamander Glacier are two glaciers easily viewed along Going-to-the-Sun Road.  To view and experience other glaciers takes considerably more effort, hiking often over long distances in mountainous terrain.  Less accessible glaciers are: Sperry Glacier, Piegan Glacier, Grinnell Glacier, Sexton Glacier, Vulture Glacier, and Two Oceans Glacier.
Continental glaciers disappeared over the U.S. more than 10,000 years ago. The current landscape in the park is largely the result of glaciation from ancient geologic time and less the work of the glaciers that exist in the park today. So remarkable that remnants of alpine glaciers even exist in Glacier National Park in Montana in the year soon to be 2020.
During summer months flowering plants are abundant in mountain environments. This is true in Glacier as well.  Visitors see purple asters, beargrass, glacier lilies, and many others.  In addition, Glacier is a land of magnificent forests, with abundant areas of aspen, western hemlock, western larch, and other species covering some 55% of the land.  Among the many shrubs in the park, the huckleberry is a favorite.  Huckleberry plants produce an edible fruit much enjoyed for taste and nutrition by bears and humans alike.
Numerous species of mammalian wildlife thrive in Glacier.  Mountain lions, grizzly bears, bighorn sheep, lynx, elk, and mountain goats make Glacier their home, among many others.  If you love smaller wildlife, sighting beaver or a little pika is very rewarding.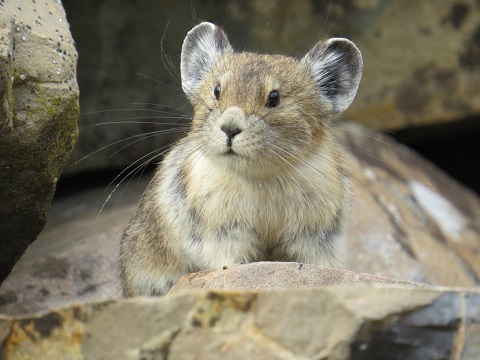 American pika near Hidden Lake in Glacier National Park. Photo by Will Thompson. Courtesy United States Geological Survey (USGS).
Golden and bald eagles soar in the sky over valleys and meadows.  Osprey search for fish in alpine lakes.  Eerie calls of the common loon are frequently heard by visitors.  Lake trout, rainbow trout, brook trout, and other fishes, live in the park's many lakes.  Nature reins in Glacier.
As for activities, Glacier is a hiker's paradise beyond that any person could conquer in a lifetime.  Glacier boasts more than 700 miles of trails.  Some of the trails are arduous to hike, while others accommodate folks less capable. Nature photography, camping, bicycling, fishing, and boating, offer great fun and pleasure for many visitors.
Going-to-the-Sun Road provides access to Glacier National Park.  This mountain highway connects the town of West Glacier, in the west, with the town of St. Mary in the east.  If driving, the distance is about 50 miles, every mile travelled as scenic as the mile past. It's a trip of about two or two and one-half hours assuming ideal travel conditions, says the National Park Service.
More broadly, Glacier National Park is part of a huge wilderness region that covers much of northwest Montana.  As such there are many other options, besides Glacier National Park, to find enjoyment in the outdoors in areas to the west and south of the national park.  Towns of Kalispell, Whitefish, Bigfork, Eureka, and Libby are preferred "basecamps" to journey out into the wilderness.
Glacier National Park is in a very remote part of the United States and is far from major urban centers.  That said, a trip to Glacier is an experience of a lifetime.  Go if you can!
Glacier National Park:  Recreation Visits in 2018:  2,965,309
John Sandy
MonntanaTraveler.com
Click for thumbs down.
0
Click for thumbs up.
0

Red Lodge Forum aims to share useful and interesting  information  related to travel in Montana U.S.A.  Visitors to Montana and residents who travel inside the state are the primary audience for posts on this forum.  Posts are intended to assist users with travel planning and to facilitate and promote participation in travel activities.
Users should verify information in this forum for accuracy, suitability, and completeness, as deemed appropriate.  Use of information in this forum is at your own risk.
All posts in Red Lodge Forum are subject to copyright  as indicated below.
https://www.MontanaTraveler.com
Copyright © 2019 John Sandy