Cody (pop.  9,836, northwest Wyoming) serves thousands of tourists who travel to the Rockies for a Yellowstone National Park vacation.  Cody is a gateway city to Yellowstone. NPS provides a nice map to help you navigate the area in and around Yellowstone.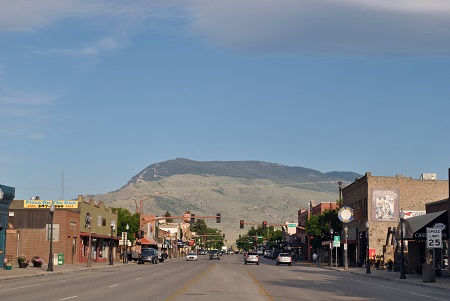 Rodeo is the hottest ticket in Cody, during June, July, and August. The events are scheduled every night in the late evening. Old Trail Town, a collection of old historic buildings and artifacts, is another hot attraction in Cody.  Kids and adults alike will enjoy Old Trail Town.
Cody puts on a free outdoor concert series in the summer in the downtown city park. In 2018, the concerts begin July 5 and ends on August 23. Concerts are held each Thursday, from 6:30 PM to 8:30 PM.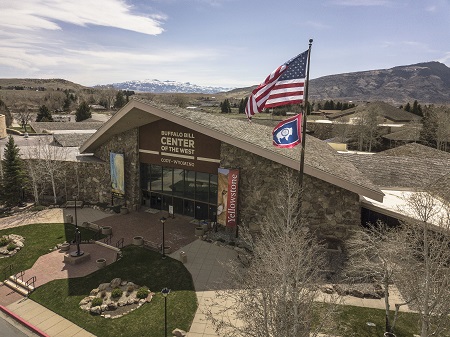 Horseback riding is an adventure for young and old alike. In Cody, at Clear Mountain Trail Rides, horses are groomed and ready for your enjoyment. A one hour ride cost only $35 per person.  An all day ride goes for $150, lunch provided. Horseback rides are available, daily, 8:00 – 5:00, May 15 to September 15. Clear Mountain Trail Rides is located one mile west of the rodeo grounds in Cody.  (307) 527-4966.
To experience horseback riding in a gorgeous, wild  mountain setting on the upper South Fork of the Shoshone River, visit the Double Diamond X Ranch (307) 587-5252 or (307) 899-6010. Call ahead to arrange your ride.
No doubt about it, Cody, Wyoming and the surrounding Bighorn Basin is a mecca for cowboys and cowgirls. The setting is spectacular, the Absaroka Mountains  west of Cody, the Bighorn Mountains toward the east, and the Bridger and Owl Creek Mountains to the south. By the latest count 17 guest ranches are found in this part of Wyoming. All so wonderful!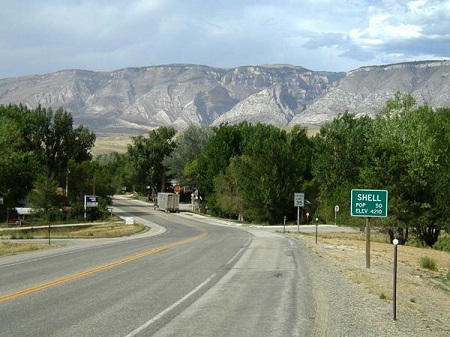 Popular guest ranches with many  folks who are seeking a wonderful western experience are:
The Chamberlin Inn may be the best lodging in Cody (888-587-0202. Almost new the Ivy Inn and Suites (Premier Best Western) is in a super location near the Buffalo Bill Center of the West and also in walking distance to restaurants and shopping on Sheridan Avenue 307-587-2572.  Also new is the Cody Hotel (307) 587-5915.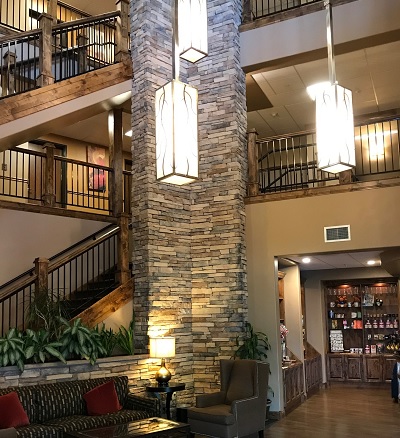 Cody is a prime spot for outdoor activities. Hiking, biking, fishing, golf, river rafting/kayaking, camping, and rock climbing are popular.
If you are looking for a different experience, try  Tipi Village a special type of lodging near Cody, Wyoming.
For dining,  the Irma Hotel is the place to go in Cody. Many tourists stop at the Irma just to view the wonderful bar in the dining room, with its extravagant back mirror. A buffet with a  wide choice of foods is often a first choice for diners at the Irma. Menu prices are very reasonable at the Irma, considering that  Cody is a huge tourist town.
Maxwell's Fine Food & Spirits, near the Buffalo Bill Center of the West, is another popular spot to eat. Pasta and beef on the menu. Cassie's Supper Club has steak, prime rib, and seafood on the menu.
For the best Italian food, dine at il Padrino. For casual family dining, try Granny's Family Dining on Sheridan Avenue. Daily specials for lunch and dinner here, plus breakfast served all day long at Granny's.
Cody merchants offer a great shopping experience. Most businesses are along Sheridan Drive in the downtown area. When in Cody check out:
 

Yellowstone Out West

sells t-shirts, sweatshirts, and more (a huge selection for every preference).
 

Rockstar Cowgirl

aims at guess who.  An elegant pair of cowgirl boots can cost in the thousands of dollars.
 

The Cowboy Palace

has western stuff galore, western wear for the entire family.  Tourists must go here.
 

Custom Cowboy Shop

is a destination for real cowboys and cowgirls.  They sell saddles and halters, scarves and vests, bolo ties and belts, felt and straw hats, assorted gifts and much more.
 

Yellowstone Gift Shop

.  Souvenirs for all saying you've been to Yellowstone and Wyoming.
 

Uniquely Western's

ad boasts, "all that glitters." Gemstones and Black Hill Gold are for sale.
For those interested in WW II history, a major WW II Japanese-American confinement site is located near Heart Mountain a few mile northeast of Cody. Many visitors come here.
Cody, Wyoming is about 120 miles southwest of Billings. If you land in Billings, it's worth the drive over to Cody if only to see the wonderful Buffalo Bill Center of the West.
Enjoy Cody, Wyoming.