Montana is the "Treasure State." Opportunities for fun and excitement are found in every part of the state, from the prairies in the east to the mountains in the west. Travel in Montana is a special experience. Enjoy!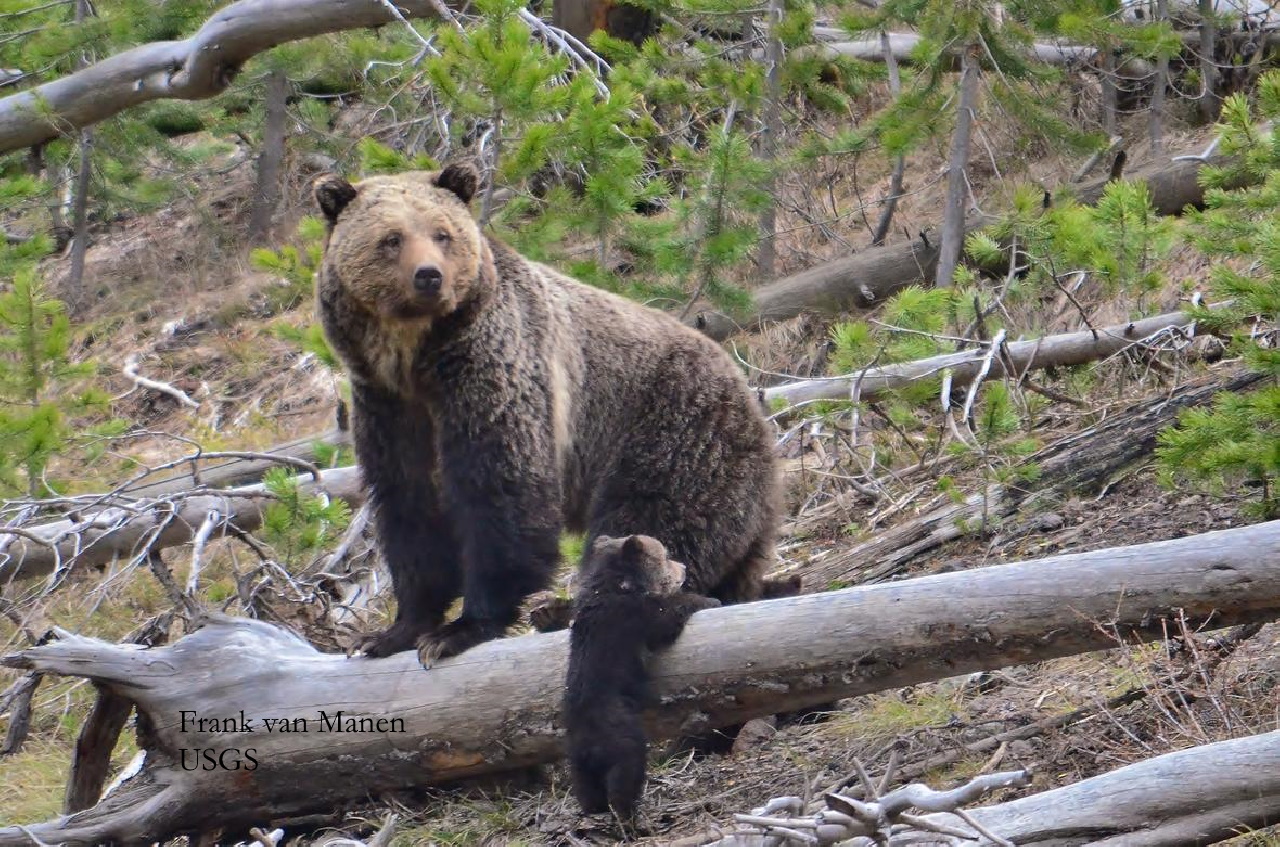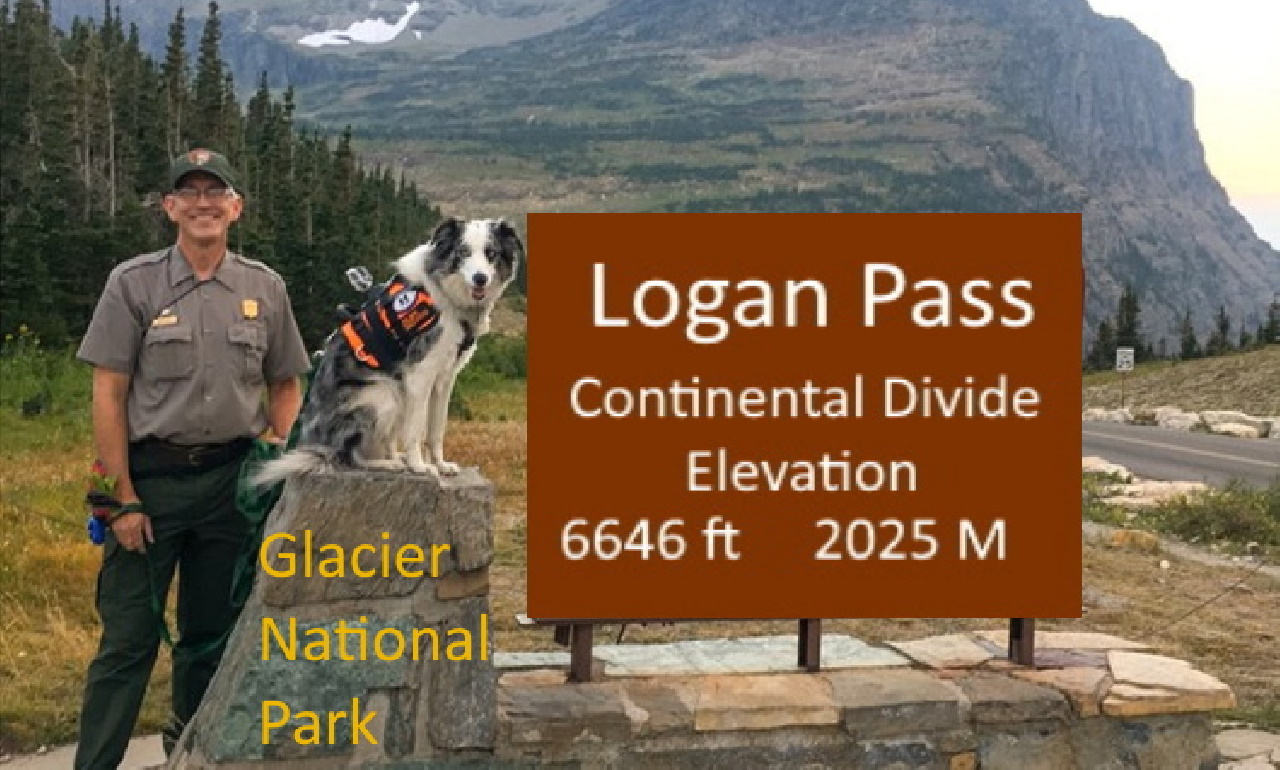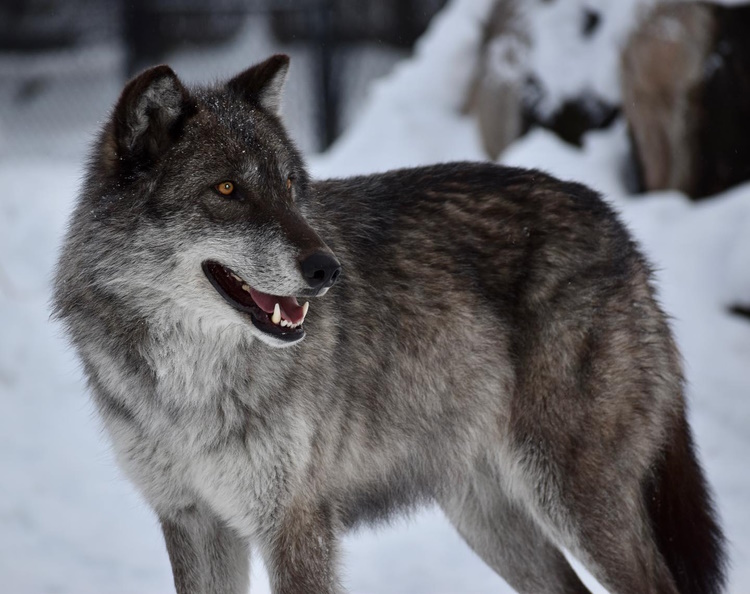 Highlights for your visit to Montana:
Scenic Area:

Gates of the Mountains near Helena

Natural Site:

Lower Falls of the Yellowstone River in Yellowstone National Park

Lakes & Rivers:

Flathead Lake near Kalispell; Fort Peck Lake near Glasgow; Madison River near Ennis; Yellowstone River in southeastern Montana; Lake Koocanusa near Libby

Museums:

Montana Historical Society Museum in Helena;  Headwaters Heritage Museum in town of Three Forks; Buffalo Bill Center of the West in Cody, Wyo.

Architectural Gems:

Cathedral of Saint Helena in Helena; Lake McDonald Lodge in Glacier National Park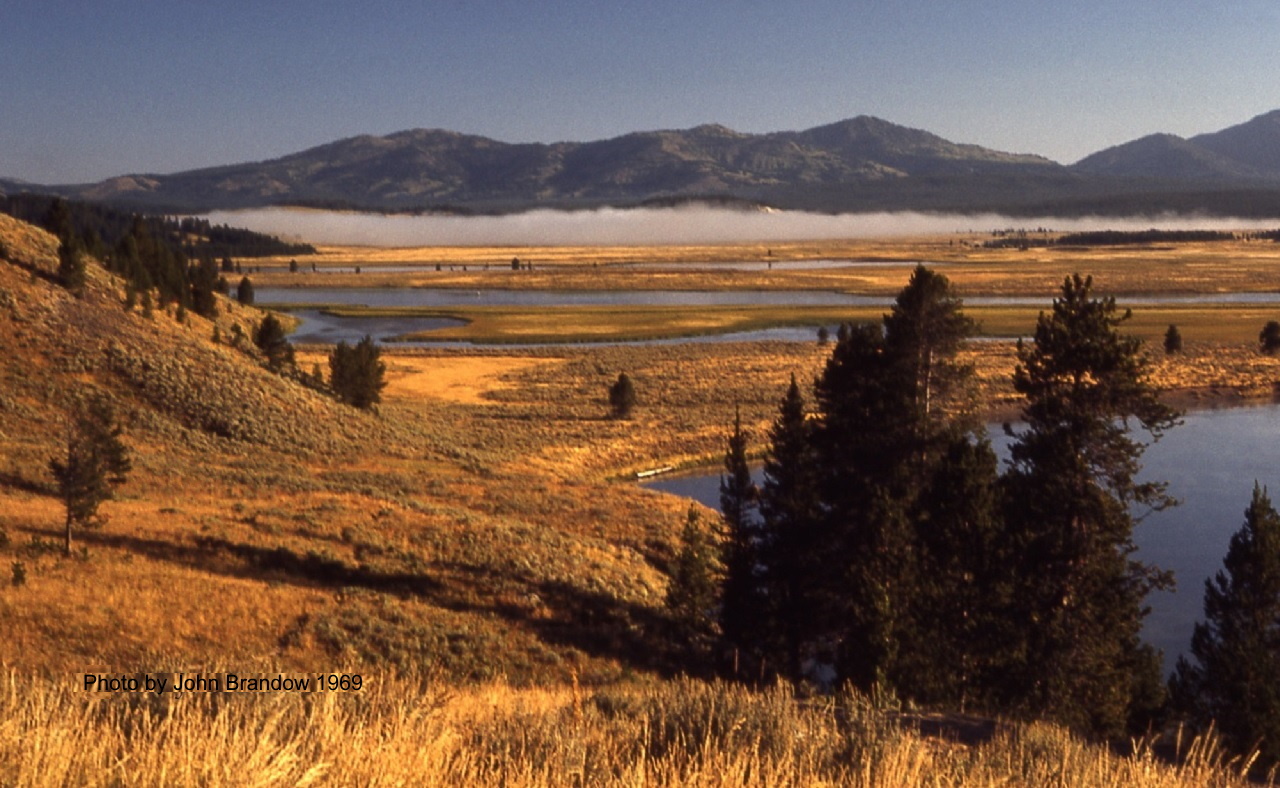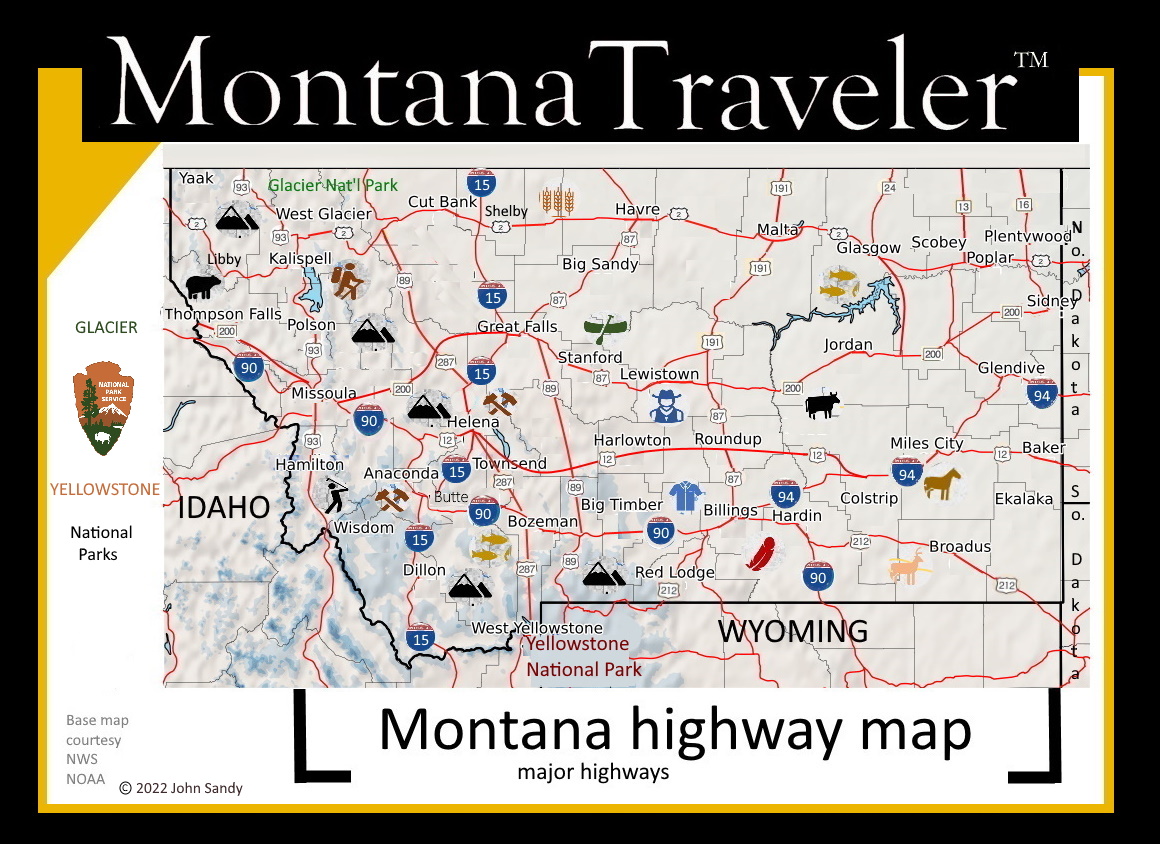 More Highlights for your visit to Montana:
Historical Sites:

Little Bighorn Battlefield National Monument near Hardin; St. Mary's Mission, the first settlement (1841) in Montana, near Stevensville

National Parks:

Yellowstone National Park; Glacier National Park

State Parks:

Lewis and Clark Caverns; Bannack (a ghost town);  Wayfarers/Flathead Lake; Giant Springs

Nightlife:

Missoula

Scenic mountain ranges:

Absaroka Mountains, drive from Belfry, Mont. to Cody, Wyo., along Montana State Highway 72 and continuing south on Wyoming State Highway 120; Bitterroot Mountains, drive south from Missoula to Hamilton, along U.S. Highway 93.

Spectacular mountain highways:

Beartooth Highway near Red Lodge; Going-to-the-Sun Road in Glacier National Park

Wildlife:

Grizzly bears and gray wolves in captivity at West Yellowstone (a small town at west entrance to Yellowstone National Park) and a grizzly bear sanctuary near Bozeman; vast herds of buffalo in the Hayden Valley, Yellowstone National Park; antelope and mule deer on prairies of central and eastern Montana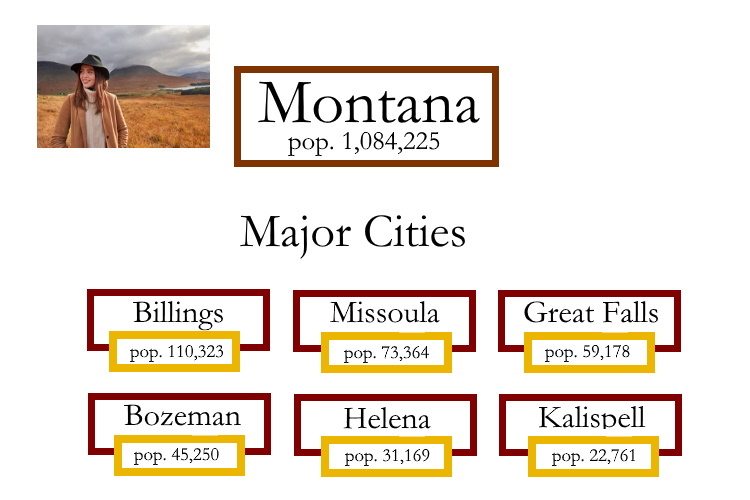 Travel Regions
 Montana has five distinctive travel regions. The flavor varies a lot from region to region.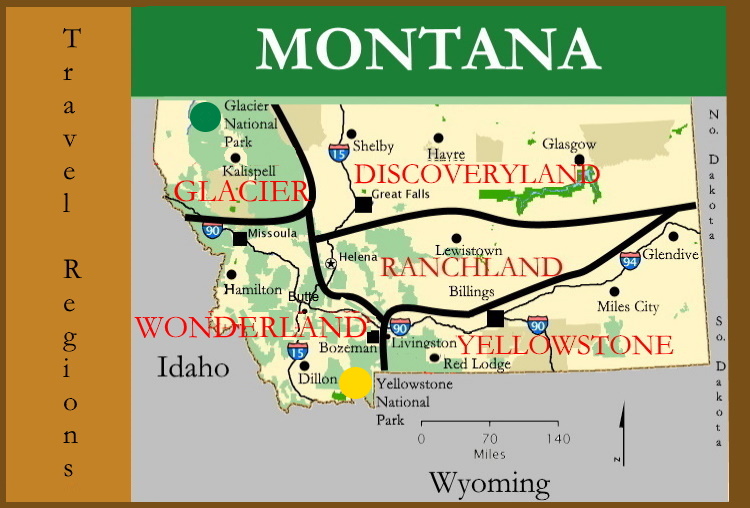 Learn more by reading Montana Traveler Web pages. Find things to see and do that fit your interests and tastes. Then go and have some fun.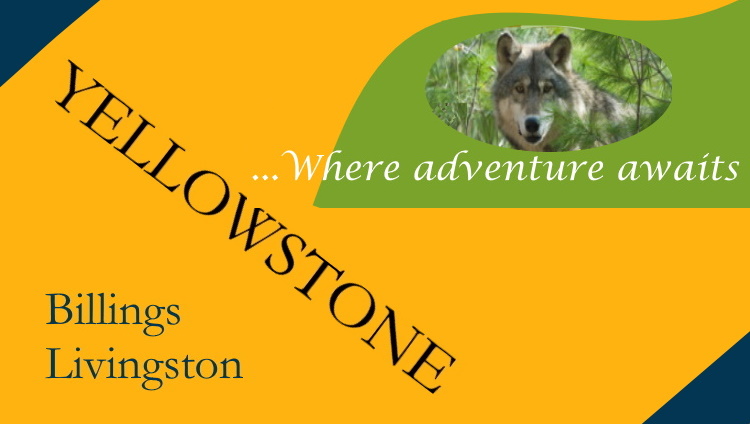 The southeast and south-central region is Yellowstone. Early explorers noticed prominent yellow sandstone bluffs bordering what is now known as the Yellowstone River. Soon, the name Yellowstone became associated with this region. Visitors enjoy vast prairies and, in the western section, towering mountains.
Some cities are Billings, Glendive, Miles City, Red Lodge, and Livingston. Billings (pop. 110,323) is the chief city along I-90 and the upper Yellowstone Valley. Billings is a trade, medical, and entertainment center for a vast area including northwest Wyoming. Billings is a good base from which to make forays to Yellowstone National Park and the Little Big Horn Battlefield National Monument. Cody, Wyoming, a major tourist center, is southwest of Billings.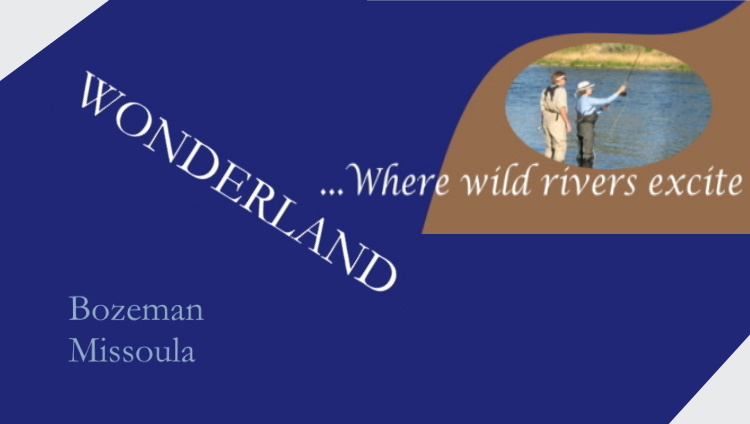 It's easy to say that the southwest region is Wonderland. As the Union Pacific and Northern Pacific Railroads pushed new tracks west in the late 1800s, railway executives wanted Americans to see and develop virgin lands. To create interest and excitement, savvy railroad managers promoted this region and areas beyond as "Wonderland." Today tourists flock to this region for outdoor activities, cultural events, and more. Fun is everywhere.
Some cities are Missoula, Bozeman, Dillon, Hamilton, and Butte. Bozeman and Missoula are the major cities in Wonderland. Bozeman (pop.  45,250) is located in the Gallatin Valley, surrounded by magnificent mountain ranges. The Gallatin Range and the Madison Range, south of Bozeman, rise more than 10,000 feet and have peaks covered with snow much of the year. Missoula (pop. 73,364) is home to the University of Montana and the mighty Grizzlies.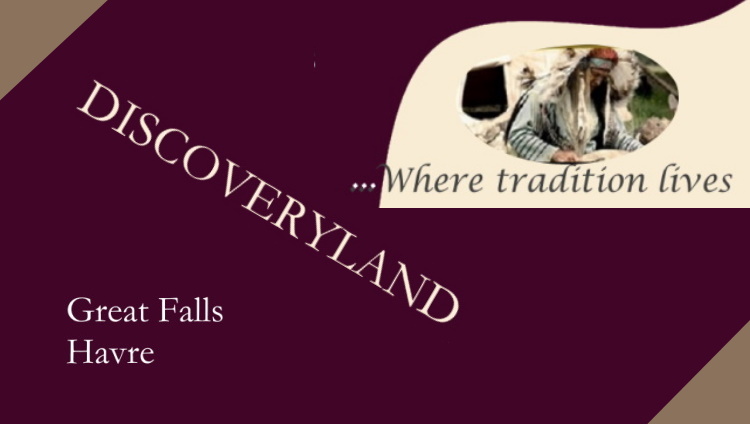 The northeast and north-central region is Discoveryland. This is an area of vast prairies, with a very low population. Lewis & Clark and other early explorers followed the mighty Missouri River across this region on their journey west.
Some cities are Great Falls, Glasgow, Havre, and Shelby. Great Falls (pop. 59,178) is the largest city. Many people who live in Discoveryland shop in Great Falls. Holiday Village, the mall in Great Falls, has over 80 stores. Great Falls has exceptional museums that attract thousands of visitors.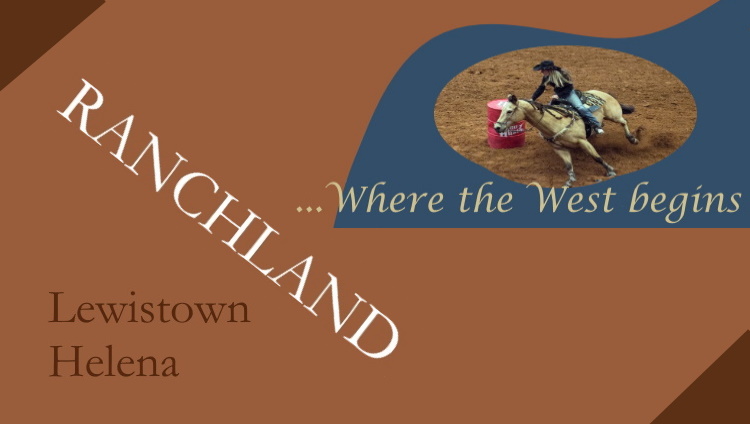 The central region is Ranchland. Rural landscapes here are exceptionally beautiful. Cattle on the range out number people in this region by a gazillion or so it seems. Important cities are Helena, Lewistown, Roundup, and Townsend. Helena (pop. 31,169) is a friendly town with lots to offer visitors. Helena is the state capital and a major tourist center. The main part of town lies at the foot of the mountains in the beautiful Helena Valley. Lewistown, in central Montana, is a quaint small town, supported by ranching. The outdoors near Lewistown is a huge attraction.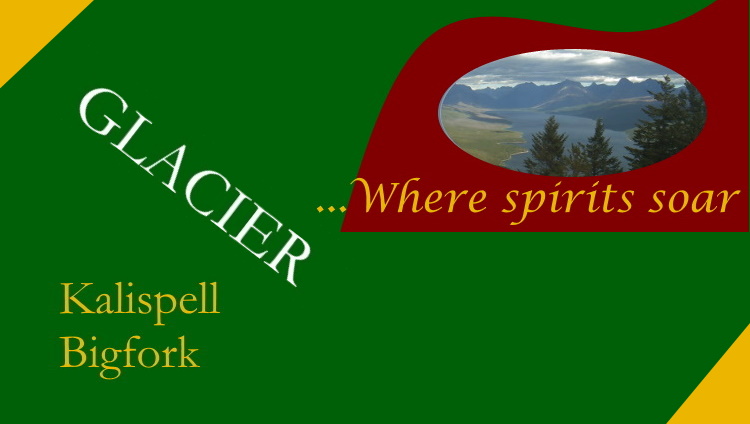 The northwest region is Glacier, a wilderness area of wild and pristine landscapes. If one imagines what a wilderness is like, this is the place. Some cities are Kalispell, Whitefish, Columbia Falls, Bigfork, and Polson. Kalispell (pop. 22,761) is the largest city in the region. Glacier National Park and Flathead Lake are huge attractions in this area. In Glacier, visitors see some of the most spectacular landscape in North America.

Travel tip When traveling, time usually is precious and limited. This is especially important to think about in Montana as "things" including attractions and cities are far apart. As for cities, a visit to one or two of the larger cities may be all that time allows. The choice of which cities to visit may come down to why a person is in the state in the first place. In any case, Missoula and Bozeman are likely tops for many visitors.
More Highlights for your visit to Montana:
Restaurants:

Bistecca at the Granary in Billings; Blackbird Kitchen in Bozeman; On Broadway in Helena; The Pearl Café in Missoula; Dante's Creative Cuisine in Great Falls; Uptown Café in Butte; Jagz Restaurant in Kalispell

Western Stores:

Hoglund's Work and Western Wear in Great Falls; Western Outdoor in Kalispell

Sports Stores:

Scheels sports store in Billings; Dan Bailey's Fly Shop in Livingston; Schnee's on Main Street in Bozeman

Scenic Drives:

I-15, Helena to Great Falls; Montana Route 540 (near Livingston); Montana State Highway 78, Columbus to Red Lodge

Small Towns:

Bigfork; Red Lodge; Livingston; Lewistown
Lodging:

Grand Union Hotel in Fort Benton; Sage Lodge near Livingston; DoubleTree by Hilton Helena Downtown in Helena; Sacajawea Hotel in small town of Three Forks; Hotel Arvon in Great Falls; Murray Hotel in Livingston; Lake McDonald Lodge in Glacier National Park; Sunrise Inn Bed and Breakfast in Red Lodge

Ski Areas:

Red Lodge Mountain; Whitefish Mountain Resort

Events:

Montana State Fair in Great Falls; Home of Champions Rodeo in Red Lodge; Bigfork Fourth of July Parade

Outdoor Recreation:

Fly-fishing Madison River near Ennis; hiking in Glacier National Park; a stroll in Swords Park on the Rimrocks in Billings; a guided boat tour on Flathead Lake near Kalispell
Bonus attractions:

IMAX theatre in small village of West Yellowstone; Mineral Museum on campus of Montana Tech in Butte

Travel tip Be prepared for large temperature changes even in the same day. This is true for the summer months too. Many areas are at a high elevation and the state is far north. Think chilly or cold. The best advice is to take along clothing to "layer up" when conditions change. During the summer a wool sweater and a spring- or fall-like jacket of medium-weight is a good choice.
Travel tip
 A detailed highway map is helpful for planning alternate routes which may turn out to be more scenic and less traveled than roads drivers usually take. Plan your trip using the official
Montana state highway map
. The map can be ordered online
here
or by phone.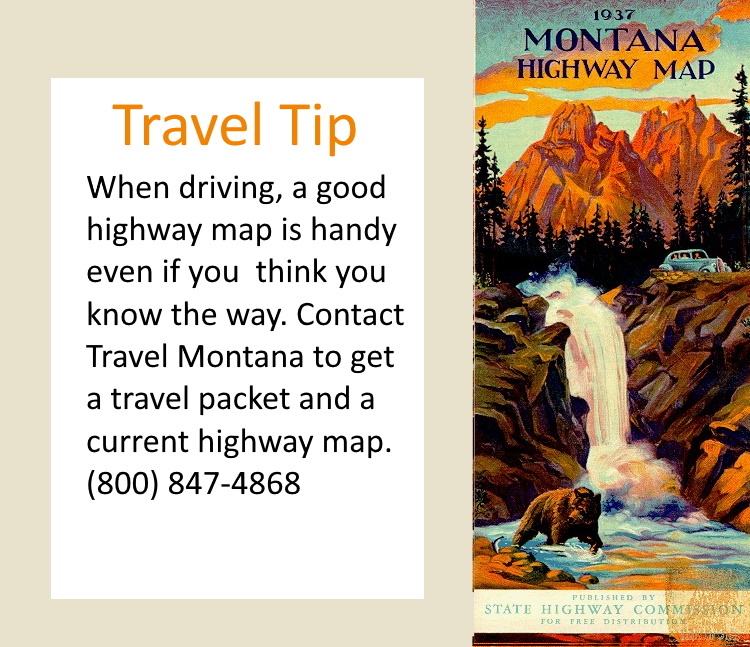 Travel tip Google Maps is an essential tool for travelers. Google Maps offers a quick and convenient way to find and locate all kinds of services.
Rainbow trout galore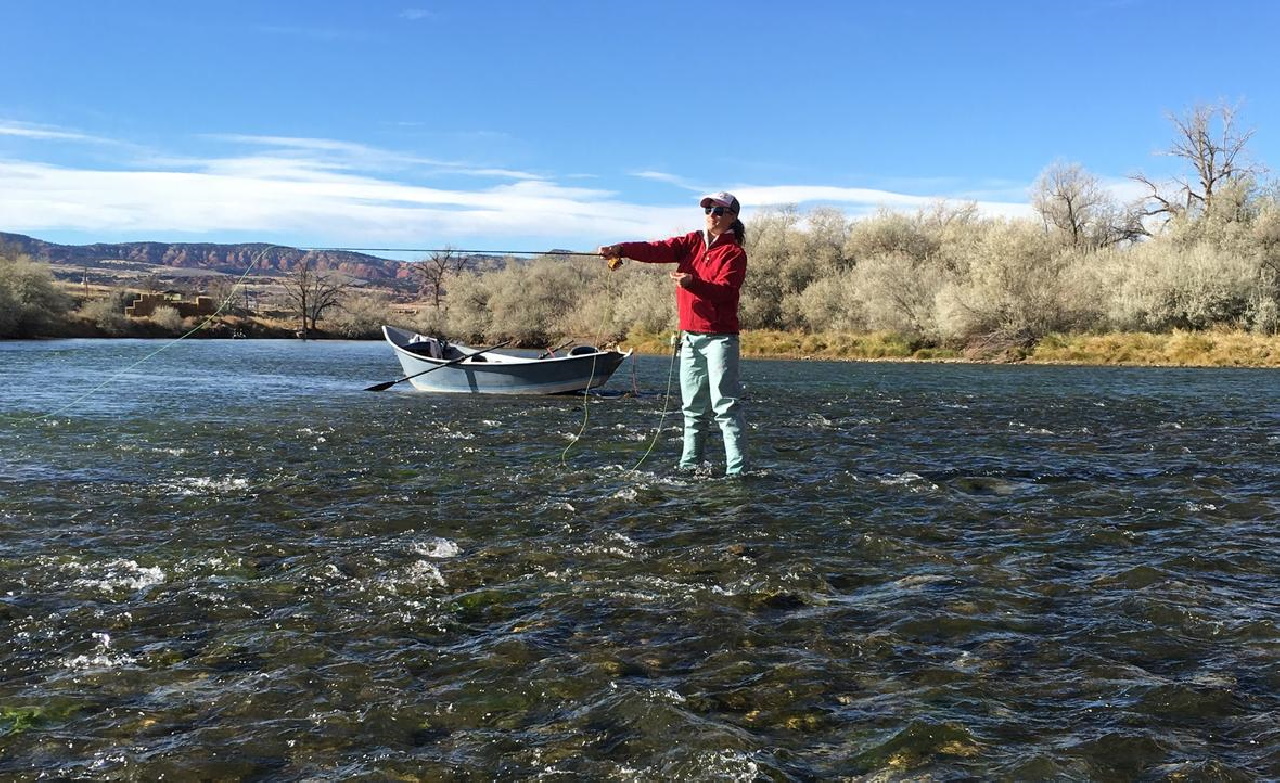 History remembered:
St. Mary's Mission, the oldest settlement in Montana, is on the National Register of Historic Places. In St. Mary's Chapel, visitors can view an altar, railing, and other hand-made woodwork made by Fr. Anthony Ravalli, S. J. (1812-1884), back in 1845. St. Mary's Mission is in the small town of Stevensville a few miles south of Missoula in the Bitterroot Valley.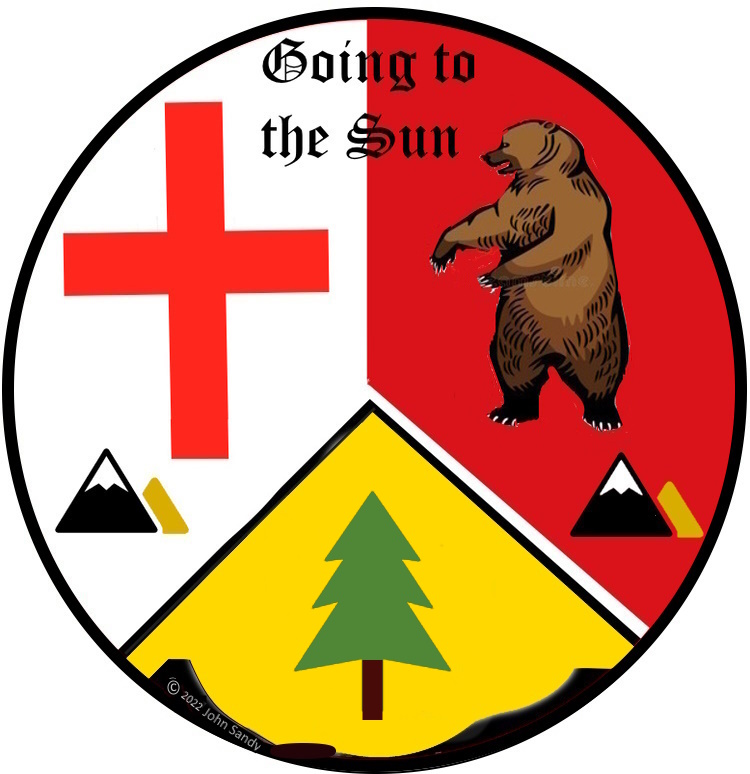 Will Grizzly 399, the world famous mama of the Tetons emerge with her eighth litter this spring at 27 years old? https://t.co/nQN00S7Kz8

— Grizzly Bear Foundation (@grizzlybearfdn) March 29, 2023
Welcome : Willkommen : Bienvenu :
Bienvenido : いらっしゃいませ

Montana Traveler
Absaroka Mountain, Mont.
© 2022 John Sandy