Glacier National Park
If you want to experience travel in Glacier National Park as it was more than 100 years ago, book a reservation at Many Glacier Hotel.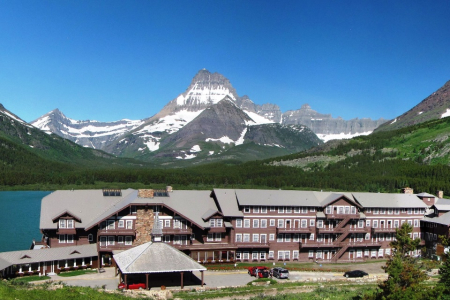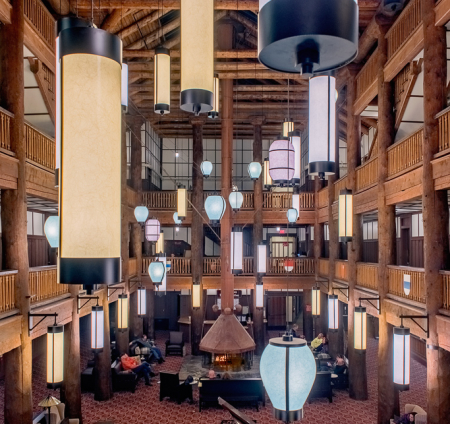 Many Glacier Hotel was built by the Great Northern Railway in 1914-15. Today the hotel still stands and retains its historic charm and grandeur. A true architectural gem. The hotel is a National Historic Landmark.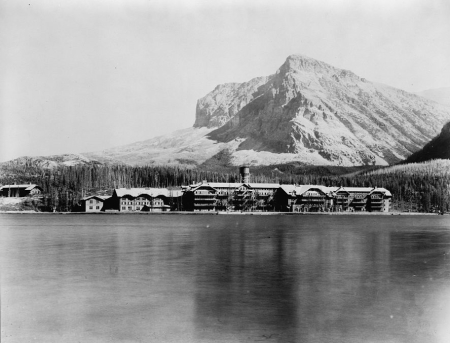 Many Glacier Hotel is located deep in the wilderness on the east shore of beautiful Swiftcurrent Lake. Guests at the hotel are surrounded by nature. Prominent glacier-carved mountain peaks include Grinnell Point, Altyn, Allen, Wynn, Henkel, and Wilber. A mature forest consisting of lodgepole pine, Douglas fir, and quaking aspen adds amazing beauty to the landscape. It's hard to imagine a more scenic and spectacular setting in America.
The hotel has 205 guest rooms, plus two suites and seven family rooms. The atmosphere is rustic, but basic amenities of modern travel are here to satisfy needs of guests. True to the hotel's historic character, no TVs or noise from modern air conditioning ruin your experience. Old-world charm here at its best.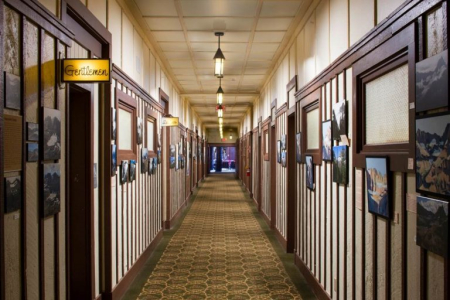 In addition to the rooms, the hotel features Swiss lounge; Heidi's Snack Shop; a gift shop; and the Ptarmigan Dining Room. The dining room has breakfast, lunch and dinner menus.
At breakfast, the Ptarmigan Dining Room serves buffet-style or guests can order entrees such as Ptarmigan Parfait, Greek Yogurt, Muesli, Fresh Berries, and Cacao nibs, for $8.95. A more traditional breakfast, 49er flapjacks with powdered sugar, Huckleberry Jam, and Syrup, goes for $7.95.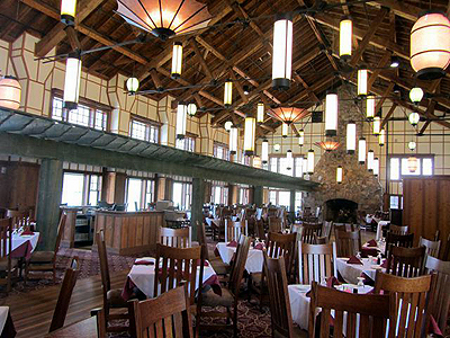 For dinner, a favorite is Sautéed Rainbow Trout, Lemon, Capers, Brown Butter, Parsley, Brown & Wild Rice Blend, for $29.90. Braised Bison Short Ribs Dark Beer, Roast Garlic Mashed Potatoes, $32.50.
All yummy and supreme for sure and served in the most splendid ambiance that hospitality can offer. Dining in the Ptarmigan Dining Room is first-come-first-served.
Many Glacier Road (Route 3) is the only road to Many Glacier Hotel. This road starts from near the small village of Babb, Montana on the east side of Glacier National Park. Drive west on Many Glacier Road (Route 3) to reach the hotel. The distance is about 12 miles from the junction of U.S. Highway 89 and Many Glacier Road (Route 3).
Many Glacier Hotel is some distance away from Going-to-the-Sun Road and busier parts of Glacier National Park. Still, many people visit this area for its outdoor recreational opportunities, especially hiking and nature viewing. A few people stay at Swiftcurrent Motor Inn & Cabins and Many Glacier Campground, not far from Many Glacier Hotel. This area is often called Many Glacier Valley.
If they choose, guests at Many Glacier Hotel can go hiking on Swift Current Nature Trail which borders Swiftcurrent Lake. This trail is a 2.3 mile loop, partly wheelchair accessible, with a trailhead near Many Glacier Hotel.
Travel tip: The area around the hotel has abundant wildlife such as mountain goats, black bears, grizzly bears, osprey, and songbirds. In the outdoors, guests should take precautions when near wildlife and follow the regulations/rules set by Park officials. Wildlife is wild and unpredictable and can be dangerous.

Absaroka Mountain, Mont.
© 2021 John Sandy