Glacier National Park
Trail of the Cedars is a nature trail. It is a short loop trail accessed from Going-to-the-Sun Road near Avalanche Creek Campground northeast of Lake McDonald. The trail is about one-half mile long and passes through old-growth forest of western red cedar and western hemlock. Abundant ferns are mosses add to the natural beauty of this area.
The western red cedar is nature's gift to man. Western red cedars live for a long time, 500 years or more, and reach great heights, up to as much as 150 feet above the forest floor. Western red cedars have a broad base, up to ten feet in diameter. Mature trees are giants.
Western red cedars have grey to reddish-brown bark. Branches sprout soft, green leaves, not needles as is characteristic of conifers. A peculiar feature of western red cedar is an unusual scent, some say like spicy pineapple, emitted from leaves when crushed. At the Trail of the Cedars, these trees add special diversity to Glacier's wild landscape.
About mid-way on the Trail of the Cedars a footbridge passes over Avalanche Creek. This point on the trail is very scenic. Avalanche Creek is a vigorous mountain stream cascading down from high mountain peaks in a narrow gorge. A waterfall is visible from the footbridge.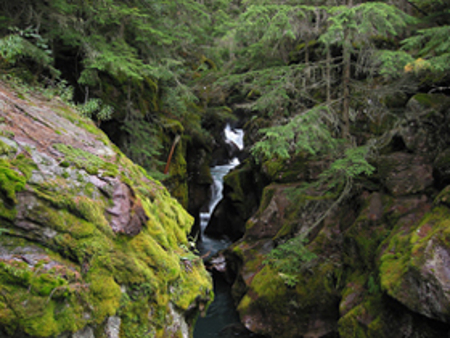 In this same area, a short two-mile trail branches off from the Trail of the Cedars and goes to Avalanche Lake. As the trail to Avalanche Lake rises in elevation, the forest cover changes dramatically, becoming a mix of spruce and fir trees. Deer and other wildlife are often seen along the trail.
The Trail of the Cedars is part boardwalk and part paved. It is wheelchair accessible, so everyone can enjoy. Trail of the Cedars is a nature lovers paradise. Due to popularity of the trail, parking is limited. Go early in the day to snag a parking spot. Besides, nature is always at its best during early morning hours. Be rewarded. Don't miss this special place in Glacier National Park.
As an aside, more western red cedar forests are found in other areas of northwest Montana. Red cedars are abundant in the Purcell and Cabinet Mountains near Libby. Ross Creek Scenic Area, southwest of Libby, is another great place to view these magnificent trees.

Absaroka Mountain, Mont.
© 2021 John Sandy