Americans dream of visiting Yellowstone National Park at least once in a lifetime for good reason. The landscape is wild and beautiful as it's been for thousands of years.
To begin planning a trip to Yellowstone, read FAQ  from the National Park Service. NPS also provides a detailed map  of Yellowstone National Park.

Yellowstone is heavily forested. The most common trees in the park are lodge pole pine, fir, spruce, and aspen. A few years ago, major forest fires burned thousands of acres of forest in Yellowstone. Today, recovery is well underway with millions of young trees covering the mountains and valleys.
Tourists come to see the animals. Elk, buffalo, bighorn sheep, gray wolves, and grizzly bears call Yellowstone Park home. Coyotes, mountain lions and many species of birds, such as osprey and bald eagles, are common, too.
Wildlife is  very abundant in Hayden Valley between Canyon Junction and Fishing Bridge. In the summer, a huge herd of buffalo with young calves is often seen grazing along the Yellowstone River.  Out of all the great stuff in Yellowstone, Hayden Valley is a must see.
Gray wolves are secretive and hard to find. Some prowl in the Hayden and Lamar Valleys. The chance of seeing a pack of wolves is best during early morning hours.
Travel tip: Officials at Yellowstone advise visitors that wild animals, such as bears, wolves, elk, and buffalo, can be "unpredictable" and dangerous. As such the safest way to view wildlife is from inside a car.
Yellowstone Park is famous for its numerous geysers, hot springs, and fumaroles. Old Faithful is Yellowstone's best know geyser. Seeing Old Faithful erupt and shoot million of gallons of steaming hot water hundreds of feet high is an experience long remembered.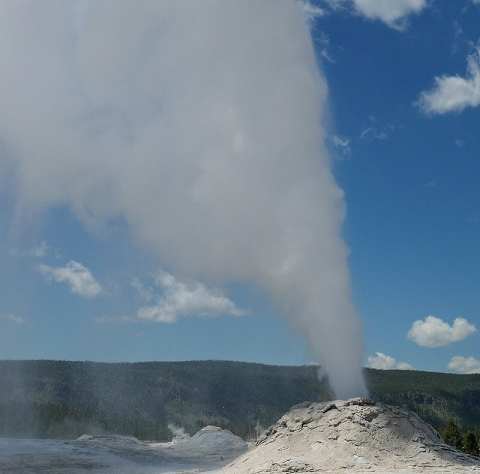 Yellowstone Lake, in the southeastern part of the park, is popular.   The lake is about 20 miles long and 14 miles wide. Fishermen seek to catch a few cutthroat trout that inhabit the lake. And  a boat launch is nearby. Numerous services, such as lodging (Yellowstone Lake Hotel and Yellowstone Lake Lodge), food service, store, and a gas station are available along the shores of Yellowstone Lake. As for activities, some visitors enjoy a one-hour cruise on the lake aboard the Lake Queen.
The Grand Canyon of the Yellowstone River is another spectacular attraction in Yellowstone. The river flows through a deep gorge, cut into layers of yellow-colored rocks. Near Canyon Village, the river cascades over the Lower Falls of the Yellowstone. The Lower Falls is a special place to stop on every Yellowstone vacation. Osprey nest in the conifers high above the river's gorge. Travel tip: Shoot lots of film here.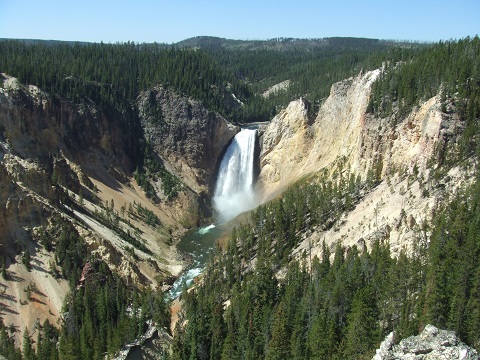 Travel tip: Yellowstone National Park is a big place, about 62 miles (100 km) across from north to south and 54 miles (87 km) from east to west, so plan your time carefully, when driving to and inside the Park.
Horseback riding may be the best way to experience the wilds and scenery of Yellowstone. Starting from Gardiner, Montana at the park's north entrance, Yellowstone Roughriders, a company operating in Gardiner, will take you for half- or full-day rides in the park. Overnight pack trips and drop camps are another option if back to nature is of your liking. Half-day rides are only $120 per person. Motorized travel is the most common way to see Yellowstone, but, better yet, Yellowstone Roughriders offers the ultimate Yellowstone experience. (406) 559-0969.
Horseback riding in Yellowstone goes back as early as the late 1800s. An most interesting account of such is chronicled in a book Through the Yellowstone Park on Horseback, written by George Wingate in 1886. Aside from the horseback riding adventure, this book is a nice historical account of Yellowstone travel in the early days of the park.




Distance of gateway cities to Yellowstone Park entrances
West Yellowstone, MT to Yellowstone – 20 feet (6 m).  Yellowstone Park entrance and the city limits of West Yellowstone are separated only by Boundary Avenue.
Red Lodge. MT to Yellowstone – 68 miles (109 km). This route goes up the spectacular Beartooth Highway, a road built into the mountains. Read Beartooth Highway below.
Gardiner, MT to Yellowstone – 1 mile (1.6 km). Experience Mammoth Hot Springs near the entrance to the Park. Read Yellowstone Parkway below.
Cody, WY to Yellowstone – 52 miles (84 km). This too is a scenic route, the road follows a path up into the mountains.
Jackson, WY to Yellowstone – 57 miles (92 km). Jackson is a destination for celebrities and, as such, has much to offer visitors.
Yellowstone Parkway:
When choosing an entrance to Yellowstone, some visitors start from Livingston, Montana and follow U.S. Highway 89 south to the town of Gardiner.  Gardiner is at the north entrance to Yellowstone.
This route passes through an area know as Paradise Valley. The Yellowstone River, wild and free, flows down the valley from its headwaters at the southern margin of Yellowstone. The spectacular Absaroka and Gallatin Mountains tower above Paradise Valley. The distance from Livingston to Gardiner is 53 miles (85 km). The park's northern entrance is very near Gardiner, a wonderful small town with much to offer tourists before they launch on a journey into the park.
Livingston (pop. 7,401) is an old railroad town that hasn't changed much in the past 100 years. Still attractions abound. The Yellowstone Gateway Museum is a popular stop to learn Montana history. Excellent art galleries are found downtown. Don't miss Don Bailey's Fly Shop for everything fly fishing. The stock of fly patterns and fly fishing gear is absolutely amazing.
Livingston is vacation headquarters. Outfitters offer horseback riding, float trips, wildlife viewing, fishing and other outdoor activities. Dude ranches are a big attraction in this part of Montana. An extra nice guest ranch is the Mountain Sky Guest Ranch near Emigrant. The Livingston Area Chamber of Commerce puts together a nice package of materials with highlights on things to do and see in Livingston and surrounding area.
For premium lodging, stay at the all new Sage Lodge about 25 miles south of Livingston on U.S. 89. Dining on site. (855) 400-0505.The Murray Hotel in Livingston is another good choice. (406) 222-1350.The 2nd Street Bistro in the Murray Hotel downtown offers the best dinning experience in Livingston. For a tasty treat, breakfast and lunch, try Pinky's Café.
In the Paradise Valley, two highways run south from Livingston towards Yellowstone National Park. U.S. Highway 89, located generally on the west side of the Yellowstone River, is the main highway and it carries most of the heavier traffic. Starting a few miles south of Livingston, East River Road, Montana Route 540, branches off to the east of U.S. Highway 89 and continues south on the east side of the Yellowstone River for about 31 miles until it reconnects with U.S. Highway 89.
Montana Route 540 is a very scenic drive, as the road runs close to the flank of the towering Absaroka Mountains. The highway offers wonderful views of Paradise Valley, the Yellowstone River, and the Gallatin Mountains, which flank the west side of Paradise Valley. Traffic on Montana Route 540 is usually light and moves more slowly, giving travelers a chance to view the full beauty and grandeur of Paradise Valley. If travel time is not an issue, taking this scenic road is very rewarding, an experience that creates life-time memories of Montana.
Chico Hot Springs Resort is just off U.S. Highway 89 near Emigrant, and about mid-way between Livingston and Gardiner. Founded in 1900, Chico offers a variety of lodging, two open-air mineral hot springs pools, several dining options, and a Tasting Room. A day spa and other activities make Chico a fun and exciting destination. (406) 333-4933.
Gardiner (pop. 875) is on U.S Highway 89, almost on the border of Yellowstone's north entrance. Upon entering the park, visitors are greeted by the famous Roosevelt Arch.  Wording on the arch proclaims, "For the Benefit and Enjoyment of the People."  The famous Mammoth Hot Springs in Yellowstone is a skip down the road from the Roosevelt Arch.
Some visitors stay overnight in Gardiner and then get an early morning start into Yellowstone. Gardiner does not have an abundance of lodging, so you may want to book early.
Favorite Gardiner Lodging:
Park Hotel Yellowstone (406) 223-7007;
Yellowstone Gateway Inn (406) 848-7100;
Yellowstone Village Inn (406) 848-7418
Favorite Gardiner Restaurants:
Antler Pub & Grill;
Yellowstone Grill
Lighthhouse Restaurant
Travel tip:  Readers of this site should note that the name "Yellowstone Parkway" is not an official designation for this part of U.S. Highway 89, only a name used by this Web site to highlight this popular route to Yellowstone.
Beartooth Highway
The Beartooth Highway is another great route to start your journey into Yellowstone National Park. Near the small town of Red Lodge (pop. 2,237), U.S. Highway 212 goes south up into the Beartooth Mountains. Leaving Red Lodge, the highway follows a narrow valley with Rock Creek beside the highway and flowing north down from high mountains.  After many miles of weaving back and forth, often through switchbacks, the Beartooth Highway reaches a high mountain plateau (at about 10,947 feet elevation), not far from the northeast entrance to Yellowstone. The distance from Red Lodge to Yellowstone is about 68 miles.
As you near Yellowstone on U.S. Highway 212, you'll pass through the small village of Cooke City. Some services are available in Cooke city, including lodging.




Charles Kuralt of CBS Sunday Morning "On the Road" fame for many years called the Beartooth Highway "the most beautiful roadway in America." It should be remembered that Mr. Kuralt had a long-time mistress living at a cabin in western Montana, all the while his wife lived back in New York City. But this is not, in any way, a reason to doubt Mr. Kuralt's praise  of the Beartooth Highway.
Red Lodge is one of Montana's treasured towns. Red Lodge is located at the foot of the Beartooth Mountains and is, aside from being a gateway town to Yellowstone, a premier mountain community. Red Lodge serves as a business hub for a large ranching area along the north flank of the Beartooth Mountains.  Recreational opportunities are amazing near Red Lodge. Hiking and fishing are popular. During the winter Red Lodge Mountain ski resort draws huge crowds.
The town of Red Lodge is buzzing year-round. Many shops cater to tourists who pass through town. Stores offer the usual, such as t-shirts, mugs, etc. for you to buy and show friends back home, hey, I was there, Yellowstone and I navigated a journey up and into the Beartooth Mountains.
Many top restaurants are ready to serve delicious cuisine of all kinds in Red Lodge. Locals and visitors enjoy tasty cuisine at the Carbon Fork restaurant in downtown Red Lodge. Try their Huckleberry ice cream for dessert, so good. There's a lot to love at the Carbon Fork.  Foster & Logan's Pub & Grill on main street is another spot to have a good meal.
A special at Foster and Logan's is a Folo's Dog, a 1/4 pound all beef hot dog with extras for only $7.95.  Bogart's serves a variety of Mexican food. The Rock Creek Resort (1-800-667-1119) is located a few miles south of Red Lodge on U.S. Highway 212. The nearby Old Piney Dell Restaurant and Bar is a favorite dining spot for locals. The restaurant has a very nice setting, along the banks of Rock Creek.
Favorite Red Lodge lodging:
⦁ Pollard Hotel (406) 446-0001
⦁ Blue Sky Cabins (406) 446-0186
⦁ Quality Inn (406) 446-4469  
The kids will go for the Montana Candy Emporium on Main Street in downtown Red Lodge. Old time candies and huckleberry delights sold here. Chocolates and hard candies too. So good!
So much to fun to be had in and around Red Lodge. Tacking an extra day on your visit to Yellowstone sounds like a good idea if spent in Red Lodge.
Travel tip:   West Yellowstone (pop. 1,365) is a third Yellowstone gateway town. It is found at the west entrance to Yellowstone, south of Bozeman.  Two other park entrances are in Wyoming, Jackson on the south and Cody on the east.
Travel tip:  Consult the Yellowstone's Web site for dates when entrances open and close. The  Web site shows operating hours and seasons.
The National Park Service (NPS) wants visitors to have a good experience when visiting Yellowstone. To this end, NPS  offers a special App to help visitors plan travel in Yellowstone. As for activities in Yellowstone, managers say the the park has "something for everyone."
Top lodging inside Yellowstone Park:  Old Faithful Inn, Lake Yellowstone Hotel, and Grant Village. Other lodging exists inside the park too. Lodging reservations inside Yellowstone are handled by Yellowstone National Park Lodges (866) 439-7375.
The entrance fee for Yellowstone is $35.00  per private non-commercial vehicle, 7-day pass, for the 2019 season. Still a bargain.
Plan ahead:  order a copy of Yellowstone Official Guide before you go.  Can't get to Yellowstone. You can still get a gift(s) from Yellowstone General Store.  Tees, mugs, huckleberry jam, and more.
Some tourists may be undecided on whether to visit Yellowstone National Park or Glacier National Park. The two parks are very different, so if you have to choose one over the other consider: Yellowstone is known for spectacular natural wonders and abundant wildlife, while Glacier is about unrivaled scenic landscapes, with towering mountains, glaciers and pristine alpine lakes.  Both parks offer fun and memorable activities.
Yellowstone National Park is America's first national park, founded on March 1, 1872. Located mostly in northwest Wyoming, small parts of Yellowstone spill over into Montana on the north and Idaho on the west.

https://www.MontanaTraveler.com
Copyright © 2020 John Sandy