Central Montana
Montana State Capitol
Cathedral of Saint Helena
Last Chance Gulch
Montana Historical Society Museum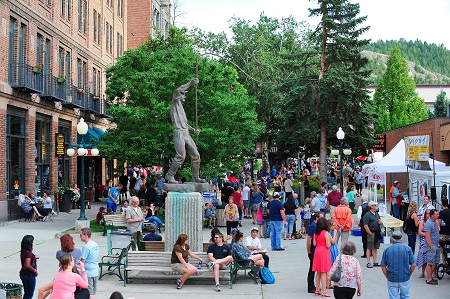 Last Chance Gulch, Helena, Montana. Photo courtesy Helena Chamber.
Helena, MT (pop. 31,429) is a friendly town with lots to offer visitors. An early day gold mining camp, it's now the state capital and a major tourist center. The main part of town lies at the foot of the mountains and overlooks the beautiful Helena Valley. Helena Valley is rimmed by mountains on all sides.
In October 1935, earthquakes rocked Helena, Montana. When the shaking finally stopped, Helena had suffered over $4,000,000 in property damage, including the collapse of parts of the new high school and the Kessler Brewery. Industrious citizens quickly repaired the damage and luckily the city has been quiet since.
Attractions
The main landmark in the city is the Cathedral of Saint Helena. The Cathedral is a magnificent building by any standard and without doubt an inspiring place to go for worship.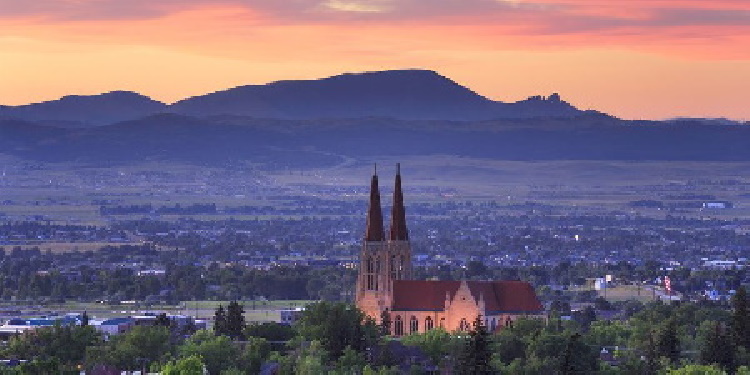 Helena is home of Montana's state government. The state capitol is a architectural treasure. The building was built between 1896 and 1902, as such of recent vintage as state capitols go. Tours available.
The Montana Historical Society Museum is located across the street from the State Capitol. Hundreds of exhibits tell the story early Indians, trappers, miners, and homesteaders. A special gallery contains numerous original paintings of western art by C.M. Russell, Montana's most famous artist.
The museum has a special artifact:  Dr. Husenbeth's edition of Rev. Haydock's Catholic bible from 1884. The bible belonged to the Thomas Cruse family, early residents of Helena. The Montana Historical Society Museum is a real gem, not to be missed.
If you like to see historic residential and commercial architecture, Helena is definitely the town to visit. In the downtown area, along Last Chance Gulch, some buildings go back to the late 1800s.  Immediately west of downtown, many gorgeous mansions, homes of the rich and famous from days gone by, line the streets. For many visitors, the historical state governor's mansion, now a museum, is a must see.
Fairs are for summer fun in Montana. Helena hosts the Last Chance Stampede and Fair. Live entertainment, rodeo, carnival rides and exhibits make this a wonderful event for all to attend. In 2021, this event runs July 21-25.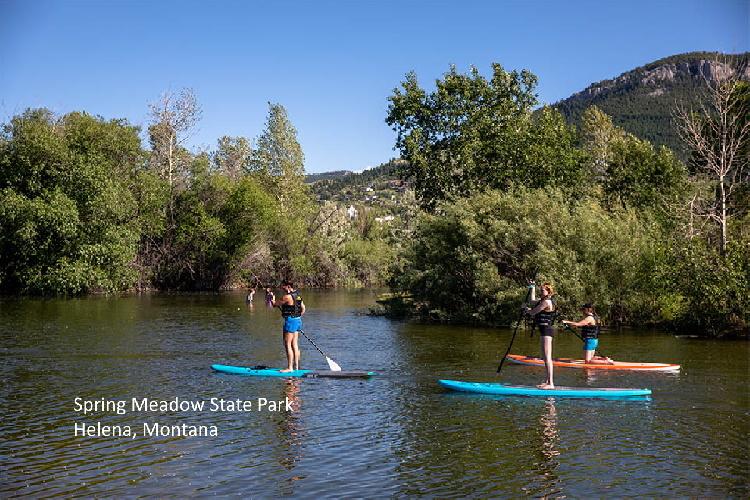 Arts and crafts are big in the Helena area. If you want to see, and maybe buy, some real nice hand-made creations,  head to Helena for the Big Sky Art and Craft Show. This event is held downtown in the Helena Civic Center twice a year:  next, October 23 in 2021.
The Great Northern Carousel and Big Dipper Ice Cream are a wonderful combination for children. The carousel is in the Great Northern Town Center near downtown. The Best Western Premier Helena Great Northern Hotel and restaurants are in the same area.
The Helena Ice Arena offers year-round fun for the entire family. This is an classy indoor ice skating rink. Rental skates are available.
Casinos and saloons get plenty of business, too. Video slot machines are common. Lottery tickets sold by the State lead to a quick buck for a few gamblers.
Fun in Helena is found outdoors. Mt. Helena borders the city on the south.  It's a short hike on foot to the top of Mt. Helena and every bit worth the trip. The view of the Helena Valley and the mountains to the south and west is spectacular. Even in the summer, it's usually quiet on top of Mt. Helena, making this a place of solitude and peace. Travel tip: Comfortable shoes are a must for hiking.
The Gates of the Mountains, a few miles northeast of Helena, is another area of uncommon beauty and serenity. The Missouri River flows through an enormous gorge cut deep in the mountains. Boat trips, open to the public, follow the river as it passes though the Gates. Mountain goats are often seen high on the cliffs which border the river. Ancient Indian paintings can be seen high above the river on the walls of the canyon.
Lakes formed by dams on the Missouri River near Helena are popular for boating, fishing, and camping. Canyon Ferry Lake, Hauser Lake, and Holter lake offer some of Montana's best walleye fishing. Trout are abundant and often visible in the river while you stand on shore below Holter Dam downstream toward the village of Craig.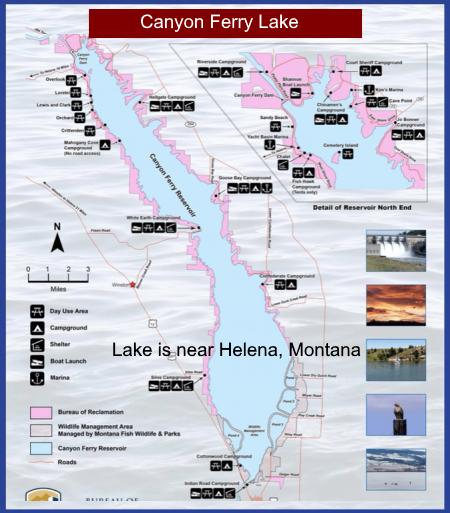 Canyon Ferry Lake is about 20 miles east of Helena, Mont. Fishing, boating, campgrounds are popular. Map courtesy U.S. Bureau of Land Management.
Bird watchers and other naturalists visit Helena in late fall (mid-October to mid-December) to see large numbers of bald eagles below Canyon Ferry Dam on Hauser Lake east of Helena. The eagles, migrating south from Canada, stop at Hauser Lake for several days to feast on kokanee salmon.
The kokanee salmon die after spawning, and the eagles take advantage of this plentiful source of food. It's a great experience to watch a bald eagle, flying high in the sky, drop down rapidly, yet gracefully, to lake level and clutch a dead salmon and then soar away. Many bald eagles rest in the trees bordering the lake, making prolonged viewing easy. Bring binoculars.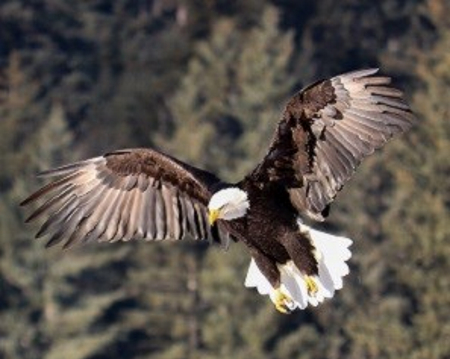 Bald Eagle searches for food. Photo courtesy National Park Service.
Back in Helena at the Montana Wild Education & Wildlife Centers you can view exhibits of wildlife that inhabit wild lands.  Exhibits of Grizzly bear, antelope, mountain goat. and wild turkey are sure to  please kids and adults alike.
If visiting Helena in the fall, don't miss the Last Chance Community Pow-Wow. Native Americans, many in native dress, celebrate their culture at one of America's best pow wows. In 2021, this pow wow runs October 1-3.
The Continental Divide is a few miles west of Helena. Along Highway 12 west of Helena is the The Prospector Shop, a place to pick up all kinds of supplies needed for prospecting. Gold mining pans, sold at the Prospector Shop, make nice souvenirs. Call (406) 442-1872.
Horseback riding is an adventure for every trip to the Treasure State.  In Helena, Summer Star Ranch will saddle up a beautiful horse and get you out on the trail. Call (406) 461-2659.
For a scenic drive during summer or early fall, take Montana Route 279 from Helena and travel northwest towards the small town of Lincoln and enjoy the views from on top of Flesher Pass (elevation 6,130 feet). Dine in Lincoln at Lambkin's and stop at Hi-Country Trading Post to buy some premium jerky and then return over the same route back to Helena.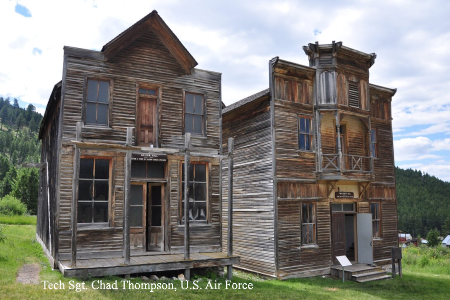 Bones of old-time miners lie buried in a quiet mountain cemetery at Elkhorn Ghost Town. Photo by Chad Thompson. Courtesy U.S. Air Force.
Elkhorn is a old ghost town near Boulder, a small town south of Helena. It's a reminder of better days gone by. Abandoned dwellings are commonplace and huge heaps of slag rock mark the site of the old mine. Bones of many miners are buried in the alpine forest close by.
A ride with Last Chance Tour Trains and Trolley is a great way to see historic Helena up close. Helena is more than a one day town. There's just too much to do and see in one day.
Restaurants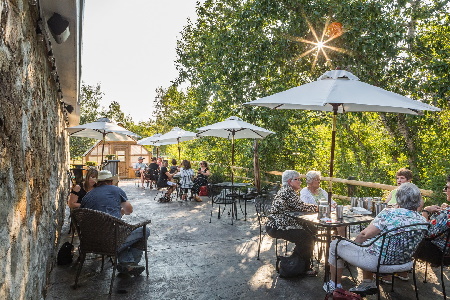 Wassweiler Dinner House & Pub in Helena, Mont. Photo courtesy Wassweiler.
Helena has a nice mix of restaurants. A few stand out for exceptional cuisine.
The Wassweiler serves a 8 oz. Bison Top Sirloin with roasted sweet potato, spinach, smoked bacon, blackberries, and sage pest. $38.
Over at the restaurant On Broadway, an old standby and favorite in Helena, a 14 oz, Ribeye Steak Broadway with black pepper, sauteed mushroom, onion, and gorgonzola compound butter is on the menu. $31.75.
The Ristorante Bella Roma is just off Last Chance Gulch in the downtown area. On the menu Veal Saltinbocca Alla Romana, with fresh sage and Prosciutto di Parma in white wine lemon sauce. $29.
Nearby is Lucca's. An invitation on the owner's Web site says at Lucca's you get "Fine Italian Fare" and a "Culinary Experience." Lucca's offers a variety entrees, in addition to Italian dishes. Wild-Caught Walleye Filet with lemon and tomato tapenade is a real treat. $30.95. Pork chop with Apple. $31.95. Get a bottle of Malbec, Mendel Argentina 2017 served at your table. $50.
The Silver Star Steak Company in the Great Northern Town Center, a short distance north of downtown, is another great choice. Beef Stroganoff with wild mushrooms, eggs noodles, sour cream, and green onions is on the menu for lunch. $18.95.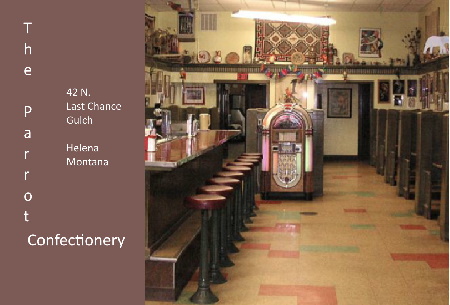 Old style counter and bar stools, booths. A very cool historical eatery. Photo courtesy Laura Bumenthal.
For a more more casual dining experience head to the Parrot Confectionery on Last Chance Gulch. Grab a chili hot dog. $6.50. For desert, an ice cream sundae. $3.50. Go to the Parrot for the experience. This place takes you back to the 50s with counter and bar stools. Home-made chocolate goodies sold here, too. The Parrot recently celebrated its 99th year in business in Helena.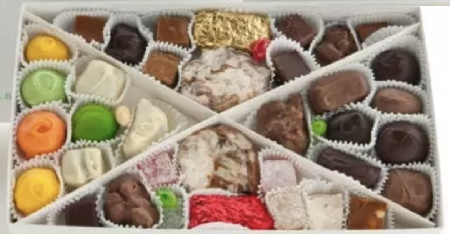 Assortment of delicious chocolates. Photo courtesy Parrot Confectionery.
Try Steve's Café  for a hearty breakfast.
For coffee, tea, baked treats, and lunch go to the Hub Coffee on Last Chance Gulch downtown.
Bad Betty's Barbecue in the Great Northern Town Center is always a good choice.
 Bert & Ernie's Saloon and Eatery (Est. 1974) on Last Chance Gulch is an old favorite of locals.
Top Ethnic Cuisine:
Lucca's (Italian)
Karmadillo's Southwestern Cafe (Mexican)
Jade Garden (Chinese)
Nagoya Japanese Steakhouse and Sushi
Edelweiss Bistro German restaurant (in Missoula, Montana)
Shopping
Shopping is very limited in Helena. The city's mall closed down a few years ago.  Dillard's department store, JC Penney, and numerous specialty shops once in the mall are gone.
For everyday supplies, Helena has very large Target and Walmart stores. Be sure to stop at the Montana Gift Gallery, a few blocks west of the mall on 11th Avenue, for neat Montana stuff.
Hotels
Helena has excellent lodging
DoubleTree by Hilton
Helena (Downtown)
(406) 443-2200
Great Northern Best
Western Hotel
(downtown)

(406) 457-5500
Jorgenson's Inn and
Suites
(406) 442-1770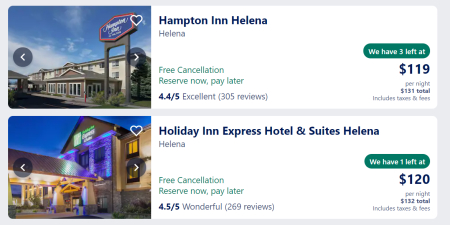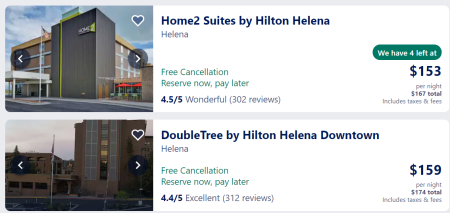 For more travel information on Helena, request a local guide to the city.  Ouch they charge a shipping and handling fee.
View map of Helena. Use + or – to zoom in or zoom out.
Transportation
Car rentals are available at the Helena Regional Airport:  Alamo, (406) 442-1765, Avis (406) 442-4440, Hertz, (406) 449-4167. For taxi service, call Capitol Taxi (406) 449-5525. 
Tom Palmer tells Helena's story in his book Helena: The Town and The People.  Many wonderful photos in this book, 96p. Copies are available in the used book market (Amazon.com and Abebooks.com) or ask your local public library to borrow a copy for you using the national interlibrary loan system.
Travel tip:
Places on National Register of Historic Places in Lewis & Clark County including Helena.

Enjoy Helena – experience late 19th century architecture, mountain landscapes, and Montana history.

Absaroka Mountain, Mont.
© 2022 John Sandy