Montana State Capitol
Cathedral of Saint Helena
Last Chance Gulch
Montana Historical Society Museum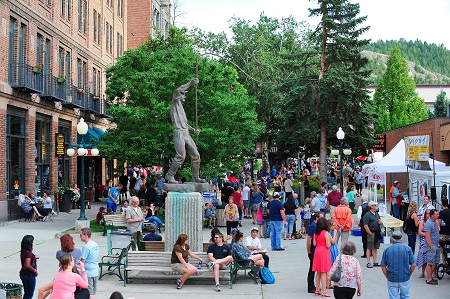 Helena, MT (pop. 31,429) is a friendly town with lots to offer visitors. An early day gold mining camp, it's now the state capital and a major tourist center. The main part of town lies at the foot of the mountains and overlooks the beautiful Helena Valley. Helena Valley is rimmed by mountains on all sides.
In October 1935, earthquakes rocked Helena, Montana. When the shaking finally stopped, Helena had suffered over $4,000,000 in property damage, including the collapse of parts of the new high schoool and the Kessler Brewery. Industrious citizens quickly repaired the damage and luckily the city has been quiet since.
Attractions
The main landmark in the city is the Cathedral of Saint Helena. The Cathedral is a magnificent building by any standard and without doubt an inspiring place to go for worship.
Helena is home of Montana's state government. The state capitol is a architectural treasure. The building was built between 1896 and 1902, as such of recent vintage as state capitols go. Tours available.
The Montana Historical Society Museum is located across the street from the State Capitol. Hundreds of exhibits tell the story early Indians, trappers, miners, and homesteaders. A special gallery contains numerous original paintings of western art by C.M. Russell, Montana's most famous artist.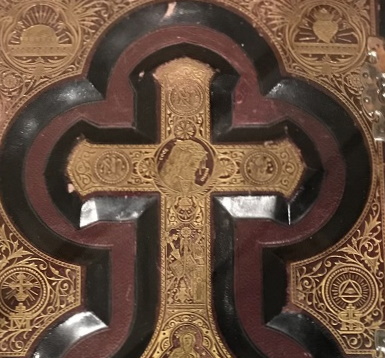 The museum has a special artifact:  Dr. Husenbeth's edition of Rev. Haydock's Catholic bible from 1884. The bible belonged to the Thomas Cruse family, early residents of Helena. The Montana Historical Society Museum is a real gem, not to be missed.
If you like to see historic residential and commercial architecture, Helena is definitely the town to visit. In the downtown area, along Last Chance Gulch, some buildings go back to the late 1800s.  Immediately west of downtown, many gorgeous mansions, homes of the rich and famous from days gone by, line the streets. For many visitors, the historical state governor's mansion, now a museum, is a must see.
Fairs are for summer fun in Montana. Helena hosts the Last Chance Stampede and Fair. Live entertainment, rodeo, carnival rides and exhibits make this a wonderful event for all to attend. In 2021, this event runs July 21-25.
Arts and crafts are big in the Helena area. If you want to see, and maybe buy, some real nice hand-made creations,  head to Helena for the Big Sky Art and Craft Show. This event is held downtown in the Helena Civic Center twice a year:  March 28 and October 24 in 2020.
The Great Northern Carousel and Big Dipper Ice Cream are a wonderful combination for children. The carousel is in the Great Northern Town Center near downtown. The Best Western Premier Helena Great Northern Hotel and restaurants are in the same area.
The Helena Ice Arena offers year-round fun for the entire family. This is an classy indoor ice skating rink. Rental skates are available.
Casinos and saloons get plenty of business, too. Video slot machines are common. Lottery tickets sold by the State lead to a quick buck for a few gamblers.
Fun in Helena is found outdoors. Mt. Helena borders the city on the south.  It's a short hike on foot to the top of Mt. Helena and every bit worth the trip. The view of the Helena Valley and the mountains to the south and west is spectacular. Even in the summer, it's usually quiet on top of Mt. Helena, making this a place of solitude and peace. Travel tip: Comfortable shoes are a must for hiking.
The Gates of the Mountains, a few miles northeast of Helena, is another area of uncommon beauty and serenity. The Missouri River flows through an enormous gorge cut deep in the mountains. Boat trips, open to the public, follow the river as it passes though the Gates. Mountain goats are often seen high on the cliffs which border the river. Ancient Indian paintings can be seen high above the river on the walls of the canyon.
Lakes formed by dams on the Missouri River near Helena are popular for boating, fishing, and camping. Canyon Ferry Lake, Hauser Lake, and Holter lake offer some of Montana's best walleye fishing. Trout are abundant and often visible in the river while you stand on shore below Holter Dam downstream toward the village of Craig.
Bird watchers and other naturalists visit Helena in late fall (mid-October to mid-December) to see large numbers of bald eagles at Hauser Lake east of Helena. The eagles, migrating south from Canada, stop at Hauser Lake for several days to feast on kokanee salmon.
The kokanee salmon die after spawning, and the eagles take advantage of this plentiful source of food. It's a great experience to watch a bald eagle, flying high in the sky, drop down rapidly, yet gracefully, to lake level and clutch a dead salmon and then soar away. Many bald eagles rest in the trees bordering the lake, making prolonged viewing easy. Bring binoculars.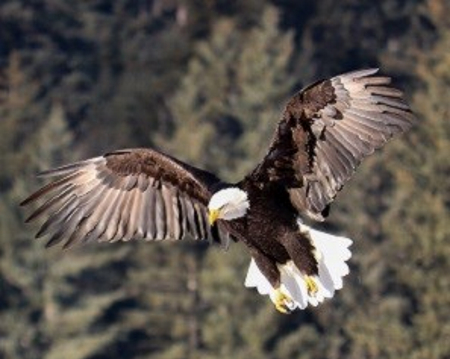 Back in Helena at the Montana Wild Education & Wildlife Centers you can view exhibits of wildlife that inhabit wild lands.  Exhibits of Grizzly bear, antelope, mountain goat. and wild turkey are sure to  please kids and adults alike.
If visiting Helena in late September, don't miss the Last Chance Community Pow-Wow. Native Americans, many in native dress, celebrate their culture at one of America's best Pow Wows.
The Continental Divide is a few miles west of Helena. Along Highway 12 west of Helena is the The Prospector Shop, a place to pick up all kinds of supplies needed for prospecting. Gold mining pans, sold at the Prospector Shop, make nice souvenirs. Call (406) 442-1872.
Horseback riding is an adventure for every trip to the Treasure State.  In Helena, Summer Star Ranch will saddle up a beautiful horse and get you out on the trail. Call (406) 461-2659.
For a scenic drive during summer or early fall, take Montana Route 279 from Helena and travel northwest towards the small town of Lincoln and enjoy the views from on top of Flesher Pass (elevation 6,130 feet). Dine in Lincoln at Lambkin's and stop at Hi-Country Trading Post to buy some premium jerky and then return over the same route back to Helena.
Elkhorn is a old ghost town near Boulder, a small town south of Helena. It's a reminder of better days gone by. Abandoned dwellings are commonplace and huge heaps of slag rock mark the site of the old mine. Bones of many miners are buried in the alpine forest close by.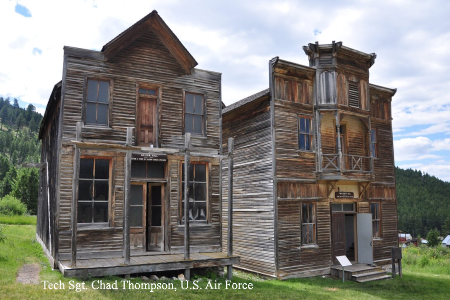 A ride with Last Chance Tour Trains and Trolley is a great way to see historic Helena up close. Helena is more than a one day town. There's just too much to do and see in one day. Grimes Motors in Helena is a great place to service GM, Honda, and Jeep vehicles.
Restaurants
Restaurants are plentiful in Helena. Those who like superior Italian cuisine and good wine dine at Lucca's on Last Chance Gulch.  Exceptional service here.
For other upscale dining, try The Wassweiler Dinner House & Pub.  Pan Seared Salmon with creamy goat cheese couscous, tomato, mushroom, sweet corn, spinach, and lemon caper beurre blanc is on the menu at $34. Drive a short distance west of Helena on U.S. Highway 12 to arrive at the Wassweiler.
For a good wine selection and splendid cuisine, many dine at On Broadway near the downtown. The Brewhouse Pub & Grille  in the Great Northern Town Center, a few blocks north of the downtown area, is very popular.
The Parrot Confectionery, located downtown on Last Chance Gulch, opened in 1922 and serves famous chili, malts, and milk shakes. Best of all you can try over 100 kinds of home-made, hand-dipped chocolates and caramels. This place has an old-time atmosphere, sort of like out of the 1950s. A neat spot if you have a sweet tooth.
Try Steve's Café  for the best breakfast. For tasty coffee, tea, baked treats, and lunch in Helena try Hub Coffee on Last Chance Gulch downtown. Great Harvest Bread is always a good choice.  The Grub-Stake, a few miles north of Helena on I-15, is an interesting hang out for locals.
Top Ethnic Cuisine:
Lucca's (Italian)
Karmadillo's Southwestern Cafe (Mexican)
Jade Garden (Chinese)
Nagoya Japanese Steakhouse and Sushi
Edelweiss Bistro German restaurant (in Missoula, Montana)
Shopping
Shopping is very limited in Helena. The city's mall closed down a few years ago.  Dillard's department store, JC Penney, and numerous specialty shops once in the mall are gone.
For everyday supplies, Helena has very large Target and Walmart stores. Be sure to stop at the Montana Gift Gallery, a few blocks west of the mall on 11th Avenue, for neat Montana stuff.
Lodging
HELENA HAS EXCELLENT HOTELS
DoubleTree by Hilton
Helena (Downtown)
(406) 443-2200
Great Northern Best
Western Hotel
(downtown)

(406) 457-5500
Jorgenson's Inn
& Suites
(406) 442-1770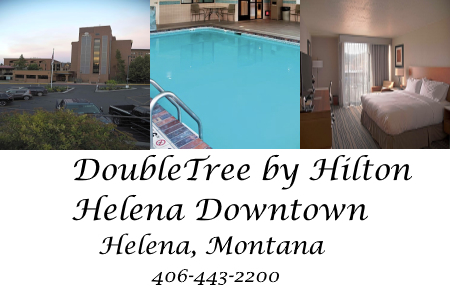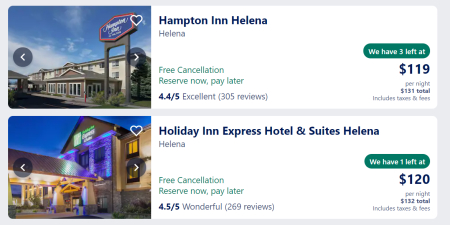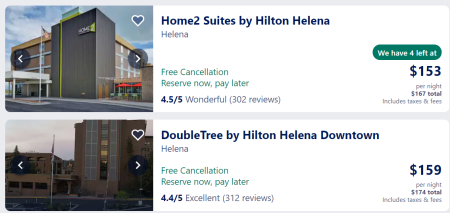 For more travel information on Helena, request a local guide to the city.  Ouch they charge a shipping and handling fee.
View map of Helena. Use two fingers to navigate on map.  View map, terrain or satellite images.
Transportation
Car rentals are available at the Helena Regional Airport:  Alamo, (406) 442-1765, Avis (406) 442-4440, Hertz, (406) 449-4167. For taxi service, call Capitol Taxi (406) 449-5525. 
Tom Palmer tells Helena's story in his book Helena: The Town and The People.  Many wonderful photos in this book, 96p. Copies are available in the used book market (Amazon.com and Abebooks.com) or ask your local public library to borrow a copy for you using the national interlibrary loan system.
Helena History Remembered
In 1867 Thomas Cruse (b. 1834), a poor Irish immigrant and devout Catholic, landed in Helena. With a sharp eye for prospecting, he filed a mining claim and opened Drum Lummon Mine near Marysville, northwest of Helena. Luck was on his side. Much gold and silver, valued in the millions of dollars, came from the mine. Cruse, once poor, became a multi-millionaire.
In  March, 1886, he married Margaret Carter in Helena. Tragedy struck and his new bride, age 25, was dead in less than a year, but not before giving Mr. Cruse a beautiful daughter, Mary. By 1913, Mary was also dead, age 27. And the following year, December 20, 1914, Mr. Cruse died. A magnificent mausoleum stands in Resurrection Cemetery in Helena, marking the resting place for the Cruse family.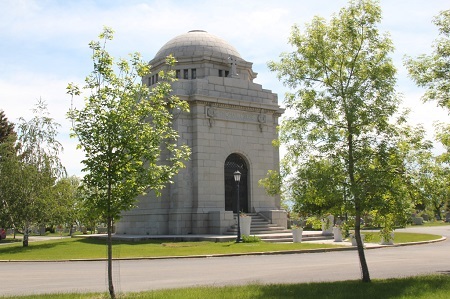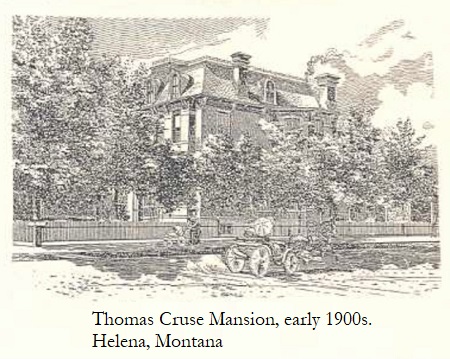 Mr. Cruse lived in a mansion. And he gave generously to his beloved community. During the years from 1905 to1914, Mr. Cruse donated funds in the amount of $5,914,387.86 (computed in current value) to acquire land for and build and furnish the Cathedral of Saint Helena, a magnificent and glorious edifice that still dominates Helena's skyline.
Bishop Carroll needed a huge sum of money to build the new cathedral. In 1910, Helena had a population of only 12,515. People enjoyed small town life, but most earned meager incomes. They responded to Bishop Carroll's appeal for help, Catholics and many non-Catholics, gave cash donations as much as family conditions allowed. Still, it is fair to say that this wonderful cathedral would not have been built without the remarkable generosity of Thomas Cruse.
He also helped the entire state, buying bonds which were used to build the state capitol. Cruse Avenue and Cruse Park in Helena are fitting tributes to this early Helena pioneer and benefactor.
Helena History Remembered
The Catholic Church in Helena has a peculiar way of caring for remains of souls departed. In about 1908, a pioneer Catholic cemetery, founded in 1868, closed, after more than 1600 burials, all spaces used. A New Catholic cemetery was opened on Montana Avenue. Some remains were moved from the old cemetery to the new one, but not all.
What happened in years to follow is shocking by any standard. The old cemetery was abandoned. Weeds covered the ground. Monuments of the deceased tumbled to the ground. All the while, time continued to take its toll.
The worst was still to come. Crumbling monuments were removed from the cemetery and dumped in an area off Montana Avenue. A few of the monuments were salvaged for a wall on a residential property.
Today, the old Catholic cemetery is an area of green open space with only a small plaque, placed by the Montana Historical Society, to inform locals and others of spirits that still linger here.
Why were these souls abandoned and forgotten?  Early Catholics rushed to Helena in 1864 to prospect for gold. Likely, many did not have families in the community. Maybe no one was around to keep memories alive after they departed to the Kingdom of Heaven.
For those who care to go and pay respects to Helena's Catholic pioneers, this abandoned cemetery is now Robinson Park (a city-owned community park), located on Townsend Avenue. May those who were and are buried here rest in eternal peace. (facts in this snippet of Helena history, courtesy HelenaHistory.org)
Travel tip:
Places on National Register of Historic Places in Lewis & Clark County including Helena.
Enjoy Helena – experience late 19th century architecture, mountain landscapes, and Montana history.
https://www.MontanaTraveler.com
Copyright © 2020 John Sandy