North-Central Montana
  Lewis and Clark National Historic Trail
Interpretive Center – C.M. Russell Museum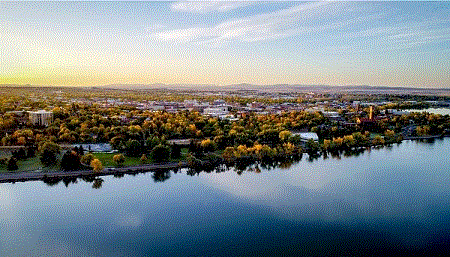 City of Great Falls, Mont. Photo courtesy Visit Great Falls.
Great Falls, Montana is a cultural and commercial center for a vast region in north-central Montana. The Missouri River adds to the local scenery and is a source of many recreational opportunities.
In Great Falls, the arts and culture flourish. Even as the city does not have a major university.
Great Falls (pop. 58,701) is the largest city in north-central Montana. Great Falls is a commercial center for a vast rural region in north-central Montana. The Missouri River adds to the local scenery and is a source of many recreational opportunities.
Shopping
Many people who live in the region visit Great Falls for shopping. Holiday Village, the main mall in Great Falls, with over 80 stores, is located south of the downtown area on 10th Avenue South. Barnes & Noble and a Target store are in the same area of town.
Hoglund's Work and Western Wear is the place to go to buy cowboy boots and hats in Great Falls. Hoglund's has the best selection of brand-name western wear in the Rocky Mountain West, outside Denver. Hoglund's store is in the downtown area.
Attractions
The C. M. Russell Museum is a well-known attraction in Great Falls. A famous western artist, Charlie Russell produced many paintings depicting Indian and cowboy life on the northern plains in the early 1800s. Many of Russell's paintings and drawings are owned by the museum. Charlie Russell's original studio, on site near the museum, is, by itself, worth a visit.
The Lewis and Clark National Historic Trail Interpretive Center is a don't miss attraction in Great Falls. The center sits on a bluff overlooking the Missouri River. It is near the great falls of the Missouri where Lewis and Clark took eleven days to make the 16-mile portage around five separate falls on the river in 1805. The center has numerous exhibits which describe the expedition's journey up the Missouri River and on to the Pacific Ocean.
Some of the most rugged and beautiful scenery in the West is found along the Missouri River, east of Great Falls. Magnificent towering sandstone cliffs and deep canyons border the river. Segments of the river are known as the White Cliffs region and the Missouri River Breaks. Kayaking and Canoeing are favorite activities along this stretch of the river. The federal government recently designated this area as the Upper Missouri Breaks National Monument.
Take a float trip on a raft to experience the wildness and solitude of the Missouri River. An activity  long remembered for sure. Lewis and Clark traveled up the upper Missouri River in 1805 in a keelboat.  Modern day "explorers" can relive what they experienced. Call Montana River Outfitters (406) 622-3295 for reservations.
For more enjoyment in the outdoors, visit Giant Springs State Park, along the Missouri River near Great Falls. The park is an ideal place to stop and picnic or go for a walk along Rivers Edge Trail. The park is noted for its many species of birds, so bird watching is a popular activity. The park's name comes from a huge freshwater spring that releases millions of gallons of water each day into the nearby Missouri River. Officials at Montana State Parks say that about one-half million people visit here annually. A beautiful park for all to see and experience.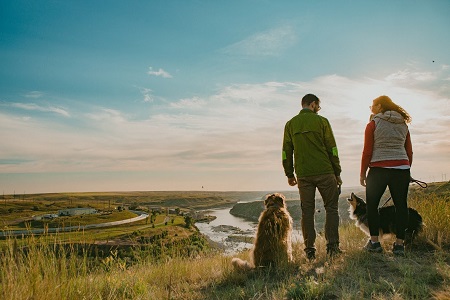 Magnificent river scenery is the hallmark of Great Falls, Montana. Photo courtesy of Visit Great Falls.
The Sluice Boxes State Park is near Belt, not far from Great Falls. In this area,  Belt Creek Canyon features cliffs and other interesting rock formations.
First Peoples Buffalo Jump State Park is southwest of Great Falls.  This is an archaeological site where, in pre-historic times, Native Americans chased buffalo over steep cliffs as a way to hunt down buffalo. Many years ago the bones of thousands of buffalo were "harvested" from the rocks at the foot of the cliffs.
Hotels
Great Falls has excellent lodging
Hotel Arvon Great
Falls
406-952-1101
Great Falls Inn by -
Riversage
406-453-6000
O'Haire Motor Inn
406-454-3141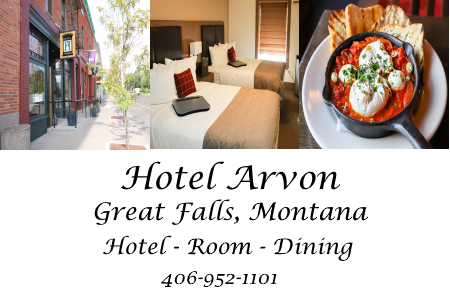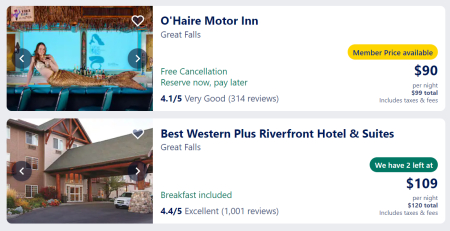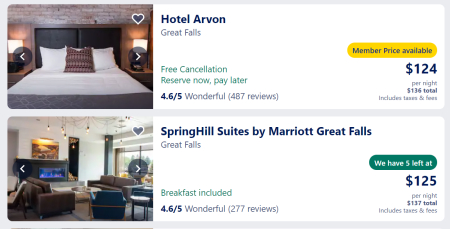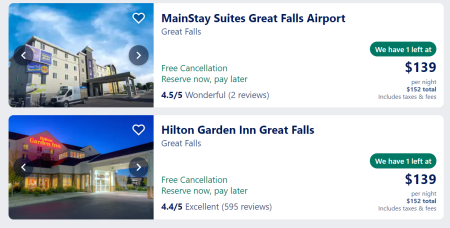 Fairs are for summer fun in Montana. Great Falls is the site of the Montana State Fair. Live entertainment, rodeo, carnival rides and exhibits make this a wonderful event for all to attend. In 2023, this event runs July 28-August 5.
For more rodeo, enjoy the professional cowboys and cowgirls at the Belt PRCA Rodeo. Check for dates in 2023. Belt is near Great Falls.
Restaurants
Great Falls has many good dining spots. Tops is the Celtic Cowboy in the Hotel Arvon in downtown Great Falls. The Celtic Cowboy is a pub and restaurant. On the Menu for breakfast try "Scotch Eggs" for $9  or Irish Porridge (Irish oatmeal) $6. For lunch try their Celtic Burger (ground bison or elk, with cheese, tomato, and slaw) $15. A favorite for dinner is Irish Whiskey Glazed Salmon, $24.
On the pub side, the Celtic Cowboy offers about 35 craft beers made in Montana. Go for a craft beer or to dine, the Celtic Cowboy is an amazing place. MTbest™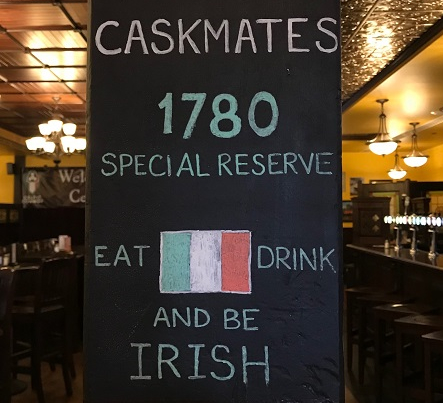 The Celtic Cowboy resembles a classic old-world pub and restaurant. In downtown Great Falls, Montana. Think Irish! Photo courtesy Sandy Archives.
Dante's Creative Cuisine has a nice atmosphere and, according to management, offers "casual [dining] elegance in the heart of Great Falls, Montana.  Perfect steaks and prime rib, delicious seafood entrees, southwestern specialties and delectable desserts make us hard to resist!" On the menu, Manicotti Italiano, $18.95, Chicken Milano, $19.95, Charbroiled Salmon, $28.95, and Grilled Ribeye, $29.95. A great selection of wine, beer, and spirits here, too.
JB's Restaurant is a family dining restaurant near major shopping areas and the city's main mall.
Wheat Montana Bakery and Deli makes delightful sweet baked goods, soups and salads, and sandwiches. Made from the best Montana ingredients. Great Harvest Bread is always a good choice.
Top Ethnic Cuisine:
Champo's Pizzeria Italiano
El Comedor Mexican Restaurant
Maple Garden (Chinese)
Kobe Seafood and Steakhouse (Japanese)
Edelweiss Bistro German restaurant (in Missoula, Montana)
View map of Great Falls. Use + or – to zoom in or zoom out:
Transportation
Car rentals are available at the Great Falls International Airport:  Alamo (406) 727-0273, Avis (406) 761-7610, Hertz (406) 761-6641. For taxi service, call Diamond Cab (406) 453-3241.
Great Falls is a fun city to visit, a down-home place with friendly people. Canadians frequently visit Great Falls, so here's a chance to make new friends from north of the border.

Absaroka Mountain, Mont.
© 2022 John Sandy