Helena – Lewistown – Roundup
Townsend – White Sulphur Springs
Central Montana is Ranchland. Expansive rolling prairies and small mountain ranges make the Ranchland one of Montana's most scenic regions.
Herding cattle is a way of life for many folks who live in this area of the state. In 1999, the Montana Department of Agriculture counted 498,000 head of cattle and calves in central Montana. Visitors experience true flavor of the Old West.
Many ranches are on the plains spreading out over 400 miles to the east of Helena. Other ranches are found in mountain valleys west of Helena. In the Nevada Creek Valley, along State Highway 141, thousands of cattle graze in a lush high environment, bordered on the east and west by the Garnet Mountains.
Nature is at its best in central Montana. During the summer, thousands of cliff swallows build their nests, made of mud and grass, on rocky outcrops along U.S. Highway 12 between Roundup and Harlowton.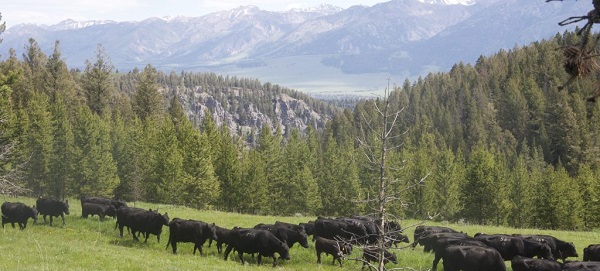 Angus cattle graze on summer pasture in mountainous areas in Montana. Photo courtesy Montana Stockgrowers Association.
Red fox and other small mammals make their home in the grassy areas bordering the Musselshell River and on the nearby, sagebrush-covered prairies. Abundant whitetail deer and mule deer thrive on natural foods and ranchers' crops.
By night, millions of stars, not dimmed by city lights, shine brightly in the big sky over Ranchland.
U.S. Highway 12 is the major east-west road in this region. For travelers headed west, the highway leaves the Yellowstone River Valley and I-94 at Forsyth. The highway passes through quaint small towns as it winds westward toward Helena, Montana's state capital.
Helena
Helena (pop. 31,429) is the the crown jewel of Montana, some might even say the entire Northwest. An early day gold mining town, it's now the state capital and a major tourist center. The main part of town lies at the foot of the mountains and overlooks the beautiful Helena Valley. The entire Helena Valley is rimmed by mountains on all sides.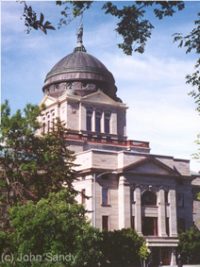 Helena is brimming with sights and places to go.
If you like to see historic residential and commercial architecture, Helena is definitely the town to visit.  In the downtown area, along Last Chance Gulch, some buildings go back to the late 1800s.  Immediately to the west of downtown, many gorgeous mansions, homes of the rich and famous from the old days, line the streets. For many visitors, the historical state governor's mansion, now a museum, is a must see.
The Montana Historical Society Museum, located across the street from the State Capitol. Hundreds of exhibits tell the story early Indians, trappers, miners, and homesteaders. A special gallery contains numerous original paintings of western art by C.M. Russell, Montana's most famous artist.
The most magnificent building in Montana is the Cathedral of Saint Helena. The Cathedral, its twin spires towering high above Helena's skyline,  is without doubt an inspiring place to pray and worship.
If visiting Helena in late September, don't miss the Last Chance Community Pow-Wow. Native Americans, many in native dress, celebrate their culture at one of America's best Pow Wows. The Helena Tourism Business Improvement District publishes a community calendar listing other things going on in Helena.
Helena's Rocky Mountain Ice Arena offers year-round fun for the entire family. This is an classy indoor ice skating rink. Rental skates are available.
Fairs are for summer fun in Montana. Helena hosts the Last Chance Stampede and Fair. Live entertainment, rodeo, carnival rides and exhibits make this a wonderful event for all to attend. In 2021, this event runs July 21-25.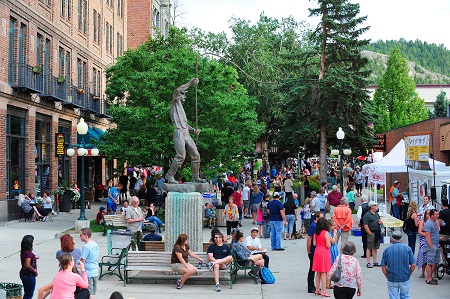 Celebrating an event in the downtown area on Last Chance Gulch in Helena, Montana. Photo courtesy Helena Chamber.
Casinos and saloons get plenty of business, too. Video slot machines are common. Lottery tickets sold by the State lead to quick buck for a few lucky gamblers.
In Helena, the best is in the outdoors. Bordering the city on the south is Mt. Helena. It's a short hike on foot to the top of Mt. Helena and every bit worth the trip. The view of the Helena Valley and the mountains to the south and west is spectacular. Even in the summer, it's usually quiet on the top of Mt. Helena, making this a place of solitude and peace. Travel tip: Comfortable shoes are a must for hiking.
The Gates of the Mountains, a few miles northeast of Helena, is another area of uncommon beauty and serenity. The Missouri River flows through an enormous gorge cut deep into the mountains. Boat trips, open to the public, follow the river as it passes though the Gates.  Mountain goats are often seen high on the cliffs which border the river. Ancient Indian paintings can be seen high above the river on the walls of the canyon. Another must see in Montana.
The Missouri River in this area of Montana is a destination for fisherman. Many folks fish the river below Holter Dam, downstream toward the village of Craig.
Bird watchers and other naturalists visit Helena in late fall (mid-October to mid-December) to see large numbers of bald eagles at Hauser Lake east of Helena. The eagles, migrating south from Canada, stop at Hauser Lake for several days to feast on kokanee salmon. The kokanee salmon die after spawning, and the eagles take advantage of this plentiful source of food. It's a great experience to watch a bald eagle, flying high in the sky, drop down rapidly, yet gracefully, to lake level and clutch a dead salmon and then soar away. Many bald eagles rest in the trees bordering the lake, making prolonged viewing easy. Bring binoculars.
The Continental Divide is a few miles west of Helena. Along Highway 12 west of Helena is the The Prospector Shop, a place to pick up all kinds of supplies needed for prospecting. Gold mining pans, sold at the Prospector Shop, make nice souvenirs.  (406) 442-1872.
Lakes formed by dams on the Missouri River near Helena, Montana are popular for boating, fishing, and camping. Canyon Ferry Lake, Hauser Lake, and Holter lake have some of Montana's best walleye fishing.
Horseback riding is an adventure for every trip to the Treasure State. Summer Star Ranch, west of Helena, will saddle up a beautiful horse and get you out on the trail. Call (406) 461-2659.
Restaurants are plentiful in Helena. An eatery called Coney Island, downtown on Last Chance Gulch, specializes in tasty gyros and hot dogs. Bert and Ernie's on Last Chance Gulch, another nice dining place, has a separate Wine Room.
For upscale dining, try The Wassweiler Dinner House & Pub. Pan seared salmon with creamy goat cheese couscous, tomato, mushroom, sweet corn, spinach, and lemon caper beurre blanc is on the menu at $34.  Drive a short distance west of Helena on U.S. Highway 12 to arrive at the Wassweiler. For Italian cuisine and good wine dine at Lucca's on Last Chance Gulch. Service is exceptional here.
Many locals go to On Broadway (a restaurant) in downtown Helena to dine. During peak hours, On Broadway is very busy. The Silver Star Steak Company and the Brewhouse Pub & Grille in the Great Northern Town Center, a few blocks north of the downtown area, are also very popular.
Old-time Helena residents recommend the Parrot, located on Last Chance Gulch in downtown Helena. The Parrot serves chili, malts, and milk shakes, and sells many kinds of chocolates and caramels. A neat spot if you have a sweet tooth. Try Steve's Cafe for the best breakfast and great prices.
Helena has excellent lodging
DoubleTree by Hilton
Helena (Downtown)
(406) 443-2200
Great Northern Best
Western Hotel
(downtown)

(406) 457-5500
Jorgenson's Inn and
Suites
(406) 442-1770
A ride with Last Chance Tour Trains and Trolley is a fun way to see historic Helena up close. Helena is more than a one day town. There's just too much to do and see in one day.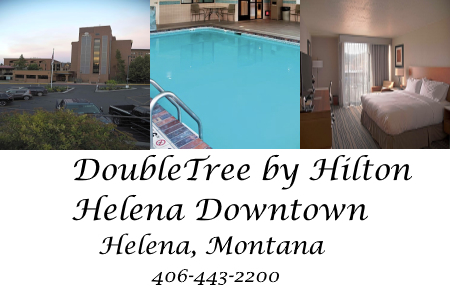 Roundup
Roundup (pop.  1,840) is located on the northern flank of the Bull Mountains. The community is nestled in the hills along the Musselshell River. With its strong ranching heritage still very much evident, Roundup is reminiscent of early-day western towns. If there is an identifiable place where the "Real West" begins, it surely must be Roundup.
West of Roundup is the little town of Lavina (pop. 177). Lavina is about a mile or so off U.S. Highway 12. Lavina's old-style mercantile store, built in 1912, is an interesting architectural treasure in rural Montana. The store is not open for business the last time checked in January 2014.
Harlowton
Downtown Harlowton (pop.  984), with its old stone hotel, resembles a scene from out of the movie "Shane."  Harlowton is famous for its annual rodeo (in 2021, July 2nd and 3rd, starting at 5:30 pm on both days).  Cowboys riding bucking horses and bulls are a regular feature of the all day affair. It's a highly entertaining event. The setting for the rodeo, with the beautiful Crazy Mountains in the background, is absolutely awesome.
For travelers heading west from Harlowton on U.S. Highway 12, the Bair Family Museum near Martinsdale is a special treat. Antelope are a common sight grazing along U.S. Highway 191 north of Harlowton.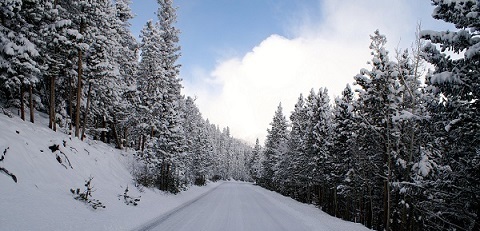 U.S. Highway 12 west of Harlowton, Montana in early winter 1975. Snow-covered highways can be dangerous, so drive with care. Photo courtesy Sandy Archives.
Lewistown
Lewistown (pop. 5,870) is on State Highway 200, an east-west highway crossing central Montana. Lewistown is generally not a destination spot for tourists. It is nonetheless a very nice place to visit. Lewistown has a classic, old-west main street, filled with merchants of all kinds.
Many visitors go for a ride on the Charlie Russell Chew-Choo, when visiting Lewistown. The Chew-Choo is a 1950s era dinner train that runs over an old Milwaukee Railroad line some 28 miles from Kingston Junction near Lewistown to Denton. The three and one-half hour trip passes thorough scenic Montana landscapes. While on board, passengers dine on chow catered by the Yogo Inn in Lewistown. The train mainly operates from Memorial Day through September, on Saturdays.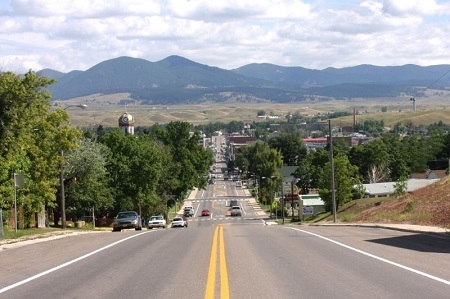 Main Street Lewistown, Montana. The most beautiful small town in America. Photo courtesy Lewistown Chamber of Commerce.
Fairs are for summer fun in Montana. Lewistown hosts the Central Montana Fair.  Live entertainment, rodeo, carnival rides, and hand-crafted exhibits make this a wonderful event for all to attend. In 2021, this event runs July 28-31.
The Big Snowy Mountains and Crystal Lake are major attractions in this area of Montana. It's worth the drive up a rough dirt road to see Crystal Lake, near the summit of the mountains. The road to Crystal Lake goes south from U.S. Highway 87, a few miles west of Lewistown.
Outdoors enthusiasts enjoy Big Spring Creek, a major stream flowing through Lewistown. A walking and jogging trail borders the stream just outside the city. Spring Creek is also a hot spot for rainbow trout fishing.
Montana Mountainmen Antler Art gallery at 313 E. Main in Lewistown closed in 2019.  The owner and artist Frank Hanzel died at age 90 in 2019.  His family had no interest in following in his footsteps.  Mr. Hanzel's specialty was antler art.  Antlers from deer and elk, crafted into chandeliers, knives, wine holders, and other beautiful works of art, were amazing. The gallery had sold many fine limited-edition western prints, bronze sculptures and other works of art.
Moccasin Mountain Art Gallery at 408 West Main Street features creative works of many Montana artists and artisans. This is a very nice shop, be sure to visit and buy here. The Lewistown Art Center is at 323 West Main Street.
The Yogo Inn (800-860-9646) is known for its superior lodging, lounge, and dining.  Be sure to book early at the Yogo Inn. The restaurant in the Yogo Inn is called the Stetson, a name so appropriate as Lewistown is cowboy country. The Stetson is open for breakfast, lunch, and dinner. The Calvert Hotel (406) 535-5411 is another great choice.
For a quiet experience close to nature, stay at the Pheasant Tales Bed and Bistro, a lodge located about four miles south of Lewistown. Wildlife in the area and mountains views are only a coupe of reasons why guests stay at this wonderful lodge.  Guests are offered evening meals, with advance reservations. (406) 538-2124.
Another favorite for bed & breakfast:  the Symmes/Wicks House on Central Avenue, a beautiful tree-lined street just a skip from Lewistown's Main Street, is tops. This B&B features four large bedrooms all with private baths. Call 406-538-9068.
The Central Feed Grilling Co is a favorite eatery in Lewistown.  Quinoa Bowl with mixed greens and veggies, topped with pine nuts and feta cheese, $13.  A plus, Big Springs Brewing Co. sells tasty craft beers in the restaurant. Many local folks also  dine at Ruby's 100% Montana Burgers.
Travel tip: Savvy tourists, who want to mix in with local cowboys, ask for "whiskey ditch" when making the rounds at watering holes in Lewistown.
Lewistown stands out in a most interesting way. The city's population hasn't changed much in 100 years. In 1920, Lewistown had a population of 6,120, and the most current census showed 5,901 people living in Lewistown. This gives Lewistown a special identity in Montana, even in all of America. Lewistown's culture, commerce, architecture, and more are a memory of the past and a path to a stable future. So remarkable!
The Lewistown area is a destination for those who want to experience ranching and the cowboy way of life.
White Sulphur Springs
White Sulphur Springs (pop. 908) is a small, friendly ranching town. The picturesque setting for the town is the beautiful Smith River valley. The valley is surrounded by the Castle, Little Belt, and Big Belt Mountains.
The Smith River offers legendary floating experiences. About 30 miles downstream from White Sulphur Springs, the Smith River flows through a magnificent canyon with cliffs over 1,000 feet high bordering the river. Wildlife abound in the Smith River valley.
Float trips on the Smith River are so popular that state officials who regulate recreation on the river must limit the number of daily launches. Floaters must get a permit from Montana Fish, Wildlife, and Parks before entering the river. Some visitors use the services of local outfitters in the region who are licensed by the U.S. Forest Service to take people on float trips down the river. FWP 's Web site lists addresses of licensed outfitters. Trout fishing is another favorite activity on the Smith River.
If you like fun and music Red Ants Pants Music Festival is the top event in White Sulphur Springs. This is one of Montana's premier summer events.  Announcement:  2020 Red Ants Pants Music Festival (White Sulphur Springs, Montana) is cancelled due to the pandemic. Check their Web site and find out what if anything is planned for 2021.
White Sulphur Springs is a place waiting to be discovered. With no interstate highways nearby, the town is off the beaten path. The entire area is a natural wonderland. In town, Grandma's Antiques and Collectibles is a popular stop for tourists.
Townsend
Townsend (pop. 1,978) is on U.S. Highway 12 west of White Sulphur Springs. The Broadwater County Museum is the main attraction in Townsend. Its collection features all kinds of neat things related to the settlement and history of the region. A first-class show run by friendly people.
Boulder
Boulder (pop. 1,427) is in the scenic Boulder River Valley about mid-way between Butte and Helena on IH-15.  A few miles north of Butte the road passes through a broad intermontane valley. Then the road winds its way through the mountains and follows the upper Boulder River Valley. Wildlife can be seen along the highway during certain times of the day.
If traveling between Helena and Bozeman, Montana State Highway 69 is a splendid alternate route between Helena and Bozeman.  Highway 69 follows the beautiful Boulder Valley, connecting IH 15 at Boulder in the north to Cardwell on IH 90 to the southeast. The Boulder Valley is rural Montana at its best.
The Free Enterprise Radon Health Mine draws many visitors to Boulder.  Radon is a gas released from the natural decay of uranium found in rocks in this area. People come to the mine to seek relief from various ailments. It's believed that exposure to radon in the mine offers therapeutic health benefits.
In pioneer days the church was a major part of most communities in Montana.  This church was built by early  pioneers in 1880-1881. In the  years before automobiles became common, rural ranch families wanted a church nearby, as the closest town was miles away.
Church in Montana. The setting of this church is a mountain valley in a very rural area, with no sign of civilization close by, except for the church cemetery which is a burial place for early-day Montana pioneers. Photo courtesy Sandy Archives.
Boulder Hot Springs & Spa draws many visitors, seeking better health. Geothermal mineral hot springs are the reason people come. Guests stay at bed & breakfast rooms and suites and regular guest rooms.  No alcohol or smoking here.
Elkhorn State Park is near Boulder. Elkhorn is an old ghost town. It's a reminder of better days gone by. Abandoned buildings are common and huge heaps of slag rock mark the site of an old mine. The bones of many miners are buried in the high alpine forest close by.
When In Boulder, stop at the Mountain Good Restaurant for the best food in town. The Mountain Good has been in the same family  for generations. Locals flock to the restaurant, and tourists like it too. Blueberry pancakes, $4.95.  A delicious elk burger on gourmet bun with more, $12.50.
Travel tip: US Highway 12 is an older two-lane, east-west highway running across central Montana, so drive carefully and watch for wild animals and loose livestock in the roadway. Montana State Highway 200 is not the best either. Drive carefully on this road as well.SnowCat
Travel tip:
When driving a good map is handy even if you think you know the way. It's also helpful for planning alternate routes which may turn out to be more scenic and less traveled than roads drivers usually take. Plan your trip using the official Montana state highway map.
Enjoy central Montana.

Absaroka Mountain, Mont.
© 2022 John Sandy