Bozeman – Dillon –  West Yellowstone
Missoula – Hamilton
Southwest Montana is Wonderland. Towering mountains and broad valleys are found throughout the entire region.  Wild rivers add to the allure.
In the early 1860s, prospectors found gold in southwest Montana (then a part of Idaho Territory). In vivid terms, history books describe the gold fever that swept the frontier settlements of Virginia City and Bannack. And plenty of gold was found. In a gulch about 60 miles north of Butte, a placer mine produced, reports say, tens of thousands of dollars in gold in a single year.
Filled with the spirit of the early prospectors, individuals still search Montana's sediments for yellow riches. Many folks look for gold the old-fashioned way, with a pan. Sediments are scooped up from a stream bed with a small oval pan and then sloshed around under the flowing water of the stream until the lighter materials are washed away, leaving behind, it's hoped, flakes and nuggets of gold. For others, the search for gold is made easier by metal detectors.
Bozeman
Downtown Bozeman, Montana (pop. 45,596) looks like a town out the 50s. Its main street is traditional and vibrant and packed by all kinds of interesting businesses. The Bozeman area is growing fast, with a population increase of 34.4% in a recent decade. As Lewistown is about real cowboys, Bozeman is about urban cowboys. Briefcases likely outnumber branding irons in Bozeman.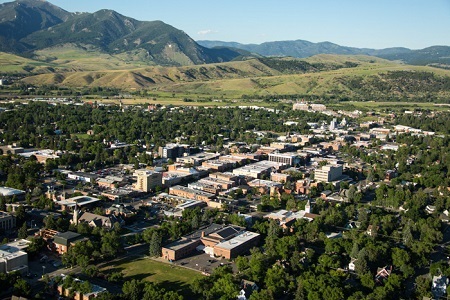 Downtown Area of Bozeman, Montana. Photo courtesy Bozeman Convention and Visitors Bureau. From Comprehensive Plan Logan Simpson.
Bozeman is home to Montana State University and the fighting Bobcats. The Museum of the Rockies,  on campus, features many wonderful paleontology exhibits. Jack Horner, the world's top dinosaur hunter and an adviser to the movie "Jurassic Park," worked at the Museum for many years.
The Bozeman area is fishing central. Cool, sparkling streams, rushing down from high mountains, are filled with rainbow trout, brown trout and cutthroat trout. Fly-fishing Montana's blue-ribbon rivers is a passion for many.
In some parts of the Gallatin River rainbow trout number over 400 per 1,000 feet of stream, according to data reported by the Montana Rivers Information System. Go to The Bozeman Angler site to find fishing area rivers. For hot tips, check out A Guide to Montana Fly Fishing by Brian McGeehan.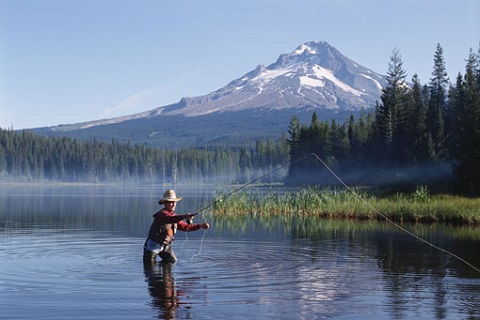 Montana Fish, Wildlife and Parks works to keep fish populations strong in Montana's many streams and rivers. Orvis provides a nice overview of prime Montana fishing rivers.
Horseback riding is fun for young people and adults. Broken Hart Ranch (406)763-4279 near Bozeman offers two-hour, half-day, and full-day rides. Guides take you out on the trail. At higher elevations, riders get fantastic views of the Gallatin Valley and experience wild flowers, wildlife and much more.
Bozeman hosts the Big Sky Country State Fair.  This summer event draws big crowds. In 2021, this event runs July 21-25.
Many outdoor recreational opportunities are found in Beaverhead-Deerlodge National Forest, the largest national forest in Montana. Hiking is a favorite activity.
To find dining in Bozeman, head for Main Street. For breakfast and lunch locals go to the Western Café downtown on east Main Street. The Garage is another Bozeman tradition know for great burgers. The Coffee Pot Bakery located about 25 minutes from downtown Bozeman is a favorite.
For dining and a top bar, don't miss the Baxter Hotel. This establishment features Ted's Montana Grille and the Bacchus Pub.  As you leave the Baxter Hotel pick up some fine chocolates and other gourmet treats at the La Châatelaine Chocolat Co.
Italian cuisine is the regular fare at Blacksmith Italian restaurant. Open Range restaurant gets good reviews, too. Dining at the Bay Bar & Grille is convenient while shopping at the Gallatin Valley Mall.  Other dining options are Urban Kitchen, Seven Sushi, Squire House, and South 9th Bistro.
The Rialto is the newest hot spot in Bozeman. The owners claim the "Rialto is an artistic, cultural, and inspirational hub."  Judging by the huge crowds that show up, this place is a big hit. Check it out!
Some tourists while in Bozeman enjoy Bozeman Hot Springs. This is a great place to relax in one or more of their 12 pools. Bozeman Hot Springs is a full fitness facility too.
At the Gallatin Valley Mall, west of the downtown area, shoppers find quality apparel at Macy's department store. The mall has many national chain stores, too. For outdoor apparel and boots, shop Schnee's on Main Street.
Bozeman has excellent lodging
The Lark (downtown)
(866) 464-1000
RSVP Hotel
(406) 404-7999
Howlers Inn B&B
(406) 587-2050
Hilton Garden Inn
(406) 582-9900
Sacajawea Hotel in
Three Forks

(406) 285-6515
Element Bozeman
$302
(406) 582-4972
Bozeman a very expensive city. A local hotel recently charged $339 for a one night stay in late September. At one restaurant on Main Street a simple buffalo burger with coffee cost $20.13 (including tip). Watch where the locals go and you may find better deals.
Travel tip: U.S. Highway 191 between Bozeman and West Yellowstone is a little hard to navigate. The highway is very curvy in places and is built in a narrow canyon. White crosses on the side of the road tell a story of tragedy for many motorists. U.S. Highway 287 to the west is a far better highway.
West Yellowstone, Montana
West Yellowstone, Montana (pop. 1,353) is located near the West entrance to Yellowstone National Park. The Yellowstone IMAX Theater is one of the top attractions in this small village. IMAX theaters are internationally know for spectacular multi-media presentations. The IMAX experience gives one the sense and feeling of actually being there and involved in the action. IMAXs are very enjoyable for the entire family.
West Yellowstone is a tourist's paradise. Merchants sell quality merchandise of all kinds. There's a better selection here than at other gateway cities near Yellowstone. Dining is a treat, too. And, no sales tax.
The Grizzly and Wolf Discovery Center near the west entrance to Yellowstone National Park is very popular. The Center is home to several grizzly bears and a pack of gray wolves. Grizzly bears and gray wolves are seldom seen in the wild, so this is a wonderful opportunity to see North America's most magnificent mammals.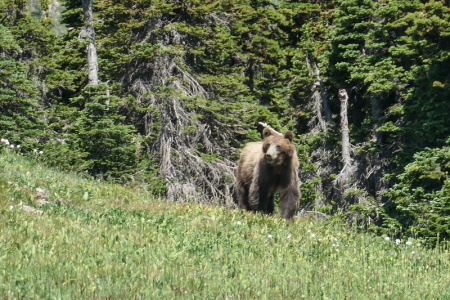 Grizzly bears inhabit Yellowstone National Park. Photo courtesy Sandy Garrison, sandygarrisonphotography dot com.
After a busy day of activities or sightseeing, travelers often stop at the Yellowstone Lodge (406) 646-0020 or the Gray Wolf Inn and Suites (406) 600-4308 in West Yellowstone for a good night's rest. For an evening of luxury, stay at the Hibernation Station (406) 646-4200, the west's finest log cabin lodging.
Virginia City
Virginia City (pop. 198), is one of Montana's top tourist attractions.  In 1863, miners found gold in Alder Gulch near Virginia City. A boom town ensued. Today Virginia City is a well-preserved ghost town, a place for tourists to relive and experience an important and colorful chapter in Montana's territorial history.
The Virginia City Players entertain visitors with melodrama and vaudeville shows in Virginia City.  Yes, dogs are allowed in the theatre if not disruptive with barking. Brewery Follies for comedy is another hot ticket in town, May through September. If you like to reminisce about travel in Montana, Virgina City will long be a part of the conversation.
Northwest of Virginia City, on Montana highway 287, experience small-town, traditional ranching communities, Sheridan and Twin Bridges. When staying overnight in Twin Bridges, try The Old Hotel (406-684-5959).
Dillon 
Dillon (pop. 4,106) is on Interstate Highway, IH-15, southwest of Virginia City.  Bannack an old ghost town is near Dillon. Many old buildings from the gold mining era of the 1860s still stand in Bannack. The Bannack area is now a Montana State Park, a very important symbol of Montana's early history.  Bannack is designated as a National Historic Landmark.
Three Forks
Three Forks (pop. 1,944) is several miles west of Bozeman on I-90. Three Forks is remembered in history as the place where Hidatsa Indians raided a Shoshone camp in 1800 and captured a young Indian girl named Sacagawea. Sacagawea, along as a guide for the Lewis & Clark Expedition, returned west to her homeland and family in Southwest Montana in 1805. Today, a likeness of Sacagawea and her child is on a U.S. dollar coin.
Near Three Forks, the trout-filled Gallatin, Madison, and Jefferson Rivers come together and form the Missouri River. Stop by the Headwaters Heritage Museum in Three Forks and see a trophy-sized German Brown Trout, weighing over 29 pounds, caught at nearby Wade Lake. Lewis & Clark Caverns (a state park), about nineteen miles west of Three Forks, is known for its spectacular underground columns, stalagmites, and stalactites, formed over thousands of years.
Many tourists stop at Wheat Montana Farms and Bakery, when visiting Three Forks, Montana. This eatery offers baked goods and a deli. A good choice for lodging is the Fort Three Forks Motel (800) 477-5690. The Fort Three Forks motel has full RV hook-ups.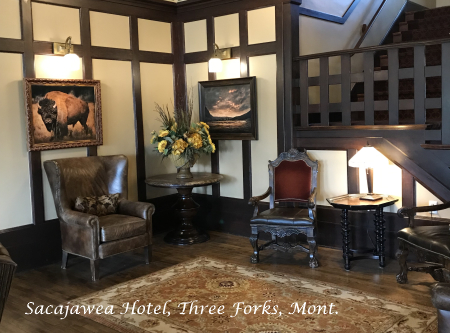 Photo courtesy Sandy Archives.
In Three Forks, the Sacajawea Hotel (406-285-6515), one of Montana's great historic hotels, offers excellent lodging, dining and a bar. Do not miss the Three Forks Cafe if you want to feast on a breakfast fit for a rancher.
Ennis
Ennis (pop.  890) is a picturesque small town located in the Madison Valley. It is a major destination for fly-fishing and other outdoor activities. U.S. Highway 287, the main highway through town, connects with West Yellowstone to the south and points north, including Helena and Glacier National Park. Travelers see an awesome view of the Madison Valley and the majestic peaks of the Madison Range from a turnout on Montana state highway 287 a few miles west of Ennis.
In Ennis, Cattleman Gallery has a great selection western art, some originals. One mile south of Ennis,  El Western Cabins & Lodges (800-831-2773) has sleeping cabins and kitchen cabin suites.  Other choices are Rainbow Valley Lodge (800) 452-8254 and Sportsman's Lodge & Restaurant  (406)  682-4242. For very nice lodging, book at Madison Valley Ranch (800) 891-6158.  At Diamond J. Ranch (406) 682-7833 stay in bed and breakfast cabins, plus, if you like, go horseback riding. The Tackle Shop is fly-fishing central in Ennis.
Butte
Butte (pop. 34,284) is a city lost in time. Once Montana's leading population center, the city has steadily declined over the years due to the demise of mining in the area. On June 8, 1917, disaster hit Butte's Granite Mountain Mine when a bad fire erupted deep below the surface trapping many miners. Days later 168 dead miners were taken from the mine. In 1996 the Granite Mountain Memorial Overlook was dedicated in Butte to honor the memory of the men lost in one of America's worst mining disasters.
The story of Butte is more about its people, many of Irish decent, than anything else. One stands out, the legendary Carl Rowan who owned and operated Gamer's Confectionary in days gone by on West Park Street in the heart of Butte.
With a quick smile and a hearty greeting Mr. Rowan always welcomed his customers as they entered the cafe. On a cold, cloudy day in January 1993, in mid-morning, only two customers, a captain from the Montana Highway Patrol and a professor from nearby Montana Tech college came in for coffee and a snack. This was not unusual in those days only two customers in the cafe before lunch, frequently the same two.
But even at 83 years old, Mr. Rowan was still cheerful and talkative. And always another story to tell. When time came to pay the check, Carl simply directed his customers to the cash register to pay the bill and make their own change without any help from him. Such a character, Mr. Rowan of Butte. Others like him still live in Butte today.
In this century, Butte, Montana struggles to keep its place in the sun. Still the town offers many interesting attractions. The downtown area has lots of old commercial buildings, many of special historical significance. These buildings were obviously grand in their day.
Montana Tech college in Butte has a splendid Mineral Museum, with a huge collection of mineral specimens from around the world. Don't forget to see the museum's king-size gold nugget, weighing 27.475 troy ounces. Miners running a placer mining operation found the nugget in the Highland Mountains near Butte in 1989.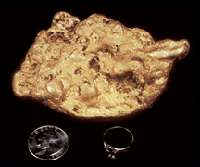 Gold nugget in Mineral Museum, Montana Bureau of Mines and Geology. Photo courtesy of Montana Bureau of Mines and Geology.
At the end of your Museum visit, stop at the gift shop to buy some specimens, rocks, minerals, and fossils, for your personal earth science collection.
High on a mountain near Butte is a statue of Our Lady of the Rockies. "Our Lady" stands 90 tall. From the site of the statue, visitors have an awesome view of Butte in the valley below and nearby mountain ranges. By night, "Our Lady" illuminated by artificial lights is a spiritual beacon for motorists traveling on I-15 and I-90.
The Montana Folk Festival is a huge summer event in Butte. This celebration features live performances, arts and crafts (for sale), Native American art, and activities related to history and traditions of Montana folklife. In 2023, this event runs July 14-16.  Lots of fun here and a chance to sample all that's good in Butte.
Butte is a major service center for tourists traveling on I-90 and on I-15. The city has many chain hotels and restaurants. Call the Hampton Inn Butte (406) 494-2250. The inn provides guests free hot breakfast and WiFi.
Uptown Cafe is the best restaurant in Butte for evening dining. Lydia's is another good choice for Italian-American fare. Lydia's is located a short distance south of the main part of the city. For a simple and delicious snack try Matt's Place.
The Montana Club restaurant is located on Harrison Avenue south of IH-90. Open for breakfast, lunch, and dinner. For this reason, the Montana Club is a good choice. Sometimes it's hard to find a restaurant that serves breakfast.
Travel tips: During the winter, tons of sand are dumped on I-15 between Butte and Helena. Stones in the sand are often picked up by tires of moving vehicles and end up in car windshields.
Deer Lodge
The view of the Flint Mountain Range from Main Street in downtown Deer Lodge is awesome. Deer Lodge (pop. 2,994) is a small town with lots of attractions. At the Grant-Kohrs Ranch National Historic Site near Deer Lodge, visitors learn about the development of the western cattle industry. The site is still a working cattle ranch. A park ranger is on hand to tell about the experiences of cowboys on early-day cattle drives. The Montana Auto Museum is very popular too. The museum features over 120 vintage automobiles. Interpretative displays, an old blacksmith shop, and a 1930s era gas station tell the history of motoring in Montana. The Old Montana Territorial Prison in Deer Lodge is open for public tours. No bad guys here anymore, but still a scary place.
Philipsburg
Montana Highway 1 (U.S. Hwy. 10A before the interstate highway arrived) is a popular scenic drive in western Montana. Called the "Pintlar Scenic Route," the highway connects with I-90 west of Butte and east of Missoula, making the highway an alternate route for travelers heading east or west on I-90. Philipsburg (pop. 920), located at about mid-way on this route, is a historic village with lots of pioneer-days buildings. Many Montana ghost towns are found in the hills near Philipsburg.
Some folks try their luck digging for sapphires in ancient gravel deposits in the Philipsburg area.  For many folks, the Sweet Palace, a candy emporium, is a regular stop in Philipsburg. Be sure to stock up on chocolate, taffy, and caramel candies. The town's natives offer visitors great hospitality, befitting of an old cowboy and mining town. The Broadway Hotel in Philipsburg is a piece of Montana history and has extra nice accommodations. Call 406-859-8000.
If you are staying in Philipsburg and need extra bedrooms, book the Franklin Mountain Cabin (complete home) about two miles from town. Franklin Mountain Cabin has three bedrooms, three bathrooms, and sleeps 11. Good for families or a place to stay with friends. Requires two to three nights minimum stay. VRBO property # 1112552.
Missoula
Missoula, Montana (pop. 74,428) is home to the University of Montana and the mighty Grizzlies. The Grizzlies hang around the University's athletic department and are famous for smashing opponents in the Big Sky Conference, especially in men's football. As might be expected in a college town, many tea sippers populate local hangouts. Away from the university, Missoula is a regular sort of town. Many folks work in forestry and forest products industries.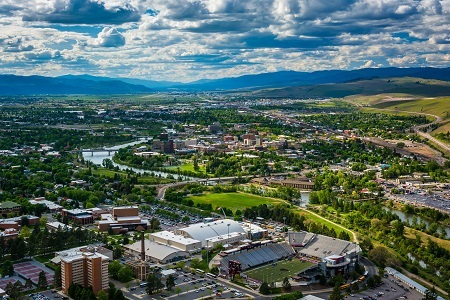 Downtown and area surrounding Missoula, Montana. Campus of University of Montana is in the foreground. Photo courtesy Missoula Parks and Recreation, City of Missoula.
When in Missoula, Montana beer drinkers stop at the Bayern Brewery for a mug of Bayern Pilsener or Bayern Amber, brewed by the resident Master Brewer. The brewery, the only German microbrewery in the Rockies, is know for its quality lager beers. Before leaving, patrons often pick up a baseball cap, stitched with the nifty Bayern logo.
The Rocky Mountain Elk Foundation Visitor Center in Missoula draws many nature lovers and conservationists to Missoula.  Visitors to the Center enjoy educational exhibits, a display of trophy elk mounts, wildlife conservation films, plus a gift shop with clothing, wildlife art, and calendars. The 22-acre site features a delightful Outdoor Walking Trail. Native wildlife can often be viewed on the property. Don't miss this place!
The Historical Museum at Fort Missoula is another top attraction in Missoula. The museum features over 22,000 objects and 13 historical structures. On site are five fort buildings, a homestead cabin and barn (circa 1900), a rural schoolhouse (1907), a church (1863) built by the Jesuits, and a railroad depot (1910). The museum offers a rare opportunity to see how pioneers lived in western Montana.
Shopping is great in Missoula, Montana. Southgate Mall, the main mall in Missoula, with many stores, including major department stores, is located on Highway 93 South.
Missoula has excellent lodging
Holiday Inn
Missoula Downtown
(406) 721-8550
Gibson Mansion
Bed & Breakfast
(406) 251-1345
DoubleTree by Hilton -
Hotel Missoula
Edgewater

(406) 728-3100
Residence Inn by
Marriott Missoula
(406) 542-6252
Missoula restaurants and bars are tops. Most of the best restaurants and bars are concentrated along a five-block section of Higgins Street, a major north-south artery though the downtown area. The Shack Cafe is a good choice for breakfast, lunch and evening dining. For fresh pastries, breads, and desserts, don't miss Bernice's Bakery. At the El Cazador, the Hernandez family cooks up authentic Mexican cuisine.
The Iron Horse Brew Pub sells every beverage imaginable, plus has good food, especially sandwiches. The Iron Horse Brew Pub rocks even on weekdays. Tasty sandwiches and veggies are served at Worden's Market and Deli. For sushi and traditional Japanese food, Sushi Hana is a favorite of everyone.
The Pearl Café is open for upscale dining. Try the Boneless trout with Dungeness crab. Cost a mere $29. The menu at Caffe Dolce, another local favorite, lists house-made pasta, pizza, salmon, lamb burger and more. Wines are from Italy, France, and Spain.
Bayern Brewing is more than a place. It's a destination for many. Several beer labels are sold here: Dancing Trout, Dump Truck, and Face Plant show this guys have an imagination when choosing names for Bayern Brewing beers. Edelweiss Bistro, a part of the brewery, serves food sourced from local farms and ranches. Order a Weisswurst, two poached white sausages served Bier Hall-style with a pretzel and Händlmaier's Sweet Bavarian mustard. $9. Yum!
Missoula's events are highlighted in Missoula Downtown.
Southwest Montana is a hiker's paradise.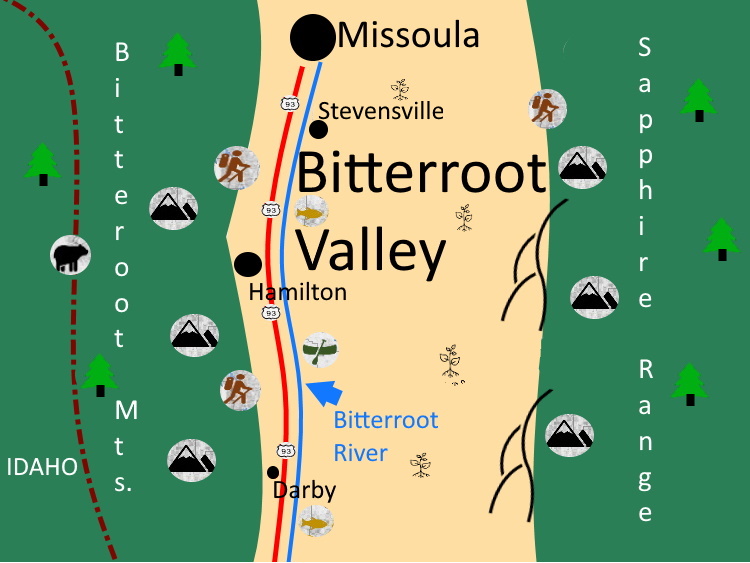 Missoula and Bitterroot Valley, southwest Montana. Take U.S. Highway 93 south of Missoula to the heart of the Bitterroot Valley. Map courtesy Sandy Archives.
Hamilton
Traveling south of Missoula on U.S. Highway 93, visitors enter the beautiful Bitterroot Valley. The valley is bounded on the west by the majestic Bitterroot Mountains and on the east by the Sapphire Mountains.
This is a special place for fun in the outdoors. Fishermen catch lots of rainbow trout, brook trout and other game fish in the Bitterroot River. Rafters love floating the Bitterroot. The mountains in this region are great for sightseeing, hiking, and nature photography. Local outfitters guide tourists into the nearby Selway-Bitterroot and Anaconda-Pintler Wilderness areas for the ultimate wilderness experience.
Hamilton, Montana (pop. 4,674), is in the heart of the Bitterroot Valley. The town is the major trade and recreational center for much of the valley. Hamilton is a slice of the "Old West" rich in traditional western architecture in many of its old buildings up and down main street.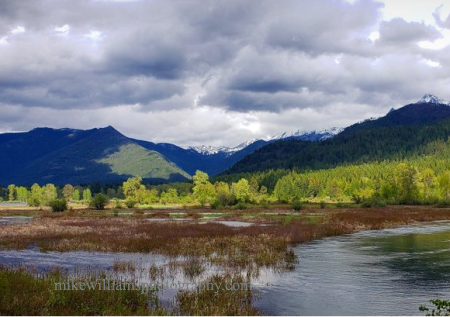 Wilds of Bitterroot Valley. Photo courtesy Mike Williams Photography (Missoula), MikeWilliamsPhotography dot com.
The Marcus Daly Mansion is a huge attraction in Hamilton. Built in 1890, the 50-room Mansion was built by Marcus Daly, Montana's legendary "Copper King." The Mansion is owned by the state of Montana and is open to the public. In Hamilton, the Bitterroot River Inn and Conference Center (406) 735-2525 is a popular with travelers.
Big Creek Pines, a bed and breakfast located a few miles north of Hamilton on U.S. 93, near the town of Stevensville (pop. 1,553), is another good choice. Call (406) 642-6475 for a reservation at Big Creek Pines.
Nap's Grill prides itself on its exceptional customer service.  In a story for the Bitterroot Star, Eric Brockett writes, "Nap's orders all of its meat products from local ranchers. Close to 95% of all beef comes from the Bitterroot while the rest is supplied by other Montana ranchers."  YUM!
The Coffee Cup Cafe get lots of attention from locals in Hamilton. For a special night out try the Spice of Life.
History remembered:
St. Mary's Mission, the oldest settlement in Montana, is on the National Register of Historic Places. In St. Mary's Chapel, visitors can view an altar, railing, and other hand-made woodwork made by Fr. Anthony Ravalli, S. J. (1812-1884), back in 1845. St. Mary's Mission is in the small town of Stevensville a few miles south of Missoula in the Bitterroot Valley.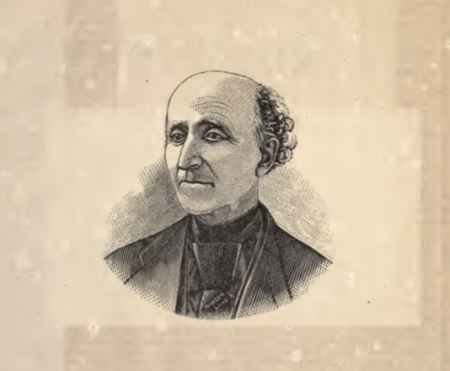 Fr. Anthony Ravalli, S.J., pioneer missionary among the Flathead Indians, St. Mary's Mission, near Stevensville, Mont. beginning in 1845. Photo from a Memoir by L. B. Palladino, 1884. Courtesy Bancroft Library, University of California, Berkeley.
Travel tip:
When driving a good map is handy even if you think you know the way.  It's also helpful for planning alternate routes which may turn out to be more scenic and less traveled than roads drivers usually take. Plan your trip using the official Montana state highway map.
Enjoy southwest Montana.

Absaroka Mountain, Mont.
© 2022 John Sandy