RED LODGE POST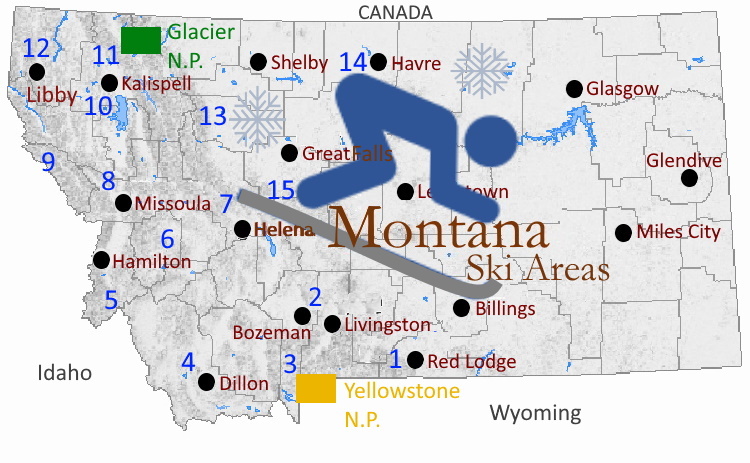 Enjoy ski areas and resorts in Montana:
Red Lodge Mountain, Red Lodge (406) 446-2610
Bridger Bowl, Bozeman (406) 587-2111
Big Sky Resort, Big Sky (800) 548-4486
Maverick Mountain, Polaris (406) 834-3454
Lost Trail Powder Mountain, Sula (406) 821-3211
Discovery Ski Area, Anaconda (406) 563-2184
Great Divide, Marysville (406) 447-1310
Montana Snowbowl, Missoula (406) 549-9696
Lookout Pass, Mullan, Idaho (208) 744-1301
Blacktail Mountain, Lakeside (406) 844-0999
Whitefish Mountain, Whitefish (406) 862- 2900
Turner Mountain, Libby (406) 293-2468
Teton Pass, Choteau (406) 466-2209
Bear Paw Ski Bowl, Havre (406) 265-8404
Showdown, Neihart (406) 236-5522
Highlights of selected ski areas:
Red Lodge Mountain
Near Billings, a big city
Red Lodge is an extra nice small mountain town
Rentals
Group and private lessons
Ski Season
Usually opens after Thanksgiving and stays open through early April.
Regular operating hours on Christmas Eve, Christmas Day, and New Year's Day.
Elevations
Summit Grizzly Peak at 9,416 feet
Base Area/Main Lodge at 7,433 feet
Base of Palisades Quad at 7,016 feet
Lifts
Chair lifts:  6
Surface lifts:  1
Bridger Bowl
Near Bozeman, a college town with great hang-outs and excellent dining
Free mountain tours
Seasonal locker rentals
Group and private lessons
Ski Season
Early December through early April.
Elevation
Top elevation at 8,800 feet
Lifts
1 4-chair, 6 triple-chair and 1 double-chair
3 surface lifts
Montana Snowbowl
About 12 miles northwest of Missoula, home of University of Montana
Many bars and excellent restaurants in Missoula
Snowbowl Snow Sports School
two cafes at base of mountain
Ski Season
Opening is scheduled for December 6th in 2021, if weather cooperates. Open Fridays, Saturdays and Sundays until December 18, then open daily except Christmas Day. In March, closed Tuesdays and "last Monday will be March 16th and at the end of the season other weekdays will be dropped," say Snowbowl staff.
Elevation
Top elevation at 7,600 feet
Base area at Grizzly Chair 5,000 feet
Lifts
4 lifts: 2 double chair, two surface lifts
Whitefish Mountain Resort
The "Vail on the North" near Kalispell
Whitefish is a great small town on the doorstep of Glacier National Park
Rentals, lockers, and repairs
Instruction on how to ski or snowboard
Ski Season
Opening day at the Whitefish Mountain Resort is on Thursday, Dec 9, 2021.
Elevations
Summit elevation at 6,817 feet
Base elevation at 4,464 feet
Lifts
Features a six-person chair lift
Many chairs to suit the likes of everyone
Absaroka Mountain, Mont.
© 2021 John Sandy