South-Central Montana
ZooMontana – Rimrock Mall
Little Bighorn Battlefield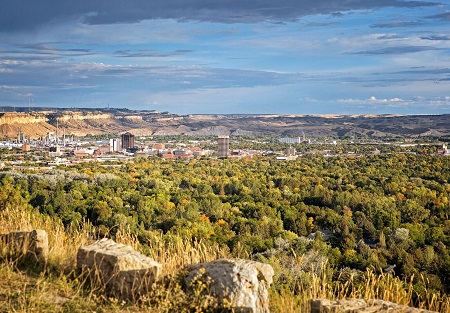 Downtown Billings, Montana, with a view of the Yellowstone Valley from the rimrocks. Photo courtesy Visit Billings.
A visit to Billings is always a wonderful experience. It's all about the people who live here: They are very friendly and helpful. Thanks, Billings!
Billings, MT (pop. 109,550) is the chief city along I-90 and the upper Yellowstone Valley in south-central Montana. Billings is not on the radar of most tourists. Not because Billings is unworthy, rather due to its location in south-central Montana. Of the millions who come to Montana each year, most head to the western mountainous parts of the state.
Billings is called Montana's Trailhead by local promoters.  In many ways this is an appropriate slogan. Billings is a major trade, medical, and entertainment center for much of eastern Montana and the Bighorn Basin in northwest Wyoming.
Billings is a good base from which to make forays to major attractions. Yellowstone National Park, the Little Big Horn Battlefield National Monument, and all the touristy things in Cody, Wyoming are not far from Billings.
Billings has an unusual and unique setting. Billings is near the base of a massive wall of rimrocks. In geologic history, the Yellowstone River cut deep into the earth creating the present day Yellowstone Valley. This action exposed magnificent sandstone cliffs which are today the city's landmark.
From the valley floor near the Yellowstone River, it's more than 460 feet to the top of the rimrocks. Swords Rimrock Park, located on the rimrocks, offers fabulous views of the distant Pryor Mountains and the Rockies further to the west.
The beautiful Yellowstone River is a major landmark in Billings. The Yellowstone is one of America's last free-flowing rivers. It is clearly a national treasure.
Billings is home to Montana State University-Billings (MSU-B). Some 4,200 students study in many fields in the arts and sciences and professional programs.
Attractions
Billings was a frontier town in 1903, but that didn't stop P.B. Moss from building an elegant mansion that'd rival the best of Denver or Minneapolis at the time. Today, the Moss Mansion in Billings is open to the public for daily tours. Small fee charged to take a tour.
ZooMontana is a must see in Billings, Montana. Visitors can view wildlife in natural habitats. The zoo is proud of its waterfowl, owl, river otter, and Siberian tiger habitats. The zoo also features a Sensory Garden with native and exotic plants. At the Homestead exhibit, kids enjoy a collection of domestic animals. ZooMontana is located a few miles west of the city on Shiloh Road.
The Reef Indoor Water Park at 1801 Majestic Lane in west Billings is another good place to take the kids. For more leisure, go for a walk in Swords Rimrock Park on the rimrocks looking over the Yellowstone Valley.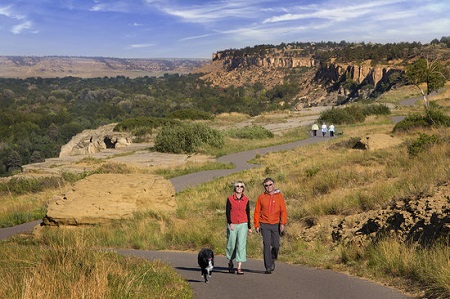 Swords Rimrock Park in Billings, Montana. Photo courtesy Visit Billings.
As the largest city in Montana, Billings entertains thousands of visitors. The huge Metra Park complex, located in the eastern part of the city, has many events throughout the year. The annual fall rodeo at the Metra draws big-time cowboys and cowgirls. Many fun shows and sporting events are held at Metra Park.
The Montana Fair also draws big crowds. This is a huge event, with all the traditional fair stuff are more. In 2023,  MontanaFair is Aug 11-19 in Billings.
Some major historical sites are located near Billings. Pictograph Cave State Park is a few miles south of Billings. In prehistoric times, Native Americans camped at the cave and added some 106 primitive paintings to the cave's sandstone walls.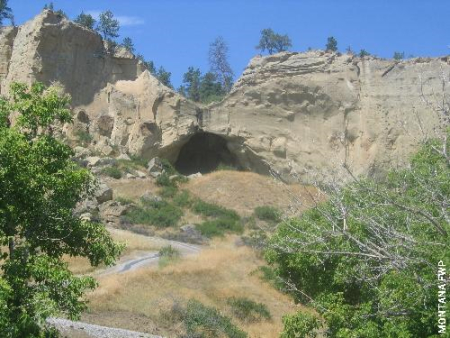 Cave entrance at Pictograph State Park near Billings, MT. Photo courtesy Montana Fish, Wildlife, and Parks.
The Little Bighorn Battlefield National Monument is east of Billings on I-90, near Hardin. Before the pioneers moved west, Montana was home to thousands of Native Americans. They wanted to keep their way of life and protect the land from outsiders. The U.S. government had a different plan and sent the U.S. Army west to subdue the Native Americans.
At the Battle of the Little Bighorn, on June 25-26, 1876, Native Americans fought back and were victorious. Sioux and Cheyenne tribes led by Crazy Horse and others delivered a deadly blow, killing George Custer and many soldiers. The land on which this battle was waged remains largely unchanged today.
A few miles east of Billings, on I-94, visitors can see the place where William Clark, a leader of the Lewis and Clark Expedition, carved his name in a towering sandstone formation a few yards from the Yellowstone River in 1806. Called Pompey's Pillar National Monument, it is administered by the U.S. Bureau of Land management.

To launch your western adventure go horseback riding in Billings. Bitter Creek Outfitters is ready to take you out on the trail near Billings. (406) 855-6075.  Elk River Outfitters offers horseback riding  near Billings, Red Lodge, and East Glacier (406) 860-3699.  Horseback riding is a chance to feel like a real cowboy in Montana.
Fun
Enjoy the Billings Wine & Food Festival. In 2023, this event is May 18-20.
Shopping
Shopping is excellent in Billings, Montana. The first stop for many visitors is Scheels in west Billings. Scheels sells things for outdoor activities, such as camping, fishing, and hunting.  A huge Ferris wheel in the center of the store  offers rides for children and adults.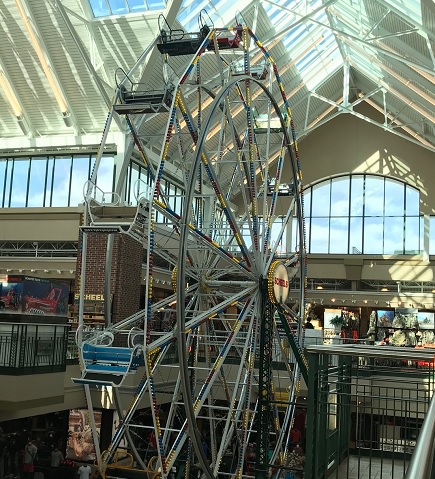 Have fun year-round riding this huge Ferris Wheel at Scheels Sports Store in Billings, Montana. Scheels is on Shiloh Lane in west Billings. Photo courtesy Sandy Archives.
Rimrock Mall on 24th Street West has a variety of anchor stores and special shops to satisfy every taste.  It's a very nice mall. You could drop Rimrock Mall in Seattle or Denver and it would shine equal to or above anything offered in those cities. Billings is proud of its largest retail mall. The Barnes & Noble bookstore is also on 24th Street and a favorite meeting place in Billings.
Yesteryear's Antique Mall (on 29th Street) is a destination for finding hidden treasures in Billings. Find antiques galore in this huge place.  An extra nice Starbucks coffee shop is on Grand Avenue a few block west of the downtown area.
Hotels
Billings has excellent lodging
Hilltop Inn by Riversage
(406) 245-5000
Riversage Billings Inn
(406) 252-6800
Home2 Suites by Hilton
(406) 252-2255
The Crossings Bed
& Breakfast
(406) 672-6878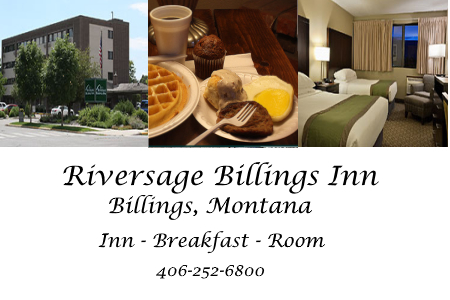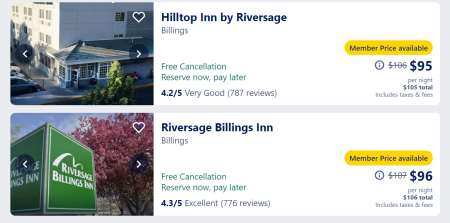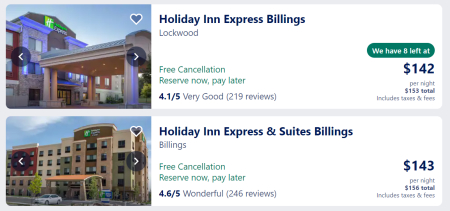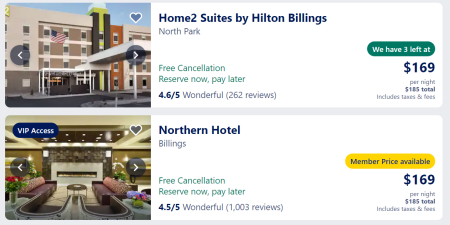 Restaurants
Bistecca at the Granary has the best food and atmosphere in Billings. The Granary's bar is special and a delightful place to have a seat even if you only order a Coke. The Granary is open for lunch and evening dining and located in a quiet neighborhood on Poly Drive.
The City Vineyard is on Grand Avenue in far west Billings. This place is exceptional. Don't miss!   Sandwiches, salads and soups, desserts, and more. Try  the "create your own meat and cheese board."  Great selection of Montana craft beers and wines are served.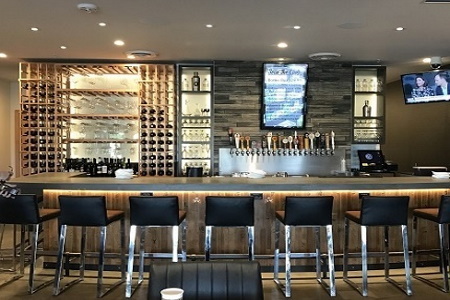 City Vineyard eatery in west Billings, Montana, Many tables to choose from in front of the "bar" shown here. Photo courtesy Sandy Archives.
City Vineyard sells a very large selection of quality wines. Deer Creek Field Medal cheese from Wisconsin and other treats found here too. Next door and adjoining City Vineyard is City Brew Coffee shop. This is a very, very  nice coffee shop. MTbest™
Commons 1882 is another good restaurant in Billings' west end (on Shiloh Road). Everything on the menu is yum, plus Commons 1882 has a full bar, craft beers, wines, and cocktails. Try a "Blue Collar Burger" for only $11.
Harper and Madison is a top eatery in Billings. Pastries, desserts, sandwiches, salads, and locally roasted coffee are on the menu.  Great breakfast menu. This restaurant is very popular with locals and is located near the hospital-Billings Clinic area north of downtown area. The setting is in a local neighborhood. Open Tuesday thru Friday (7:00 am – 2:00 pm), and Saturday (7:00 am thru 1:00 pm. casual surroundings.
For an extra nice atmosphere and good prices dine at Jake's restaurant downtown. For yummy seafood and ribs, try Montana's Rib & Chop House  on Majestic Lane in the far west end of Billings.  Don't miss McCormick Café's sandwiches and fresh-baked goods.  McCormick Cafe is on Montana Avenue downtown.
The Sassy Biscuit is a dining spot for breakfast and lunch. The menu: pressed shortcakes, grilled cakes, porridge, farm fresh eggs, sage sausage, and more. Downtown.
Buffalo Block Prime Steakhouse at the Rex on Montana Avenue downtown recently had a makeover. It's even better than it was before. Fresh and delicious seafood and other entrees are also on the menu. Prime Bone-In Filet Mignon, $75; Pan Seared Salmon, $24; Seafood Fettuccine, $50; Rex Bacon Burger, $18.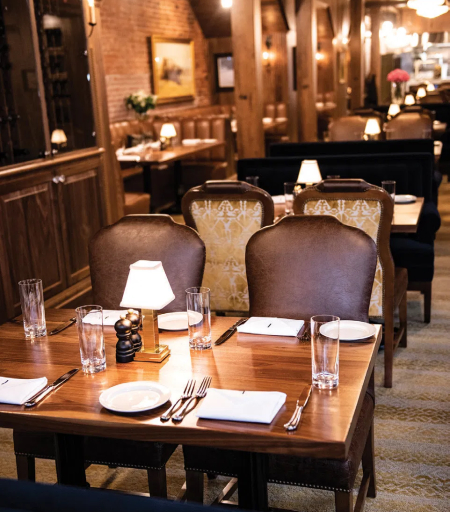 Fine Dining at the Buffalo Block Prime Steakhouse at the Rex on Montana Ave, Billings, Mont. Photo courtesy Big Sky Journal.
Meatloaf sandwiches just like you mom used to make are on the menu at The Fieldhouse restaurant in downtown Billing on Montana Avenue. The Fieldhouse has many other delicious foods too: Burrata (Benton's ham, crouton, flathead cherry, sage); Lamb Bolognese (with orecchiette pasta, herbs, pecorino, shaved fennel salad); and many more savory temptations.
The 406 Kitchen & Taproom has a great location on north 27th Street, not far from downtown, the airport, and area colleges. On the menu Famous 406 nachos, halibut sandwich, are many more tasty delights. The atmosphere at 406 Kitchen & Taproom is very average  but the kitchen has good hours of service.
Alex, a Billings local, recommends The Marble Table (on Montana Avenue downtown) and the Diamond X Beer Company. Both are sort of new to Billings.
The Burger Dive in downtown Billings is a favorite for a quick bite in casual surroundings. Great Harvest Bread is always a another good choice. For breakfast and lunch, Stella's Kitchen in downtown Billings is a favorite of everyone.
Top Ethnic Cuisine:
Ciao Mambo Italian Restaurant
Guadalajara Mexican Restaurant
Shanghai Village (Chinese)
View map of Billings. Use + or – to zoom in or zoom out:
Transportation
Car rentals are available at Billings Logan International Airport:  Hertz (406) 248-9151, Alamo (406) 252-7626, Avis (406) 252-8007.  For taxi service call City Cab (406) 252-8700 or Yellow Cab (406) 245-3033.  Get a free visitor's guide from Visit Billings.
Billings weather during summer months is a pleasure to experience. In July at midday, temperatures can reach as high as 90 degrees Fahrenheit, but relative humidity is low often at 31%. To top things off, days are mostly sunny and daylight lasts about 15 hours. Few places in the United States have beautiful summer weather like this. Is this paradise found?

Billings is a fun city to visit. Great shopping and very friendly people.

Absaroka Mountain, Mont.
© 2022 John Sandy