RED LODGE POST
Adventure and the lure of riches brought thousands of prospectors to Montana (before statehood) in the late 19th century. In 1862, pay dirt was hit at Grasshopper Creek in southwest Montana. In a matter of months, thousands of miners flooded to the region. A town called Bannack City was born.
After the gold ran out, Bannack's miners moved on to the next big strike. The mining camp built when the miners first arrived was abandoned. Wisely, years later, citizens made Bannack a state park, Bannack State Park. Bannack may be the best-preserved ghost town in the west. Every year, thousands of visitors explore Bannack State Park.
In 1863 more gold was discovered along Alder Gulch near present day Virginia City. Today, Virginia City is a "living ghost town." Virginia City retains its historic roots, even while small businesses seek new-found riches in the pockets of visitors who come to Virginia City every year, hoping experience a little of Montana's colorful past.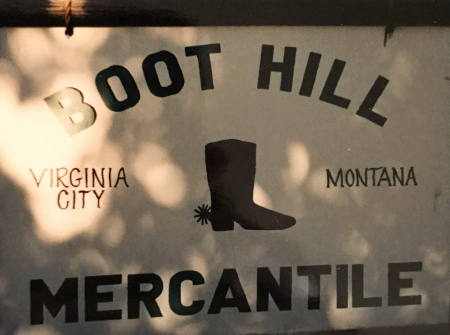 In 1864 gold was also discovered near Helena in an area fittingly called Last Chance Gulch. By some accounts, this strike produced about $19,000,000 of gold in four years. No ghost town here: Last Chance Gulch is now a prosperous and thriving main street for the city of Helena.
A few years later, in 1870, miners found silver in the Elkhorn Mountains south of Helena. The town they left behind after the silver declined is a well-preserved ghost town called Elkhorn. Some 50 of the town's original buildings still stand. An old cemetery is nearby, a place where interred bones of miners and their families rest in peace. Some of these miners likely made tidy sum of money for their mining efforts. Elkhorn is now part of Elkhorn State Park.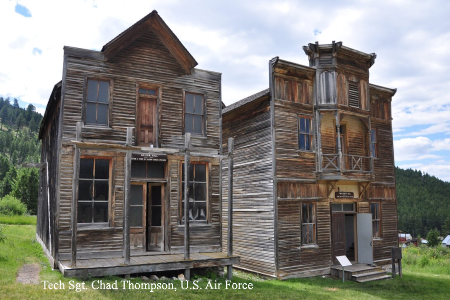 Mineral riches were also found in other areas of western Montana. Granite County near Philipsburg boasts a few ghost towns that attract many visitors. Buildings of early mining settlements still claim a part of the landscape at places called Garnet, Southern Cross, Granite, Black Pine, and Red Lion.
At the Granite County Museum in Philipsburg, a replica of an underground silver mine was built in 1996 to give visitors a picture of a mining shaft and to show the equipment used to move riches from the earth.
Ghost towns make wonderful places to visit. They are a window into early days of the west. The architecture of the buildings that still exist serves as testimony to the hopes and dreams of many who came west in the early days before the true pioneers arrived to settle the land in a more permanent way. Every visitor to Montana should experience a ghost town, fun and much to learn from.

Absaroka Mountain, Mont.
© 2021 John Sandy