Fly-Fishing in Montana
Fly Fishing is a favorite activity in Montana. The day after a fisherman leaves the river, planning begins for the next outing to one of Montana's pristine and wild trout streams.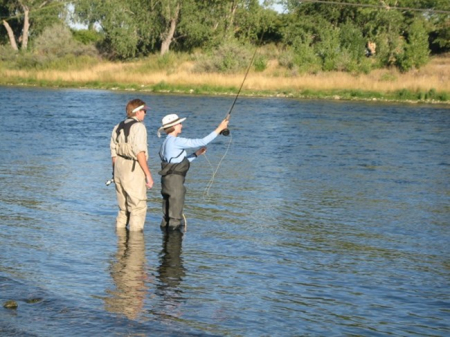 Brian McGeehan and his team at Montana Angler Fly Fishing are ready to help make your fishing experience the best possible. Brian's guide to Montana fly fishing published here offers great advice and the best information for successful fly fishing in Montana. Learn and enjoy from a professional, Mr. Brian McGeehan.
A Guide to Montana Fly Fishing, by Brian McGeehan, Montana Angler Fly Fishing
Introduction
Montana is home to some of the world's finest wild trout rivers. Anglers from around the globe are drawn to the cold waters of the Treasure State and the trophy trout that are found within. One of the great assets of the rivers, streams and lakes found in the Western half of Montana are the incredible variety that can be found. Anglers can choose from large freestone rivers, back country wilderness streams, technical spring creeks and productive ponds and lakes. Montana streams and rivers are not stocked so all trout found in our waters are wild and primarily include cutthroats, browns, rainbows, and brook trout.
When to fish
Good fishing can be found year-round. Many rivers and spring creeks are open year-round but others are closed from late November until mid-May. Not all rivers and streams are good at any given moment but because of the huge variety of water types there is always a fishery that is producing on any given week.
Winter
From late November until mid-March most of the larger rivers are legal to fish as well as several spring creeks. Winter fishing is mosty a subsurface game with nymph fishing being the most effective approach. Anglers should focus on slower and deeper runs where trout are heavily concentrated. Using a longer leader with enough weight to put the flies near the bottom is critical. Takes are very subtle so a sensitive yarn indicator is very helplful. In some locations late winter midge hatches can produce some dry fly fishing
Spring
In late March through May water temperatures begin rising and several aquatic insect hatches begin to produce some great dry fly fishing. Nymph fishing and streamers are still productive as well. The hatches begin with the skwala stoneflies in the western rivers. By mid-April blue winged olive mayflies can be found on most rivers in the state in the middle of the day. Early May brings the March brown mayfly and the famous Mother's Day Caddis to many rivers including the Bighole, Madison and Yellowstone.
Late Spring
Generally by the middle of May longer days and warming temperatures cause the mountain snow to begin melting and rapid rates. This period is referred to as run off and results in the highest water levels of the year. Many rivers become high and dirty and are not productive but others are still outstanding. During run off anglers should focus on rivers that are protected by large dams that filter sediments such as the Missouri, Bighorn and Beaverhead. Smaller spring creeks such as the ones near Livingston are not affected by snowmelt and are very good at this time. Finally many of the reservoirs around the state produce outstanding fishing in late spring.
Early Summer
By late June many rivers are dropping and clearing. When rivers drop depends on how large the snow pack is on a given year. On an average year many rivers begin dropping by mid June. When rivers are dropping the fishing is often outstanding and for the first several weeks of the summer there are explosive hatches including several species of stoneflies, mayflies and caddis flies. At this time of year anglers can try using large attractor dry flies, or may choose to "match the hatch". Subsurface nymph fishing is also outstanding and anglers should consider using subsurface imitations that represent the nymphs of the hatching insects.
Late Summer
By the middle of July most of the aquatic insects have hatched and trout begin to focus on other sources of food. On the surface flies that imitate terrestrial insects such as grasshoppers, beetles and ants are the most productive choices. Under the surface flies that imitate small bait fish such as sculpins or general attractor nymphs like small copper johns, princes and pheasant tails are a safe bet.
Fall
Starting in late September several fall hatches begin to interest trout again with the most important being the fall blue winged olive. Large brown trout are also starting to move out of large reservoirs and rivers into smaller tributaries to spawn and become more aggressive. Fall is a great time to target trophy trout across Montana.
Where to Fish
Nearly every body of water in the Western half of Montana holds trout. Visiting anglers should be consider the assistance of an experienced guide if wishing to explore the larger famous waters. Rivers like the Yellowstone, Madison, Missouri, Bighorn, Big Hole, Clarks Fork and others are incredible fisheries but are often intimidating to wade fish.
Experienced guides often use drift boats and rafts to allow anglers to access these larger rivers. Do it yourself anglers should focus on smaller waters. Many of the streams in the National Forests are easier to wade fish and also provide ample public access.
Montana also supports a stream access law which permits anglers to fish on private lands if within the high water mark. It is important to access streams from a public location such as a county bridge or Fish Wildlife and Parks access site. For a great guide to Montana rivers and streams visit Glacier to Yellowstone Montana Fly Fishing website.
Equipment
Anglers fishing in Montana will most often use a 5 wt for smaller rivers and a 6 wt for larger rivers. A 7wt is nice for streamer fishing and a smaller 3 or 4 weight can be fun on small mountain streams or spring creeks. Longer 9 foot rods make it easier to manage your fly lines and clear your back cast over tall grass. For smaller streams any reel is fine but for bigger rivers a reel with a good drag system can help land larger fish. Fly selection varies by river and time of year and it is best to visit a local shop near the area you are targeting when you arrive in Montana.
For recent river reports and advice on planning a trip to Montana consider contacting the guys at Montana Angler Fly Fishing.
–This guide to Montana fly fishing is authored by:
Brian McGeehan
Owner and Outfitter
Montana Angler Fly Fishing, 76 Lucille Lane, Bozeman, MT  59718, www.montanaangler.com, cell 406.570.0453, office 406.522.9854
---
Buy fly-fishing gear and flies in Montana:
•Bozeman: The Rivers Edge  •Livingston: Dan Bailey's  Fly Shop  •Missoula: The Kingfisher  •Missoula: Grizzly Hackle Fly Shop  •Billings and Fort Smith: Bighorn Fly & Tackle Shop  •Gardiner: Parks' Fly Shop  •West Yellowstone: Jacklin's Fly Shop  •Ennis: Tackle Shop  •Craig: The Trout Shop
Favorite fly-fishing outfitter and guide:
The Montana Angler [Go to]
Favorite Montana fly-fishing lodges:
•Madison Valley Ranch near Ennis (800) 891-6158 •Madison River Lodge near Cameron (949) 425-9335  •Gallatin River Lodge near Bozeman (406) 859-8000
Favorite Montana fly-fishing rivers:
•Gallatin River near Bozeman  •Madison River near Ennis  •Big Hole River near Dillon  •Bighorn River near Hardin  •Jefferson River near Three Forks  •Yellowstone River near Livingston and Gardiner  •Boulder River near Big Timber  •Missouri River near Craig  •Ruby River near Sheridan  •Stillwater River near Columbus
Fly-fishing is a very popular sport in western Montana. Rainbow trout and brown trout are favorite species of many anglers.  Montana Fish, Wildlife & Parks offers information on fishing in Montana.
 Montana Fish, Wildlife & Parks offers information on fishing in Montana 

Absaroka Mountain, Mont.
© 2022 John Sandy