Havre – Great Falls
Glasgow – Fort Benton
Northeast and north-central Montana is Discoveryland. Most of the region is vast open plains, with few trees. The Missouri River flows through the heart of Discoveryland.
U.S. Highway 2 is the main east-west route across northern Montana and Discoveryland. Towns along U.S. Highway 2 are small and often far apart. A traveler can go from Culbertson, near the eastern border of the state, to Browning, at the foot of the Rocky Mountains, a distance of 421 miles, without seeing much human civilization. Welcome to the Great American Outback. Other towns along U.S. Highway 2 are Glasgow, Malta, Havre, Shelby, and Cut Bank.
North-central Montana is one of America's richest agricultural regions, producing millions of bushels of wheat and barley. Wheat produced in this region helped Montana achieve a ranking of 4th among all the states in total wheat production in 1996, according to the Montana Department of Agriculture. The brew served in many a pub around the nation likely is made from Montana barley grown in Discoveryland.
In the spring of 1805, the Lewis and Clark Expedition traveled west across the northern plains in search of a water route connecting the Mississippi River with the Pacific Ocean. The expedition, called the Corps of Discovery, followed the upper Missouri River through this area of Montana. Towns in Discoveryland celebrate the deeds of these bold and and courageous explorers.
During the 1800s, Montana was home to vast herds of buffalo. The buffalo flourished because of abundant grasses so common on the plains at that time. At a site called the Ulm Pishkun buffalo jump thousands of buffalo were harvested for food, hides, and more after they were stampeded over a high cliff by Native Americans. Today the site is First Peoples Buffalo Jump State Park. The park, near the town of Ulm (southwest of Great Falls), has a visitor center for interpreting the archaeology and history of the area.
Many indigenous peoples still live in this area of the state. Blackfeet, Sioux, Gros Ventre, Assiniboine, Little Shell Chippewa, and Chippewa Cree follow modern ways of life while honoring their traditional heritage. A program called "Native America Speaks" sponsored by the Glacier National Park Conservancy in collaboration with Glacier National Park, promotes and remembers the history and culture of indigenous peoples of north-central and northwest Montana.
West of Great Falls, Montana, the plains transition to the Rocky Mountains. A vast area stretching north-south for about 150 miles in front of the mountains is aptly named the Rocky Mountain Front. In this area,  grizzly bears come out of the mountains and hunt for food on the plains.
Great Falls
Great Falls (pop. 58,701) is the largest city in north-central Montana. Many people who live in the area go to Great Falls for shopping and entertainment. Downtown Great Falls is a first-stop for any visit to this wonderful city.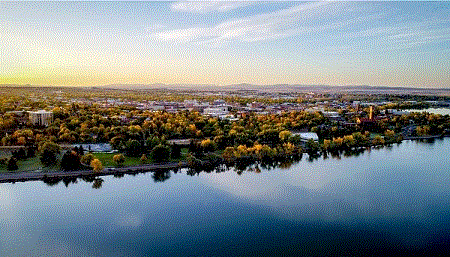 Great Falls, Montana is a cultural and commercial center for a vast region in north-central Montana. The Missouri River adds to the local scenery and is a source of many recreational opportunities. Photo courtesy of Visit Great Falls.
In downtown Great Falls, Hoglund's Work and Western Wear is the place to go to buy cowboy boots and hats. Hoglund's has the best selection of brand-name western wear in the Rocky Mountain West, outside Denver. For quick information about Great Falls, check out the Great Falls city guide.
Many visitors shop at Holiday Village, the main mall in Great Falls, with over 80 stores. The mall is located south of the downtown area on 10th Avenue South along with a Target store and even more shopping.
The C. M. Russell Museum is a well-known cultural and historical treasure in Great Falls. A famous western artist, Charlie Russell produced many paintings depicting Native American and cowboy life on the northern plains in the early 1800s. Many of Russell's paintings and drawings are owned by the museum. Charlie Russell's original studio is near the museum and is, by itself, worth a visit.
The Lewis and Clark National Historic Trail Interpretive Center is a don't miss attraction in Great Falls. The center sits on a bluff overlooking the Missouri River. It is near the great falls of the Missouri where Lewis and Clark took eleven days to make the 16-mile portage around five separate falls on the river in 1805. The center has numerous exhibits which describe the expedition's journey up the Missouri River and on to the Pacific Ocean.
Up river from Great Falls, the Missouri River offers some of the best fly-fishing in Montana. Head for the little town of Craig, put on waders, and venture out on the river to try your lucky catching rainbow trout.
Fairs are for summer fun in Montana. Great Falls is the site of the Montana State Fair. Live entertainment, rodeo, carnival rides and exhibits make this a wonderful event for all to attend. In 2023, this event runs July 28-August 5.
Great Falls has excellent lodging
Hotel Arvon Great
Falls
406-952-1101
Great Falls Inn by -
Riversage
406-453-6000
O'Haire Motor Inn
406-454-3141
Great Falls has many good dining spots. Tops is the Celtic Cowboy in the Hotel Arvon in downtown Great Falls.  The Celtic Cowboy is a pub and restaurant. On the Menu for breakfast:  Scotch Eggs for $9   "Irish Porridge" (Irish oatmeal) for $6.  For lunch try their Celtic Burger (ground bison or elk, with cheese, tomato, and slaw) $15. A favorite for dinner is Irish Whiskey Glazed Salmon, $24.  On the pub side, the Celtic Cowboy offers about 35 craft beers made in Montana.  Go for a craft beer or to dine  – the Celtic Cowboy is an amazing place.  MTbest™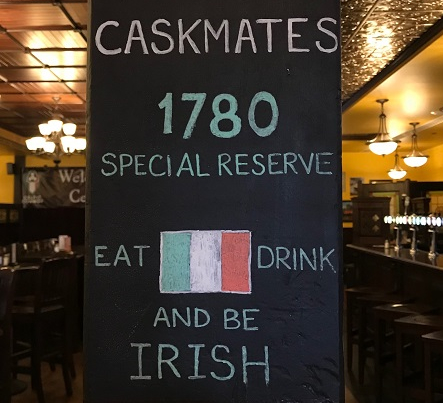 The Celtic Cowboy is an Irish themed pub and restaurant in Great Falls, Montana. Craft beers and tasty foods served. Old-world charm here. Photo courtesy Sandy archives.
Dante's Creative Cuisine has a nice atmosphere and, according to management, offers "casual [dining] elegance in the heart of Great Falls, Montana. Perfect steaks and prime rib, delicious seafood entrees, southwestern specialties and delectable desserts make us hard to resist!" On the menu, Manicotti Italiano, $18.95, Chicken Milano, $19.95, Charbroiled Salmon, $28.95, and Grilled Ribeye, $29.95. A great selection of wine, beer, and spirits here, too.
JB's Restaurant is a family dining place near major shopping areas and the city's main mall. JB's fresh strawberry pie served with whipped cream is great!
Steak and seafood lovers head for Eddies Supper Club. On Friday and Saturday nights, patrons enjoy the music around Eddies' famous piano bar. The Sip-N-Dip Lounge is another hot spot in Great Falls. Sandwiches are wunderbar and a reasonable price at Wheat Montana Bakery & Deli.
Choteau
Choteau, Montana (pop. 1,686) is on U.S. Highway 89, about 52 miles northwest of Great Falls. Choteau is ideally situated along U. S. Highway 287, the north-south route connecting Yellowstone National park with Glacier National Park. Choteau's charm lies in its location, only 26 miles from the Rocky Mountains. The mountain and prairie landscape is home to mountain goats, big horn sheep, coyotes, mule deer, and smaller mammals.
While rural in spirit, Choteau is still a sophisticated small town. Old Trail Museum is well-known for its dinosaur fossils. Plenty of friendly merchants, taverns, and good restaurants make Choteau a nice place to visit or a great overnight stop over. The Stage Stop Inn (406) 466-5900  has extra nice accommodations and includes an indoor pool and a spa.
Fort Benton
Some of the most rugged and beautiful scenery in the West is found along the Missouri River, downstream from Fort Benton (pop. 1,456). Magnificent towering sandstone cliffs and deep canyons border the river. Segments of the river are known as the White Cliffs region and the Missouri River Breaks. Kayaking and Canoeing are favorite activities along this stretch of the river. The federal government recently designated this area as the Upper Missouri Breaks National Monument. The wildness and solitude of the Missouri River make a float trip on the river an event long remembered.

Upper Missouri River Breaks National Monument, Montana. Courtesy U.S. Bureau of Land Management, Photo by Bob Wick.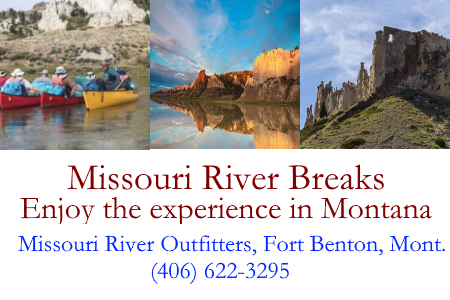 Guided canoe trips and much more. Family fun. Photos courtesy Missouri River Outfitters. mroutfitters dot com.
In 1805, Lewis and Clark traveled on the upper Missouri River in a keelboat. Read an account of their adventures in The Journals of Lewis and Clark (an abridged version of the  original journals), edited by Bernard DeVoto in 1953. Modern day "explorers" enjoy the river and scenic landscapes with a float trip down river.
The Museum of the Northern Great Plains is a major attraction in Fort Benton. As an added bonus, Fort Benton visitors can see a magnificent Lewis and Clark Memorial, a huge bronze statue of Meriwether Lewis, William Clark and Sacagawea, near the banks of the Missouri River. For special accommodations, book a room at the historic Grand Union Hotel (406) 622-1882 in Fort Benton.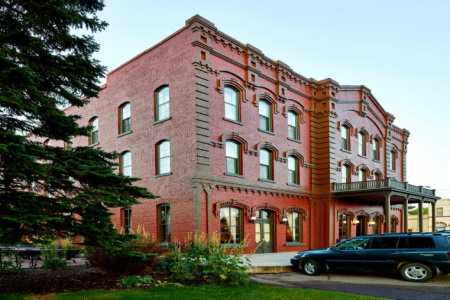 Grand Union Hotel in Fort Benton, Montana. Dining, service, history, the Grand has it all. Photo courtesy Grand Union Hotel.
Havre
Havre (pop. 9,846) is a small town on U.S. Highway 2. The city is near Canada and the Canadian provinces of Saskatchewan and Alberta. Visitors to this area of Montana enjoy water sports and fishing for northern pike and walleyes on the Fresno Reservoir, a lake created by a dam on the Milk River. The Bearpaw Mountains, a small mountain range south of Havre, are another popular destination. An important historic site is the Bear Paw Battlefield, southeast of Havre. In 1877, Chief Joseph and his small band of Nez Perce Indians waged a futile battle with the U.S. Cavalry. Nice lodging is offered by the Quality Inn (406) 265-6711 in Havre.
Glasgow
Fort Peck Lake is the major draw in northeast Montana. The lake was created in the 1930s when the U.S. Army Corps of Engineers built Ft. Peck Dam on the Missouri River near Glasgow (pop. 3,364). Today, Fort Peck Lake is a huge reservoir extending some 130 miles upstream from the dam. Fort Peck Lake is a hot spot for sport fishing, camping, boating and other outdoor activities. Salmon, walleye, lake trout, smallmouth bass, and rainbow trout are abundant in the lake. Charlie Long, a guide for Elk River Outfitters, in Fort Peck, helps fishermen find and land the big ones.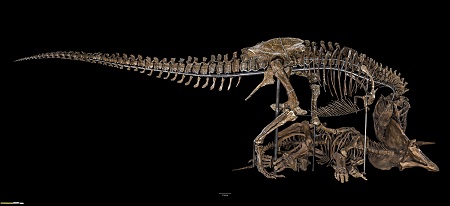 Exhibit of Tyrannosaurus rex in Hall of Fossils at the Smithsonian in Washington, D.C. This nearly intact dinosaur fossil was found in 1988 in ancient sediments along the Fort Peck Reservoir near Glasgow, Montana. Photo courtesy Smithsonian National Museum of Natural History.
Montana History remembered:
On January 23, 1870, during Montana's territorial days, U.S. Army soldiers attacked a group of Piegan Blackfeet Indians, camped along the Marias River [Bear River] not far from present day Shelby, Montana, a town 88 miles north of Great Falls. When the gunfire from the soldiers stopped, about 173 Blackfeet Indians, including many women and children, lay dead along the shore of the river. Today a memorial marks the site of this tragedy.
Montana History remembered:
Cultural events in small towns have a place in the Montana's history too. In August, 1976, Cardinal Karol Wojtyla (from Poland) later to become Pope John Paul II, visited the tiny community of Geyser, near Great Falls. This was a huge event, long remembered, by the people of Geyser and the surrounding rural communities.
Travel tip:
When driving a good map is handy even if you think you know the way. It's also helpful for planning alternate routes which may turn out to be more scenic and less traveled than roads drivers usually take. Plan your trip using the official Montana state highway map.
Enjoy northeast Montana.

Absaroka Mountain, Mont.
© 2022 John Sandy