Livingston – Billings – Glendive
Red Lodge – Big Timber
Southeast and South-central Montana is Yellowstone. Most of this region is vast, mostly treeless, plains, extending west from the North Dakota border to the city of Billings. The history of the region centers around the Yellowstone River. The Yellowstone River begins in Yellowstone National Park. The river meanders northeast across the plains of southeastern Montana, until it joins with the Missouri River in North Dakota. The Yellowstone is one of America's last free-flowing rivers. It is clearly a national treasure.
Buffalo and other wildlife flourished along the Yellowstone River's broad valley and the adjacent plains, during the early 19th century. The river served as a lifeline for the Native Americans.
Today, the Yellowstone River Valley is a highly productive agricultural region, producing crops as diverse as alfalfa, sugar beets, and corn. Large numbers of Hereford and other cattle are raised on ranches in the Yellowstone region. Cities, such as Glendive, Miles City, and Billings, have prospered because of the presence of the river.
The Beartooth-Absaroka Wilderness is a prominent part of the landscape southwest of Billings. The Beartooth has 12 mountain peaks towering over 12,000 feet. At high elevations, 950 alpine lakes add to the beauty of the mountains. High plateaus, deep canyons, and sparkling streams are common. The mountains border Yellowstone National Park on the north.
THE UPPER YELLOWSTONE RIVER VALLEY
Billings
Billings, Montana (pop. 109,550) is the chief city along I-90 and the upper Yellowstone Valley. Billings is a good base from which to make forays to other places and attractions in south-central Montana and northern Wyoming. Yellowstone National Park, the Little Big Horn Battlefield National Monument, and Cody, Wyoming are not far from Billings.
The city of Billings has an unusual and unique setting, built as it is at the foot of a massive wall of rimrocks. In geologic history, the Yellowstone River cut deep into the earth creating the present day Yellowstone Valley. This action exposed the magnificent sandstone cliffs which are today the city's landmark. From the valley floor near the river, it's more than 460 feet to the top of the rimrocks. Swords Park on top the rimrocks offers fabulous views of the distant Pryor Mountains and the Rockies farther to the west.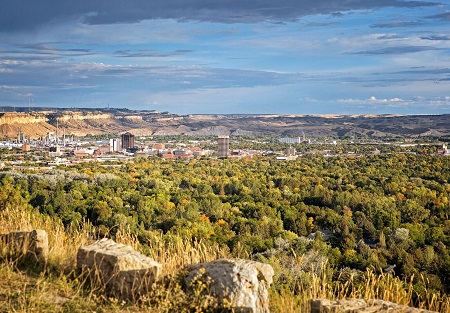 Billings, Montana, with a view from the rimrocks of downtown and Yellowstone Valley. Photo courtesy Visit Billings.
The Yellowstone County Museum is near the Billings airport. It's small, but all the good historical stuff is here. In downtown Billings, on Montana Avenue, the Western Heritage Center features super exhibits about the homesteading era in Montana.
ZooMontana is one of the top attractions in Billings. Visitors can view wildlife in natural habitats. The zoo is proud of its waterfowl, owl, river otter, and Siberian tiger habitats. The zoo also features a Sensory Garden with native and exotic plants. At the Homestead exhibit, kids enjoy a collection of domestic animals. ZooMontana is located a few miles west of the city on Shiloh Road.
Pictograph Cave State Park is a few miles south of Billings. In prehistoric times, Indians camped at the cave and added some 106 primitive paintings to the cave's sandstone walls.
If you want to experience culture of Indigenous Peoples, it's on display at Crow Fair, a huge celebration held annually in mid-August at Crow Agency near Hardin and not far from Billings.  Crow Fair features a rodeo, parade, powwow, and horse races. A lot of fun and enjoyment for all at this popular event.  Crow Fair is sponsored by the Apsaalooke  people of the Crow Indian Reservation.
The MontanaFair also draws big crowds. This is a huge event, with all the traditional fair stuff are more. In 2023,  MontanaFair is Aug 11-19 in Billings.
Horseback riding is a chance to feel like a real cowboy. In the Billings area, Bitter Creek Outfitters (406) 855-6075) offers scenic trail rides.
If you want to experience something unusual in a very beautiful setting, visit Tippet Rise Art Center. Tippet brings together architecture, art, and music all offered in the remote prairies and foothills near the Beartooth Mountains southwest of Billings and  the tiny hamlet of Fishtail, Montana.
In the outdoors, you'll see eight huge architectural and artistic creations, spread out in separate locations. Creations go by interesting names such as "Proverb" and "Domo." Proverb is a giant sixty-foot steel structure that resembles a child's protractor much like the one used by grade schoolers. These outdoor presentations are a find worthy of any great explorer. 
In addition, Tippet Rise Art Center has a splendid performing arts building used as a venue for leading classical musicians to show off special talents with fine instruments. The musical performances are a bonus for those lucky enough to get a ticket.
Spirits of ancient Indigenous Peoples float over the hills and valleys near the Beartooth Mountains, especially during warm summer evenings. The spirits search for  campfire sites of times long ago and locations of favorite ancestral hunting grounds. An encounter is not likely but wildlife and wild lands know of and feel their presence.
Billings has excellent lodging
Hilltop Inn by Riversage
(406) 245-5000
Riversage Billings Inn
(406) 252-6800
Home2 Suites by Hilton
(406) 252-2255
The Crossings Bed
& Breakfast
(406) 672-6878
Shopping is excellent in Billings. The first stop for many visitors is Scheels in west Billings. Scheels sells things for outdoor activities, such as camping, fishing, and hunting. Rimrock Mall on the west end of town (24th Street West) has a large mix of stores to suit every taste.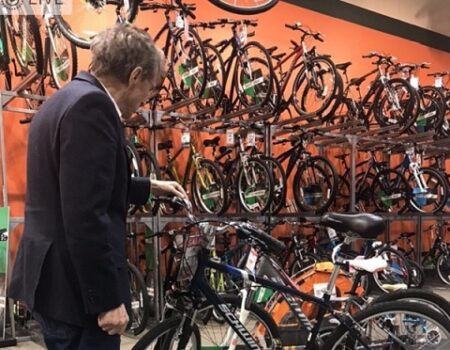 Shopping galore in Billings, Montana. Billings has stores for everything you need. Most major cities in the state have cycling shops. Photo Courtesy Sandy Archives.
Bistecca at the Granary has the best food and atmosphere in Billings. The Granary's bar is special and a delightful place to have a seat even if you only order a Coke. The Granary is open for lunch and evening dining and located in a quiet neighborhood on Poly Drive.
The City Vineyard is on Grand Avenue in far west Billings. This place is exceptional.  Don't miss!  Sandwiches, salads and soups, desserts, and more.  Try  the "create your own meat and cheese board." Great selection of Montana craft beers and wines are served.
City Vineyard sells a very large selection of quality wines. Deer Creek Field Medal cheese from Wisconsin and other treats found here too. Next door and adjoining City Vineyard is City Brew Coffee shop. This is a very nice coffee shop.  MTbest™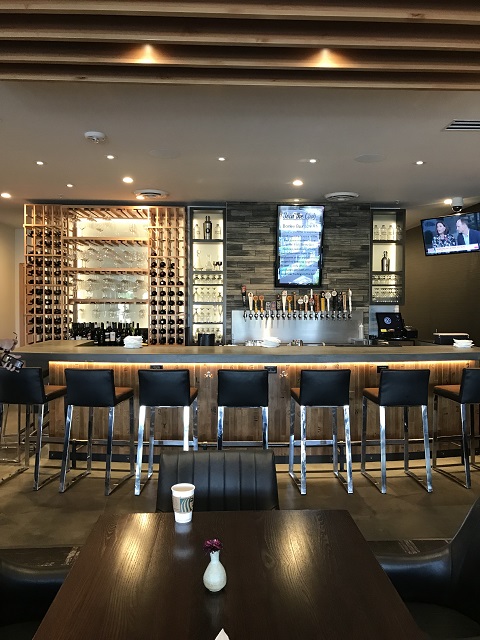 City Vineyard on Grand Avenue in west Billings, Montana is tops. Dining is limited but very good. Wine and beer served. Photo Courtesy Sandy Archives.
Harper and Madison is another top eatery in Billings. Pastries, desserts, sandwiches, salads, and locally roasted coffee are on the menu. Great breakfast menu. This restaurant is very popular with locals and is located in the hospital-Billings Clinic area north of downtown area. The setting is in a local neighborhood. Open Tuesday thru Friday (7:00 am – 2:00 pm), and Saturday (7:00 am thru 1:00 pm. casual surroundings.
For an extra nice atmosphere and good prices dine at Jake's restaurant downtown. For yummy seafood and ribs, try Montana's Rib & Chop House on Majestic Lane in the far west end of Billings. Don't miss McCormick Café's sandwiches and fresh-baked goods. McCormick Cafe is on Montana Avenue downtown. Great Harvest Bread is always a another good choice.
Buffalo Block Prime Steakhouse at the Rex on Montana Avenue downtown recently had a makeover. It's even better than it was before. Fresh and delicious seafood and other entrees are also on the menu. Prime Bone-In Filet Mignon, $75; Pan Seared Salmon, $24; Seafood Fettuccine, $50; Rex Bacon Burger, $18.
The 406 Kitchen & Taproom has a great location on north 27th Street near the airport and area colleges. On the menu are Famous 406 nachos, halibut sandwiches and many more tasty delights. Atmosphere is very average at 406 Kitchen & Taproom, but hours of service are good.
For general information about Billings, read the Billings city guide.
Red Lodge
Red Lodge (pop. 2,237) is a small, alpine village. At 5,562 feet in elevation, Red Lodge is a good place to stay cool when towns further out on the plains bake under the summer heat.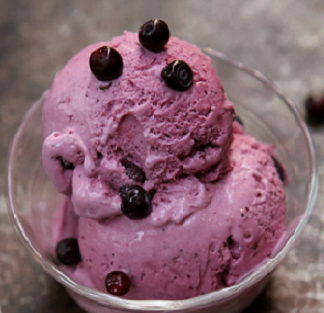 Huckleberry ice cream is so yummy. On the menu at Carbon Fork restaurant in Red Lodge. Photo courtesy Completely Delicious dot com.
The mountains and foothills near Red Lodge offer many outdoor recreational opportunities. Many made possible by the Beartooth Recreational Trails Association. Hikers have many trails to choose from. This organization also promotes bicycling and Nordic skiing.
The Yellowstone Wildlife Sanctuary in Red Lodge is a popular attraction for tourists.
Red Lodge has wonderful events. Highly acclaimed is the Red Lodge Music Festival.  Participants learn and enjoy:  musical   groups include wind ensembles, jazz ensembles, and orchestras. Talent shows, ball games and more make this event so enjoyable. Performances, by faculty and students, are scheduled for the general public and are held at the Red Lodge Civic Center Auditorium.  2021 season is cancelled due to Covid concerns.
The Home of Champions Rodeo is another annual event in Red Lodge. Parades add to the fun. Its quite spectacular and draws huge crowds. For 2021, the rodeo runs July 2-4.
The Red Lodge Antique Mall is on Main Street. This is a fairly large store with antiques of every description for sale.
Horseback riding is a popular activity in the Red Lodge area. You can choose Elk River Outfitters Horseback Rides (406) 860-3699 near Red Lodge or check out the horses at Whispering Winds Horse Adventures (406) 671-6836 near the town of Roberts about 10 miles north of Red Lodge. Always call ahead for "reservations."
The Carbon County Steakhouse on Main Street has a wonderful dining atmosphere and cuisine is first-rate. A large wine selection is served. This is upscale dining Red Lodge, so don't look at prices on the menu.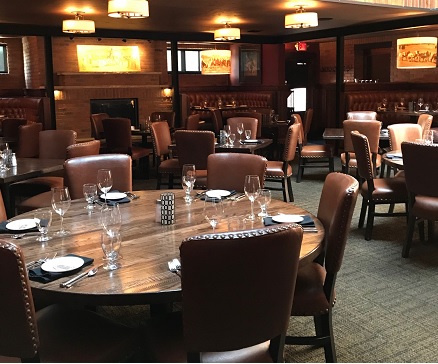 Carbon County Steakhouse. Alaska Golden King crab, Tortellini Pomodoro and more on the menu too. Red Lodge, Montana. Atmosphere alone is worth a visit here. Photo Courtesy Sandy Archives.
Marli's at the Pollard Hotel is another good choice for upscale dining. In a completely renovated space, Marli's serves breakfast and dinner. Stuffed Mushroom Ravioli is on the menu for $18; Dry Rub Saint Louis Ribs, $22.  Bar service too. Try a Buffalo Jump Zubrowka Bison Grass Vodka, Apple, Lemon, $8.25. Top Man, Old Forester 1897 Bonded Kentucky Bourbon, Carpano Antica Formula Sweet Vermouth, $15.
Locals and visitors enjoy tasty cuisine at the Carbon Fork Restaurant in downtown Red Lodge. Try their Huckleberry ice cream for dessert, so good. There's a lot to love at the Carbon Fork.  Foster & Logan's Pub & Grill on Main Street is another spot to have a good meal. A special at Foster and Logan's is a Folo's Dog, a 1/4 pound all beef hot dog with extras for only $7.95. Bogart's serves a variety of Mexican food.
For a tradition pub atmosphere, go to the Snag Bar. A beer at the Snag goes for $3.00, a burger $8.00. A pool table and a few video gaming machine attract some visitors to the Snag Bar.
The Rock Creek Resort (1-800-667-1119) is located a few miles south of Red Lodge on U.S. Highway 212. The nearby Old Piney Dell Restaurant and Bar is a favorite dining spot for locals. The restaurant has a very rustic  setting, along the banks of Rock Creek.
Tourists like souvenirs. In Red Lodge,  Moosley Tees has just what you want.  Downtown on Main Street.
Nearly everyone stops at the Montana Candy Emporium on Main Street in downtown Red Lodge. Old time candies and huckleberry delights sold here. Taffy galore, root beer barrels, cherry jelly beans, and more. Chocolates and hard candies too. So good!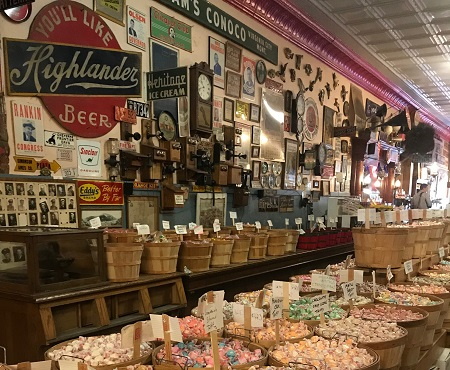 So good. Montana Candy Emporium. Red Lodge, Montana. Photo Courtesy Sandy Archives.
For lodging, stay at the Pollard Hotel (406) 446-0001.  A community favorite with a superb restaurant.
The Sunrise Inn Bed & Breakfast may be the best lodging option in Red Lodge. In a historic mansion, recently opened for business, the Sunrise Inn features five very nice rooms all with separate baths.  A great location too, within walking distance to downtown and all the restaurants. (406) 425-1546. Nice people run this B&B.
The Red Lodge Inn (406) 446-2030  is another choice. Other lodging is provided by the Quality Inn, near downtown (406-446-4469).
Despite being a gateway city to Yellowstone, lodging in Red Lodge is limited, so prices are very high during the peak tourist season, More abundant lodging is found in Billings about 60 miles to the northeast of Red Lodge.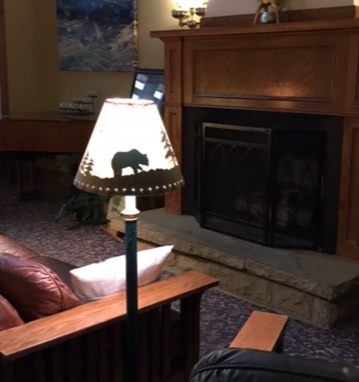 Lounge area in the Pollard hotel. Red Lodge, Montana. Photo courtesy Sandy Archives.
Yellowstone National Park is the main outdoor attraction near Red Lodge. The journey from Red Lodge to Yellowstone begins on the spectacular Beartooth Highway (U.S. Highway 212). The Beartooth Highway winds its way up the mountains, and the drive is an absolute thrill. Panoramic views delight motorists at every turn in the road.
The Beartooth Highway ascends from 5,562 feet at Red Lodge until it reaches an elevation of 10,947 feet at Beartooth Pass. The Beartooth Highway then drops to 7,365 feet in elevation before entering the northeast corner of Yellowstone National Park. The distance from Red Lodge to the northeast entrance of Yellowstone near Cooke City, Montana is about 70 miles. By some estimates it takes two hours to drive this 70 miles. The Montana Department of Transportation closes the Beartooth Highway for the winter months, when deep snow covers the roadway.
Travel Tip: Alternate route to Yellowstone National Park from Red Lodge, Mont.: from Red Lodge, take Montana 308 east to Belfry, then Montana 72/Wyoming 120 south to junction with Wyoming 296, then take Wyoming 296 (Chief Joseph Scenic Highway, also called Sunlight Basin Road) west to U.S. Highway 212 and the entrance to Yellowstone National Park.
A neat way to view Red Lodge is to drive into the town from the east on Highway 308. The road enters the city from a high elevation, revealing Red Lodge nestled in the beautiful valley below. Highway 308, itself, is an interesting drive, as it winds through the hills past the old coal mining town of Bearcreek. The Bearcreek Saloon and Steakhouse is the main show in town. Try their Weizen or Glacier Ale.
Travel tip: Bring a warm jacket or sweater. It's often very cool in mountainous areas, even in July.
Stillwater
Montana has its share of quirkiness. Toping all may be Reed Point Community Club's annual Great Montana Sheep Drive, now in its 35th year. This event in the tiny burg of Reed Point, not far from Stillwater, features hundreds of Montana's finest woolies. The sheep charge down six blocks of main street. Adding to the fun, this event, in past years, has had a parade, carnival games, antique cars, covered wagons, horses and more. Vendors provide many delicious goodies, for a few dollars of course. For 2021, this event is on September 5, starting at 10:00 AM. For more information contact Stillwater County Chamber of Commerce at (406) 322-4505.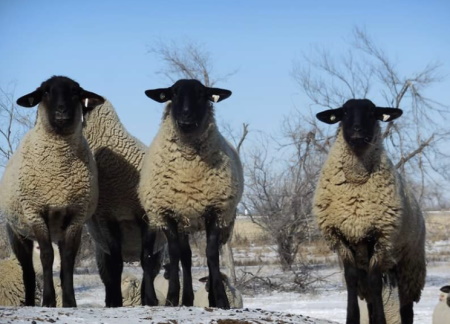 Sheep (Suffolk breed) pose for cameraman at a ranch in western Montana. Photo courtesy Montana Sheep Growers Association.
Livingston
At Livingston (pop. 7,401), the upper Yellowstone River takes a sharp turn south toward Yellowstone National Park and its source high in the Absaroka Mountains. The beauty and wildness of the Yellowstone River is an awesome sight to behold as it flows near Livingston. The area south of Livingston is know as Paradise Valley.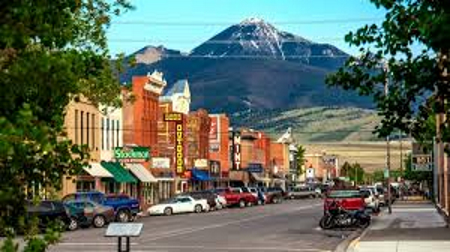 Livingston, MT is an amazing small town in the upper Yellowstone Valley. Photo courtesy office of Congressman Gianforte.
Livingston is an old railroad town that hasn't changed much in the past 100 years. Still attractions abound. The Yellowstone Gateway Museum is a popular stop to learn Montana history. Excellent art galleries are found downtown. Don't miss Don Bailey's Fly Shop for everything fly-fishing. The stock of fly patterns and fly fishing gear is absolutely amazing.
The Livingston area is vacation headquarters for south-central Montana. Outfitters offer horseback riding, float trips, wildlife viewing, fishing and other outdoor activities. Dude ranches are a big attraction in this part of Montana. An extra nice guest ranch is the Mountain Sky Guest Ranch near Emigrant.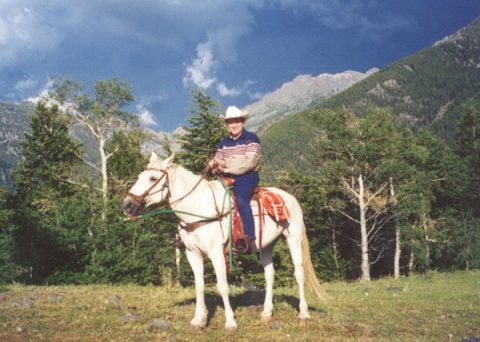 Horseback riding in the Absaroka Mountains near Livingston, Montana is pure enjoyment. Photo Courtesy Sandy Archives.
For premium lodging, stay at the all new Sage Lodge, about 25 miles south of Livingston on U.S. 89.  Dining on site  (855) 400-0505.
If you like B&Bs, book a room at A Stone's Throw Bed & Breakfast in Livingston. Located near Main Street downtown, this B&B has real character, as it is built around a rescued historic building (406) 222-5221.
If you are staying in Livingston and need extra bedrooms, book the Red House (complete home) in the downtown area on south 5th Street. Red House has four bedrooms, two bathrooms, and sleeps nine. Good for families or a place to stay with friends. Requires two night minimum stay. VRBO property # 131662.
The  historic Murray Hotel is another good choice  (406) 222-1350. Gill's Foods is attached to the Murray Hotel.  A Classic breakfast at Gill's goes for $12, Huevos Rancheros cost $12,  BBQ,  pizza, burgers, and yummy desserts are served at Gill's as well.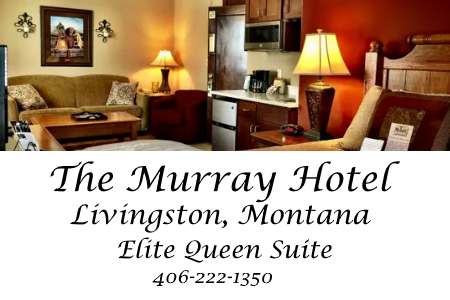 Photo courtesy of The Murray Hotel.
The 2nd Street Bistro, another restaurant in the Murray Hotel, serves Main Entrees including halibut, short ribs, lamb shank, bistro sirloin, and lemon chicken. A tasty dining experience, for sure, at the 2nd Street Bistro. For breakfast or lunch, try Pinky's Cafe in the downtown area.
Book lovers can browse a great selection at Elk River Books, located on Main Street. This is a  good place to find books by western writers and on western subjects such as Yellowstone. You'll get friendly service here as you might expect from a locally operated shop.
From Livingston, two highways run south towards Yellowstone National Park. U.S. Highway 89, located generally on the west side of the Yellowstone River, is the main highway and it carries most of the heavier traffic. Starting a few miles south of Livingston, East River Road, Montana Route 540, branches off to the east of U.S. Highway 89 and continues south on the east side of the Yellowstone River for about 31 miles until it reconnects with U.S. Highway 89.
Montana Route 540 is a very scenic drive, as the road runs close to the flank of the towering Absaroka Mountains. The highway offers wonderful views of Paradise Valley, the Yellowstone River, and the Gallatin Mountain Range, which flanks the west side of Paradise Valley. Traffic on Montana Route 540 is usually light and moves more slowly, giving travelers a chance to view the full beauty and grandeur of Paradise Valley. If travel time is not an issue, taking this scenic road is very rewarding, an experience that creates life-time memories of Montana travel.
Chico Hot Springs Resort is just off U.S. Highway 89 near Emigrant, and about mid-way between Livingston and Gardiner. Founded in 1900, Chico offers a variety of lodging, two open-air mineral hot springs pools, several dining options, and a Tasting Room. A day spa and other activities make Chico a fun and exciting destination. (406) 333-4933.
The Livingston Area Chamber of Commerce puts together a nice package of materials with highlights on things to do and see in Livingston and surrounding areas. View fun in Livingston.
Livingston is an amazing town. History worth remembering, commercial architecture from early days, mountain scenery, and easy access to nearby Yellowstone National Park make Livingston a top go to place in Montana. Of great interest to many tourists, the pace of life and lifestyle of locals has much to recommend. The hectic community of Bozeman a few miles to the west of Livingston is in startling contrast to the tranquility of Livingston.  MTbest™
Yellowstone National Park
Most Americans dream of visiting Yellowstone National Park at least once in a lifetime. And for good reason. The park is famous for its numerous geysers, hot springs, and fumaroles. Old Faithful is the park's and possible the world's best know geyser. Seeing Old Faithful erupt and shoot million of gallons of steaming hot water hundreds of feet high, against the backdrop of a blue sky and the surrounding black forest, is an experience long remembered. The gush of approval from onlookers, always present in big numbers when Old Faithful erupts, adds to the excitement of the moment.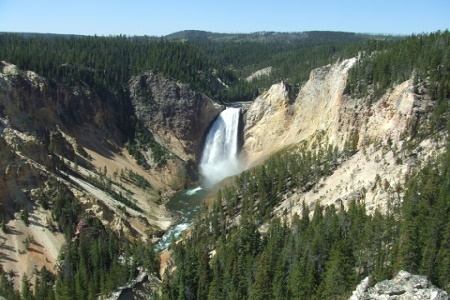 Lower Falls of the Grand Canyon of the Yellowstone River in Yellowstone National Park. Photo courtesy U.S. National Park Service.
The Grand Canyon of the Yellowstone River is one of the most beautiful sights in the park. The river flows through a deep gorge, cut into layers of yellow-colored rocks. Near Canyon Village, the river cascades over the Lower Falls of the Yellowstone. The Lower Falls is a special place to stop on every Yellowstone vacation. Osprey nest in the conifers high above the river's gorge. Travel tip: Shoot lots of film here.
Perhaps a surprise to many first-time visitors, Yellowstone Park is heavily forested. The most common trees in the park are lodge pole pine, fir, spruce, and aspen. A few years ago, major forest fires burned thousands of acres of forest in Yellowstone. Today, recovery is well underway with millions of young trees covering the mountains and valleys.
Tourists come to see the animals. And they aren't often disappointed. Elk, buffalo, bighorn sheep, and grizzly bears call the park home. Coyotes, mountain lions and many species of birds are common, too. Wildlife is especially abundant in the Hayden Valley between Canyon Junction and Fishing Bridge. Yellowstone Lake, in the southeastern part of the park, is a favorite of fishermen.
Check out Yellowstone National Park's Web site for more information. See the National Park Service's map on how to get to Yellowstone. For weather near the park go to the Weather Channel for the current conditions and forecast for West Yellowstone, Montana.
One route to leave or enter Yellowstone Park is along U.S. Highway 89, the Gardiner, Montana entrance. The highway follows the course of the Yellowstone River. The Absaroka Mountains, home to gray wolves, black bear, and other wildlife, tower above the roadway.
Lodging in Yellowstone is handled by Yellowstone National Park Lodges (866) 439-7375.
Travel tip: Yellowstone National Park is a big, big place, so plan your time carefully, when driving to and inside the park. Stay overnight at West Yellowstone or Gardiner, Montana (both cities are near the park's entrance), then get an early morning start into Yellowstone.
THE LOWER YELLOWSTONE RIVER VALLEY
Glendive
I-94 is the main route in southeastern Montana and the Yellowstone region . Visitors entering Montana from the east usually stop in Glendive (pop. 5,332). Glendive is a sleepy, small town, built around ranching, the railroad industry, and tourism. Makoshika State Park, an area of rugged badlands located east of the city, is a popular attraction.

Badlands are a part of landscape near Glendive. Photo courtesy U.S. Bureau of Land Management.
Medicine Rocks State Park is another little-known treasure in southeast Montana. The park is south of Glendive near the village of Ekalaka (pop. 445). Over millions of years, wind and water erosion have eroded the landscape in this area, leaving exposed huge irregular-shaped masses of sandstone. The rocks stand like behemoths and rise high above the surrounding grassy plains. The rocks are testimony to the passage of geologic time and a sign of ancient, mysterious times when ferocious dinosaurs roamed eastern Montana.
Holiday Inn Express Hotel & Suites (406) 377-3300 offers good lodging in Glendive.
Miles City
Miles City, Montana (pop. 8,647), also on I-94, is the cowboy capital of the world. This prairie village is home to the famous Bucking Horse Sale (3rd weekend in May). If there are real cowboys left in the world, they all must live in Miles City.
Tourists often go hunting for Montana moss agates in the nearby Yellowstone River Valley. The moss agate is a type of quartz gemstone. Amateurs and rock hounds dig through gravel deposits along the river to find the agates. When cut and polished, moss agates make beautiful jewelry.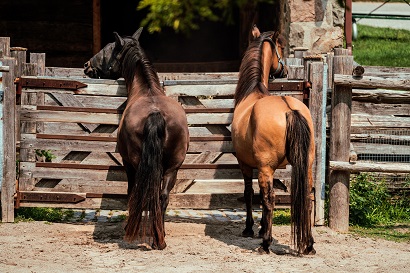 Horses are a common on ranches in Montana. At dude ranches, visitors enjoy horseback riding. Photo courtesy Nicole De Khors.
The folks of Miles City are especially proud of their modern public library, which, by the way, is a nice place to seek refuge on a hot summer afternoon. In July the sun bakes everyone and everything in Miles City. On a typical summer day, Miles City's weather makes a traveler from south Texas feel right at home. For lodging in Miles City, try Miles City Hotel and Suites (406) 234-1000.
Forsyth
From Forsyth (pop.  1,869), travelers can continue west on I-94 and follow the Yellowstone River to Billings, or leave the interstate highway and go west along U.S. Highway 12 to Roundup and into the heart of Montana's ranchland. Forsyth is a nice place for a short visit. Hungry travelers stop early to beat the huge crowds that always show up at the Joseph Cafe.  Fitzgerald's Restaurant is a good choice, too.
Hysham
Off the interstate highway, reminders of Montana's pioneer days are evident for all who care to explore. Old homesteads are always an interesting find. Near Hysham (pop. 301), an old log cabin sits quietly and abandoned on the short-grass prairie. An ancient windmill stands nearby, and rattlesnakes hide under wind-dried boards. Horseshoes lay scattered on the ground by the broken down corral. Dreams long forgotten. Who might have lived in a place like this? Were the days happy and prosperous? On a warm summer afternoon, a visitor to the cabin is greeted by curious mule deer. The mule deer soon become spooked by the "intruder" and run slowly to the surrounding hills.
Travel tip: Pictures okay, but don't mess with private property.
Hardin
Before the mountain men, prospectors, and settlers moved west, Montana was home to thousands of Indigenous peoples. The Little Bighorn Battlefield National Monument, near Hardin (pop. 3,829), is testimony of their valiant efforts to protect their land from outsiders. The U.S. Army was sent west by the government to subdue Indigenous people. At the famous Battle of the Little Bighorn, June 25-26, 1876, various tribes fought back and were victorious. Sioux and Cheyenne warriors led by Crazy Horse and Sitting Bull delivered a deadly blow, killing George Custer and many soldiers. The landscape on which the battle played out in 1876 is described in considerable detail in a technical paper in a repository at The University of Alabama.  An outfit called Apsaalooke Tours offers a one-hour tour of the site. A stop here is a must for all who travel this way.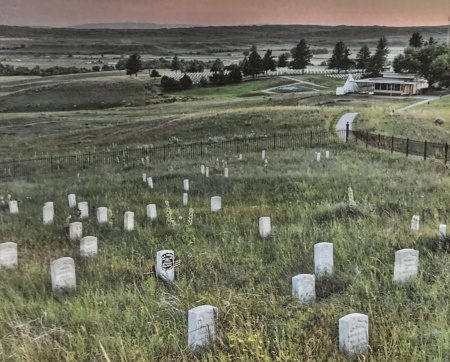 Little Bighorn Battlefield National Monument. Monuments of soldiers who died. A monument for Native Americans who fought in the battle is nearby.
Travel tip:
There's no sales tax in Montana, so buy now.
Travel tip:
When driving a good map is handy even if you think you know the way.  It's also helpful for planning alternate routes which may  turn out to be more scenic and less traveled than roads drivers usually take.  Plan your trip using the official Montana state highway map.
Montana History Remembered
In the early 19th century millions of buffalo roamed the prairies of Montana.  By the year 1883, the vast buffalo herds, mainly shot and killed by buffalo hunters for their hides, virtually disappeared from the plains.
In modern times, conservation efforts have saved the buffalo in Montana.  At the National Bison Range near Missoula some 544 buffalo still roam in the wild.  Visit the National Bison Range to see these magnificent animals.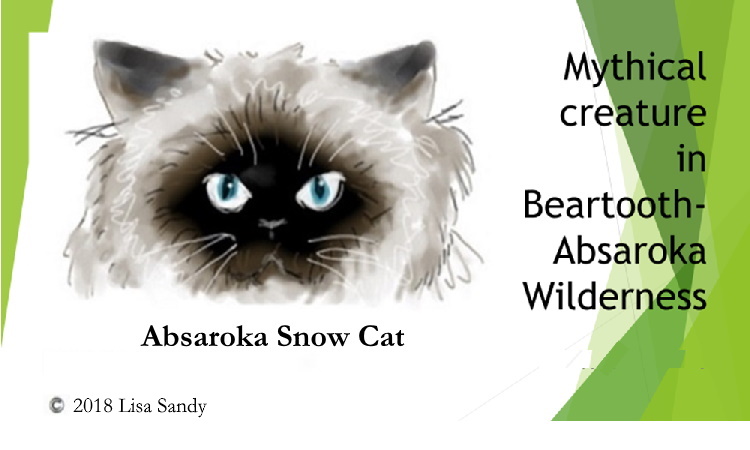 Enjoy southeast Montana.

Absaroka Mountain, Mont.
© 2022 John Sandy