Southwest Montana
Art Galleries – Nightlife
Fly Fishing – Planetarium – Dining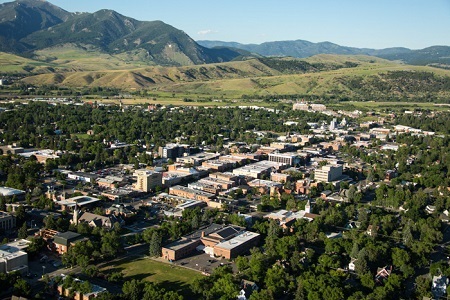 Downtown Bozeman, Montana. Photo courtesy Bozeman Convention and Visitors Bureau. From Comprehensive Plan Logan Simpson.
Some say Bozeman is a community of urban cowboys. Indeed, briefcases likely outnumber branding irons in Bozeman. Bozeman, MT (pop. 45,596) looks like a town out the 50s, with a traditional main street packed with all kinds of interesting businesses. The Bozeman area is growing fast, with a population increase of 34.4% in a recent decade.
Many locals and even recent transplants suggest that Bozeman suffers from too much growth and gentrification. In 2021, Katherine Clarke writes about the Bozeman experience in the Wall Street Journal, "Everything  is too expensive, from restaurants to hotels, and there is a worry that the area will become too expensive for locals. Also, the city is losing its laid-back, small-town feel." Ms. Clarke is late to the party. This has been going on for at least three decades.
Bozeman is located in the Gallatin Valley, surrounded by magnificent mountain ranges. North of the city, the Bridger Mountains attract thousands of skiers each winter. The Gallatin Range and the Madison Range, south of Bozeman, rise more than 10,000 feet and have peaks covered with snow much of the year.
Bozeman is home to Montana State University and the fighting Bobcats. Montana State has an enrollment of about 11,934 students and offers degrees in agriculture, engineering, and many fields in the arts and sciences. Great academics here. And… "this is place to go if you love to be outdoors and ski…ski bums are all over the campus and so are the hippies…its a true party college," according to PubClub.com.
Attractions
The Museum of the Rockies, located on campus, features many wonderful paleontology exhibits. Jack Horner, the world's top dinosaur hunter and an adviser to the movie "Jurassic Park," worked at the Museum for many years.
If you'd like to learn more about the universe beyond the sky, take a seat in the Taylor Planetarium in the Museum of the Rockies. A spectacular 30-minute "show" introduces visitors to the stars. A fun experience.
The Bozeman, Montana area is a fisherman's paradise. Cool, sparkling streams, rushing down from high mountains, are filled with rainbow trout, brook trout, brown trout and cutthroat trout.
In some parts of the Gallatin River near Bozeman, rainbow trout number over 400 per 1,000 feet of stream, according to data reported by the Montana Rivers Information System.
Hiking a favorite activity in the Bozeman area. Try the Grotto Falls Trail for a fun and scenic hiking experience. The 1 1/2 trail is wildly popular. Follow Hyalite Creek Road south of Bozeman to get to the trailhead.
Bicycling is also very popular in Bozeman. A good way to get started is to join the Gallatin Valley Bicycle Club. Once a member, after paying a small membership fee, the fun begins
Horseback riding is fun for young people and adults. Broken Hart Ranch (406)763-4279 near Bozeman offers two-hour, half-day, and full-day rides. Guides take you out on the trail.  At higher elevations, riders get fantastic views of the Gallatin Valley and experience wild flowers, wildlife and much more.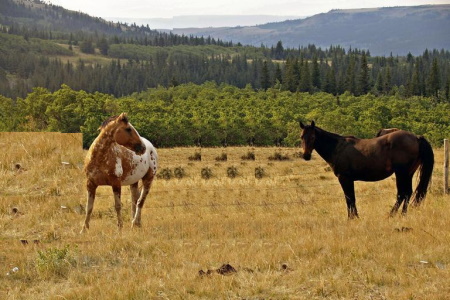 Horses are common on ranches in Montana. This is the West. Stock photo.
White water rafting is a super exciting experience. Try white water rafting on the Gallatin River near Bozeman. White water rafting is not a go-it-alone activity, so hire an experienced white water rafting service to provide equipment and guide service while on the river. Professional guides from Geyser Whitewater Expeditions in Big Sky are ready to take you down the river. (205) 995-4989.  View action on the river.  A zipline tour is more fun at Big Sky Resort and is offered by Geyser Whitewater Expeditions, too.
During the winter season old-fashioned sleigh rides on horse-drawn wagons are a delight for families. Before winter sets in, a hay ride is a similar experience. In Bozeman, call Sunrise Pack Station  (406) 579-9642.
Some tourists enjoy Bozeman Hot Springs. This is a great place to relax in one or more of their 12 pools. Bozeman Hot Springs is a full fitness facility too.
Bozeman is home to the Montana Grizzly Encounter, a grizzly bear "zoo". Located about ten miles east of Bozeman, the zoo features adult grizzly bears for public viewing. A modest admission fee is charged. This is a great opportunity to see these magnificent animals.
Fairs are for summer fun in Montana. Bozeman is the site of the Big Sky Country State Fair. Live entertainment, rodeo, carnival rides and exhibits make this a wonderful event for all to attend. In 2021, this event runs July 21-25.
Hotels
Bozeman has excellent lodging
The Lark (downtown)
(866) 464-1000
RSVP Hotel
(406) 404-7999
Howlers Inn B&B
(406) 587-2050
Hilton Garden Inn
(406) 582-9900
Sacajawea Hotel in
Three Forks

(406) 285-6515
Element Bozeman
$302
(406) 582-4972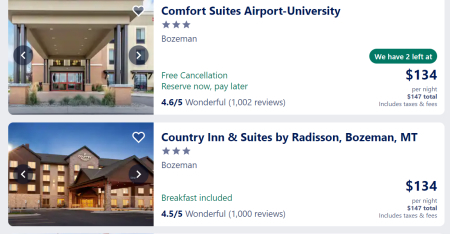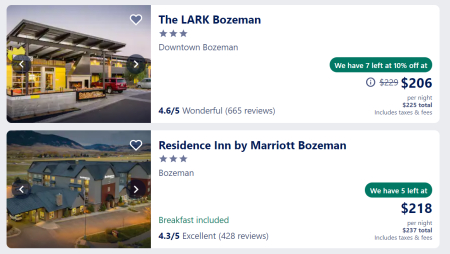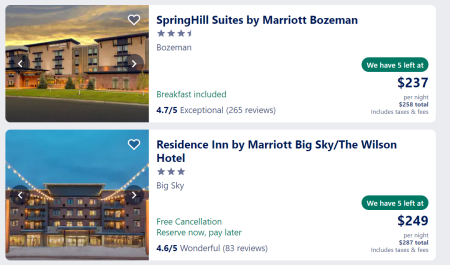 Restaurants
Head for Main Street for great dining in Bozeman. Western Café on east Main Street is a favorite of locals. It's easy to understand why.  A Western Breakfast Sandwich (large biscuit, egg, cheese, ham and sausage OR bacon) cost all of $6.50.  Management at The Nova Cafe claims to serve "the best breakfast in town." Too boastful? Well go and find out. Starbucks coffee is served on west Main Street.
Don't miss the Baxter Hotel. This establishment features Ted's Montana Grille and the Bacchus Pub.  As you leave the Baxter Hotel pick up some fine chocolates and other gourmet treats at the La Châatelaine Chocolat Co.
Plonk Wine Bozeman on east Main Street has, what else, a great selection of premium wines. Top shelf red is a bottle of 2014 Mommessin Monopole Grand Cru Clos de Tart, Morey St-Denis, only $495. More budget friendly is a 2016 Cliff Lede Sauvignon Blanc, Napa Valley, $42.  Cocktails served too. Plonk serves tasty cuisine, often prepared from products sourced from local farms and ranches. Beef tartare and pan roasted chick breast are favorites on the menu. A special ambience makes Plonk Wine a most satisfying experience.
Blackbird Kitchen is a Bozeman dining place on everyone's list of top restaurants. You know the cuisine great when management advertise "happy local organic wood fired casual dining." On the menu: goat shank, beef sirloin, spaghetti and meatballs, and a large selection of delicious pizzas. Find a super wine list here. If your taste is birra, order Kloster-Andechs Weissbier Heil or Propolis Brewing Spruce.
bisl offers another fine dining experience in Bozeman. As with Plonk Wine locally sourced ingredients are used when possible. Montana Short Rib and Scallop, run about $31. Enjoy your meal with wine or beer, carefully selected from local, national, and international sources.  bisl is on east Main Street.
Italian cuisine is the regular fare at Blacksmith Italian restaurant. The Open Range is another restaurant with great reviews. Dining at the Bay Bar & Grille is convenient while shopping at the Gallatin Valley Mall. Other good dining options are:  Squire House, Urban Kitchen, South 9th Bistro, and Seven Sushi.
If you want to dine with locals, drive a few miles west of Bozeman on Interstate Highway 90 and drop in at the Mint Café and Bar in the small town of Belgrade. The Mint Cafe and Bar is a Montana institution, serving great food at reasonable prices. M-C burger (six ounce local patty) with white cheddar, English muffin, and steak fries, $12.
Top Ethnic Cuisine:
Blacksmith Italian
Fiesta Mexicana
Panda Express Chinese Kitchen
Seven Sushi
Saffron Table for India and South Asian foods
Edelweiss Bistro German restaurant (in Missoula, Montana)
Bozeman is a college town, so finding interesting hangouts on Main Street is easy to do.  First, try the Crystal Bar. Beverages are a bargain here, one shot of JD goes for $3.50 and, for teetotalers, $1. for a glass of Coke. Several ladies' bras hang from wall decorations. The ladies don't bring them to the bar in a bag but rather "take them off when they come in," a barkeeper said.
The Rialto is the newest hot spot in Bozeman. The owners claim the "Rialto is an artistic, cultural, and inspirational hub." Judging by the huge crowds that show up, this place is big hit. Check it out!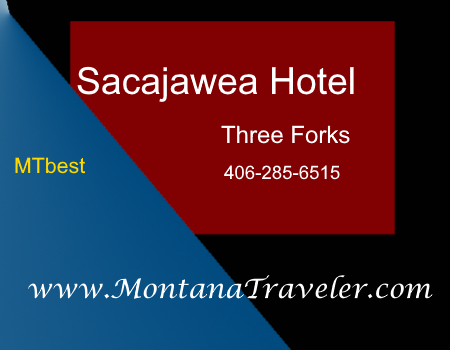 MTbest Three Forks.
Shopping
At the Gallatin Valley Mall, located west of the downtown area, shoppers find quality apparel at Macy's department store. The mall has many national chain stores. For outdoor apparel and boots, shop Schnee's on Main Street. For happy reading and your favorite Starbucks coffee, try Barnes & Noble  in Gallatin Valley Mall.
If you enjoy antiques, Antique Market and More, located on Huffine Lane west of downtown Bozeman near four corners, offers an abundance of collectibles. This place is huge with about 13,000 square feet shared by around 66 vendors. Country Mall Antiques is in the same area. Shop Bozeman antiques if only for fun.
Folks who like custom jewelry, head for The Gem Gallery in downtown Bozeman. This store owns the famous Vortex Mine at Yogo Gulch in the Little Belt Mountains. The mine is the source of gorgeous sapphire gemstones which are set in fine jewelry by professionals at The Gem Gallery.
Bozeman is an expensive city to visit. A Bozeman  hotel recently charged $339 for a one night stay in late September. At one restaurant on Main Street a buffalo burger with coffee cost $20.13 (including tip). Tourists drive prices at some businesses, so watch where the locals go and you can find better deals.

One journalist offers 10 reasons why not to move to Bozeman. If you read carefully some of these same reasons can be viewed in an opposite way, as in what's there to like about Bozeman. Bozeman is not a clone of so many other cities in American, at least not yet. For visitors, maybe this is a good thing.  

Transportation
Car rentals are available at Bozeman Yellowstone International Airport:  Avis (406) 388-6414, Hertz (406) 388-6939, Alamo (406) 388-6694. North of Yellowstone Shuttle & Charter Service, operating out of Livingston, provides long-distance transportation to several towns in southwest Montana. They offer taxi, shuttle, and private car service to Big Sky, Livingston, Bozeman Yellowstone International Airport, Chico, Gardiner, West Yellowstone, and other locations (406) 580-2286. The company does not provide service in the city of Bozeman. For taxi service in Bozeman, call Greater Valley Taxi (406) 587-6303.

Try Bozeman, Montana – a hot spot for outdoor activities or just hanging out.

Absaroka Mountain, Mont.
© 2022 John Sandy