Kalispell – Glacier National Park
Whitefish – Flathead Lake – Bigfork
Northwest Montana is mostly a wilderness region. Spectacular mountains and forests dominate the landscape. In geologic time, large areas were covered by massive glaciers. When the ice retreated, it left behind sculptured mountain peaks, broad valleys, and pristine lakes. Remnants of the ancient glaciers still exist on the landscape today. The scenery here is unrivaled in the United States.
Glacier National Park
Glacier National Park is near Kalispell. The park is known for its beautiful scenery. High mountains, glaciers, alpine meadows, and pristine lakes, fed by melting snows, are a regular part of the landscape in Glacier. Visit Glacier and enjoy an experience of a lifetime.
Glacier National Park is home to a great diversity of plants and wildlife. During summer, meadows are filled with wildflowers. Indian Paintbrush is a favorite of young and old alike. Bears, mountain lions, bighorn sheep, mountain goats, and elk live in Glacier.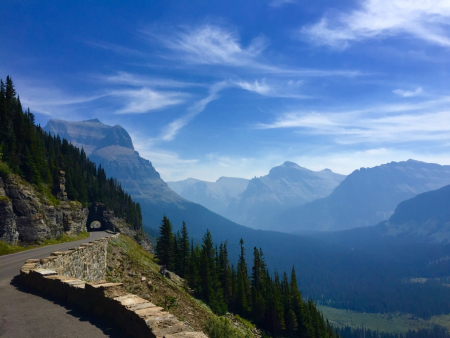 Inside the park, you'll travel on Going-to-the-Sun Road.
Going-to-the-Sun Road can be a "white-knuckle drive for visitors," says T. Kenworthy, in a recent story in USA Today.
Lake McDonald and Saint Mary Lake add to the beauty of the landscape. Lake McDonald is on the west side of Glacier and Saint Mary Lake is on the east side along Going-to-the-Sun Road. Saint Mary Lake is more than 300 feet deep and is populated by several species of trout. It is a spectacular scenic wonder that words cannot describe.
According to the National Park Service, more than half of Glacier's visitors go hiking. The park has over 700 miles of hiking trails. Hiking is a great way to take in the park's scenery. Many trails guide the way.
For a convenient and comfortable way to travel inside Glacier National Park, some folks use the services of Glacier Sun Tours. This is a guided bus tour.
Lodging inside Glacier National Park is limited, so early booking may be the only chance to stay in Glacier. Glacier National Park Lodges handles reservations. Three great choices:
Lake McDonald Lodge
Many Glacier Hotel
Village Inn at Apgar
Outdoors fun such as hiking, rafting, camping, and biking in and around Glacier National Park is a big attraction. Contact Glacier Guides and Montana Raft in West Glacier, Montana.
See Glacier National Park's Website for more information.
Travel notice
Glacier National Park is requiring "ticketed entry" for travel on Going-to-the-Sun Road between the park's west entrance near West Glacier and the east entrance near St. Mary from May 28 to September 6, 2021. This is an online reservation system.
Kalispell
Kalispell (pop. 22,761) is the largest town in northwest Montana.  Due to its close proximity to Glacier National Park, Kalispell is a major tourist destination.
Kalispell's weather can be a little on the cool side, because of the city's northerly latitude and an elevation of 2,965 feet. During summer months, low temperatures are in the 45 to 48 degree range.  High temperatures are very comfortable, in the 72 to 84 degree range.
Kalispell hosts the Northwest Montana Fair and Rodeo. Concerts, rodeo, carnival rides, and thousands of hand-crafted exhibits make this a wonderful event for all. In 2021, this event runs August 18-22.
Horseback riding is a favorite activity for many tourists. Admire the horses and get on the trail at Lonesome Dove Guest Ranch (406) 756-3056 near Kalispell.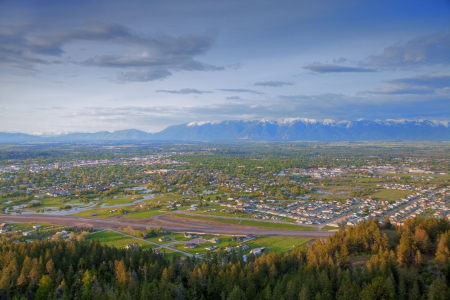 Aerial view of Kalispell, MT. Photo courtesy Discover Kalispell.
Visitors can find many good restaurants in Kalispell.  Jagz Fine Dining is best in town. A full pound center cut ribeye char-grilled and topped with bourbon onion sauce goes for $32.95.
The Desoto Grill is wildly popular too. The Desoto Grill serves BBQ, sandwiches, desserts, and beer. A smoked chicken sandwich, $12.25. Banana pudding, $4.75. Yum! ScottiBelli's Ristorante Italiano in downtown Kalispell serves up great cuisine.
The Montana Club restaurant is open for breakfast, lunch, and dinner. Sometimes it's hard to find a restaurant that serves breakfast. The Montana Club welcomes early birds.
Kaslispell has excellent lodging
Red Lion Hotel
(406) 751-5050
Kalispell Grand Hotel
(406) 755-8100
Hampton Inn
(406) 755-7900
Country Inn & Suites by Radisson
(406) 751-9000
Best Western Flathead Lake
(406) 857-2400
Top Ethnic Cuisine:
Scottibelli's (Italian)
Casa Mexico
Chinatown Restaurant
Blue Samurai Sushi Bar & Grill (Japanese)
Edelweiss Bistro (German, in Missoula, Montana)
Visit the Kalispell Chamber of Commerce Visitor Center at 15 Depot Park. They provide lots of information about the region around Kalispell.
Whitefish
Whitefish (pop. 7,279) is the Aspen of the North. Whitefish Mountain Resort is a skier's paradise, located a few miles from the west entrance to Glacier National Park. In season, water craft rentals, such as canoes, boats, and pontoons, are available for an outing on beautiful Whitefish Lake. If you seek an upscale experience, stay at the Lodge at Whitefish Lake. Whitefish is a year-round playground.
The Whitefish Arts Festival is a premier event in northwest Montana. Many art forms are represented including, paintings, sculpture, pottery, jewelry, and more.  Artists from across the country come to Whitefish to showcase their high-quality arts and crafts. Some Montana artists also sell their art work at the festival. In 2020, this event runs July 3-5.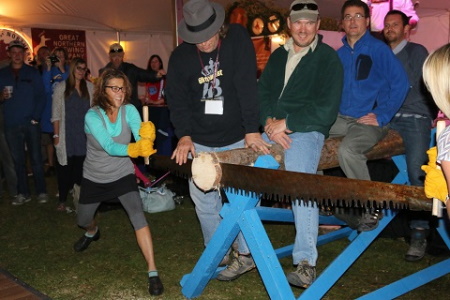 Oktoberfest competition in Whitefish, Montana. Ladies join in too. That cross cut saw looks a bit rusty, not to matter, it's all just about fun. Courtesy Whitefish Chamber of Commerce.
In early fall, Whitefish folks and everyone else who likes a grand party, get revved up for The Great Northwest Oktoberfest. Music, food, dancing, events, and more, so much fun for the entire family.
Oktoberfest is a great place to meet and make new friends. If you see someone of interest, just walk over and introduce yourself. After you get comfortable with one another, ask if it's okay to show off your German language skill. Then say, "Ich liebe dich" (ech lee-beh dech). Of course, as you speak, have a big smile on your face, so as not to leave a serious impression.
In 2020, Great Northwest Oktoberfest in Whitefish runs September 24-26 and again Sept. 30-Oct. 3.
Horseback riding is a chance to feel like a real cowboy. In the Whitefish area, Bar W Guest Ranch (406-863-9099) is ready to take guests on one-half hour, two-hour, and half-day trail rides. Other visitors find enjoyment at Whitefish's fabulous 36-hole golf course.
An old man, living in Dixie, recently said "in Whitefish, Montana half the town is bars, the other half western stores." And "the bars have good food and splendid hospitality."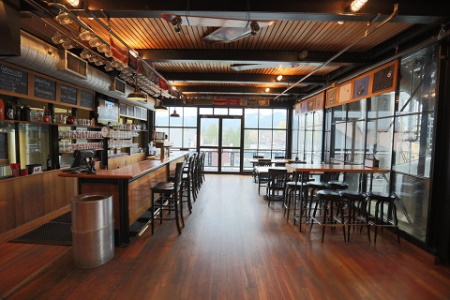 Great Northern Brewery in Whitefish, Mont. So nice, draws huge crowds. See ski slopes from dining area. Photo Courtesy Great Northern Brewing Company.
The Tupelo Grille in Whitefish serves seafood, steak, pasta, and more, plus offers a great list of wines and spirits. On the menu, elk meat loaf with roasted garlic whipped potatoes, huckleberry demi-glace, and crispy onion rings.  $26
Buffalo Cafe (Est. 1979) serves breakfast, lunch, and dinner.  Breakfast until 2:00 pm. A bowl of oatmeal with milk and brown sugar, only $5.  Craft beers and wine are on the menu too..
After a fun-filled day in Whitefish, travelers can find accommodations at the Firebrand Hotel (406) 863-4055. Good Medicine Lodge, a bed and breakfast, is always a good choice as well. (406) 862-5488.
Columbia Falls
Columbia Falls (pop. 5,241) is a gateway city to Glacier National Park, located 17 miles west of Glacier's west entrance on U.S. Highway 2.
Columbia Falls is a year-round playground for outdoor recreation. Meadow Lake Resort has lodging and a championship 18 hole golf course. Big Sky Waterslide Park and numerous groomed snowmobile trails are fun for all.  The Flathead River and its tributaries, North fork, Middle Fork, and South Fork, flow near Columbia Falls before reaching Flathead Lake.
More adventurous folks go to Glacier Highline. Glacier Highline has a zipline, climbing wall, inflatable water course, plus an aerial adventure course. Glacier Highline is on U.S. Highway 2, east of  Columbia Falls on the way to West Glacier.
Special lodging is found at the historic Belton Chalet (888-235-8665) in West Glacier. Belton Chalet features a neat taproom, with excellent food. Belton Chalet's Grill Dining Room serves many choice entrees. Grilled Salmon paired with Flathead cherry BBQ sauce, served by friendly staff, is so yummy.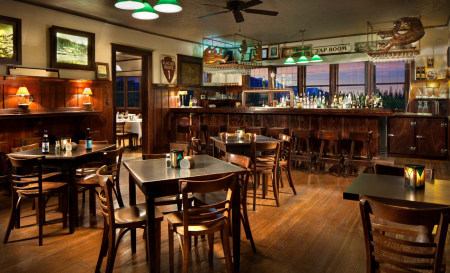 Dining room and bar at Belton Chalet in the village of West Glacier. Photo courtesy of Glacier Park Collection.
The Great Bear Inn (406) 250-4577 and Moss Mountain Inn (406) 381-8931 are good choices too.
Flathead Valley and Flathead Lake Area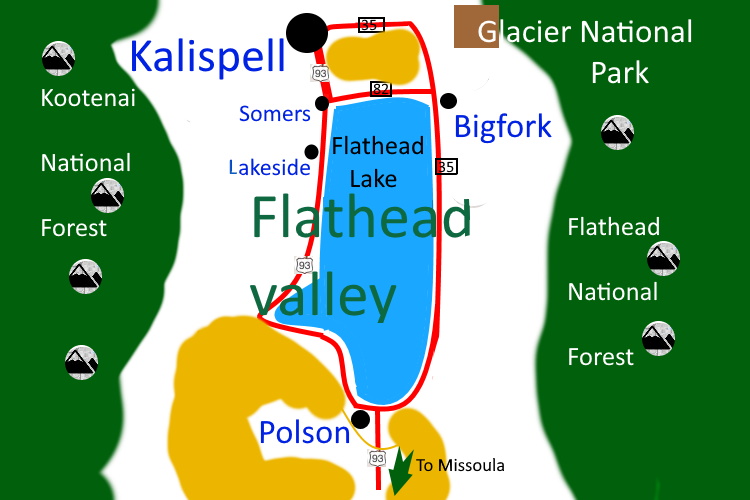 Flathead Valley and Flathead Lake, northwest Montana. Map courtesy Sandy Archives.
Flathead Lake is a few miles south of Kalispell on U.S. Highway 93. Flathead Lake is about 30 miles long and 12 to 14 miles wide. The setting is spectacular, with the Mission Mountains flanking the lake along the east side.
About 25 fish species inhabit Flathead Lake. Fisherman enjoy catching cutthroat trout, lake trout, and lake whitefish. Flathead Lake is also a wonderful area for camping, hiking, boating and wildlife watching.  The Montana Department Fish, Wildlife & Parks maintains several units of Flathead Lake State Park near the lake.
Look for the cherry orchards along the east side of Flathead Lake. Growers harvest the cherries from the second week of July through the second week of August. When the cherry harvest is underway, stop at any of the numerous roadside stands along Montana Highway 35 south of Bigfork to buy some of Montana's favorite treat.
The Mission Mountain Winery makes extra good wines at its headquarters in Dayton on the west shore of Flathead Lake. The winery is open for tasting from May through October.
Dragon boats cruising on a wilderness lake is not what you'd expect to see in Montana. Be surprised. The Annual Montana Dragon Boat Festival is the latest outdoor entertainment in the Kalispell area. Hong Kong inspired dragon boats, with twenty paddlers for power, race across Flathead Lake. As many as 45 teams compete. Fun for all. In 2020, this event is at Wayfarers State Park south of Bigfork and runs September 12-13.
For lodging try Stoner Creek Cabins. A great choice if you like being close to nature. The cabins, with ample room and newly built, are located in the village of Lakeside just off U.S. Highway 93 south of Kalispell on the west side of Flathead lake.
Travel tips:  Flathead Lake is a huge body of water.  At times, wind drives large waves on the lake.  Boaters should be aware of wave conditions at all times. NOAA provides wave data for Flathead Lake.  If you go, best advice is to hire a charter service or guide to take you out on the lake.
All but a small northern part Flathead Lake is on the Flathead Indian Reservation. This complicates matters as the tribe has a say on activities that can happen on part of the lake controlled by them.
Bigfork
Bigfork (pop 4,270) is a quaint, small village surrounded by wild and pristine wilderness. Blessed by nature, Bigfork may be the best small town in America. Bigfork is home to amazing culture, too. The Bigfork Center for the Performing Arts is a huge attraction, with many outstanding events open for visitors to enjoy.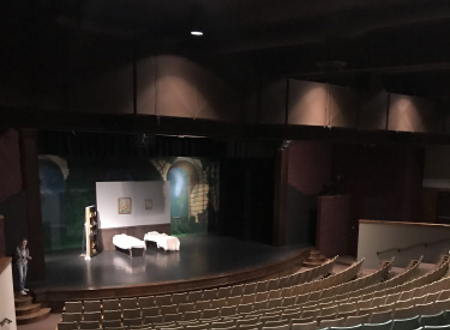 Theatre at the Bigfork Center for the Performing Arts, Bigfork, Montana. Photo courtesy Sandy Archives.
RVers and campers heading for Glacier National Park or Flathead Lake often stop for a night (or longer) at Outback Montana RV/Tent Campground, located about 4 miles south of Bigfork and southeast of Kalispell. Outback Montana RV/Tent Campground is only 1 mile from Flathead Lake. This is an ideal spot for an outdoor barbecue or just a walk in the wild.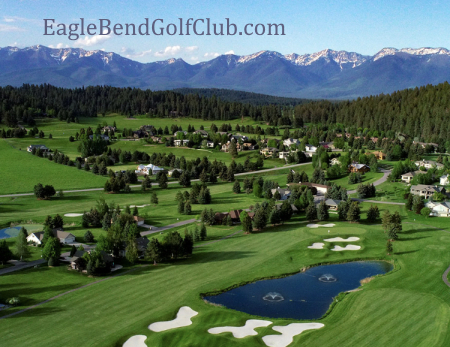 So nice. 27-hole championship golf course in Bigfork, Mont. Photo courtesy Eagle Bend Golf Club.
Swan River Inn has a great location in downtown Bigfork near all the action (406)-837-2328. Mountain Lake Lodge, about five miles south of Bigfork, is also very nice but expensive (406)-837-3800. Laughing Horse Lodge (open May – October), is a few miles south of Bigfork in the village of Swan Lake, offers cabins in a rural setting. The Laughing Horse has dining on site. (406) 886-2080.
Schafer's Restaurant at Mountain Lake Lodge about five miles south of Bigfork is a favorite place for casual dining. Schafer's overlooks beautiful Flathead Lake. Schafer's offers dinner and Sunday brunch, plus a great selection of wines and spirts. Riley's Pub and Sports Bar, open nightly,  is another dining option on the property.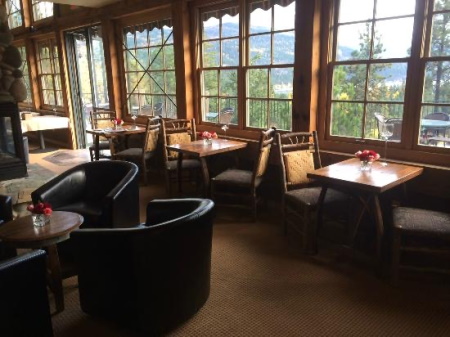 Dining area at Mountain Lake Lodge, Bigfork, Montana. Photo courtesy Mountain Lake Lodge.
Seeley Lake
Montana Highway 83 runs southeast of Bigfork and passes through wilderness country. The highway follows the Seeley-Swan Valley and is bordered by the Swan Mountains on the east and Mission Mountains on the west. Dense forests crowd Highway 83, so mountain and lake scenery is a little hard to see. The towns of Swan Lake, Condon, and Seeley Lake provide essential services for travelers.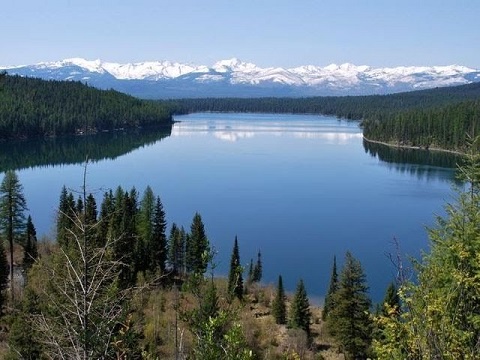 Holland Lake near Swan Mountains in western Montana. Photo courtesy U.S. Forest Service. Gary Noland's Seeley Swan Pathfinder describes many recreational opportunities in the Seeley-Swan Valley.
Polson
Buffalo still roam Montana's prairies at the National Bison Range, a few miles south of Polson (pop. 4,777), near the village of Moiese. Hundreds of buffalo and numerous elk, mule deer, bighorn sheep, and mountain goats live on a 19,000 acre refuge, managed by the U.S. Fish & Wildlife Service. The refuge is a delight for birders, too, with some 205 bird species.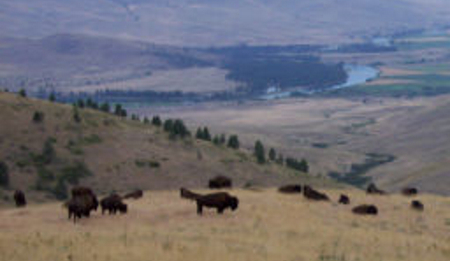 Bison (buffalo) roam the National Bison Range north of Missoula. Photo courtesy U.S. Fish & Wildlife Service.
In Pablo, a few miles south of Polson on U.S. Highway 93, visitors can experience Native American culture at the People's Center. People's Center is a venture of the Salish, Kootenai, and Pend d'Oreille Indian Nations. It has a wonderful collection of artifacts, photographs, stone tools, and dance outfits. A gift shop sells works of local Native American artists.
The Tribes offer lodging to the public at KwaTaqNuk Resort, 303 U.S. Highway 93 East, Polson. The resort has a superb restaurant and lounge. (800-882-6363).
St. Ignatius Mission in St. Ignatius, Montana, on the Flathead Indian Reservation, is a noted historic attraction in the Flathead Valley. Built in the early 1890's, the church has fabulous original paintings on the walls and ceiling by Brother Joseph Carignano. This Catholic Church is located south of Pablo on U.S. 93 or about 42 miles north of Missoula.
Hot Springs
Hot Springs (pop. 557) is about 30 miles southwest of Flathead Lake. The town is famous for hot mineral springs. Hot mineral water is thought to have therapeutic value for many of life's common ailments.
For indoor bathing facilities go to Wild Horse Hot Springs (406) 741-3777. In the same area:  Spa Hot Springs Motel (406) 547-3366  and Clinic (406) 547-3377. Hot Springs also boasts a new outdoor hot mineral pool at the Symes Hotel (406) 741-2361.
Quinn's Hot Springs Resort is another very popular destination.   Quinn's is northwest of Missoula near Plains and the small village of Paradise. This resort has a pool and lodging. A restaurant and tavern are part of the property. New pools opened for the 2020 season.  Cabins are modern and extra nice. Harwood House Restaurant at Quinn's gets rave reviews. And the wine list at Quinn's is superb.  (406) 826-3150.
Libby
Libby (pop. 2,691) is away from the crowds that flock to Glacier National Park and the Flathead Lake area. Still Libby is a great place to visit and offers many splendid attractions which appeal to many visitors. A really cool attraction is a Swinging Bridge built over the Kootenai River in 2019 by the U.S. Forest Service. The Swinging Bridge is a foot-path in the sky spanning a distance of 220 feet across the Kootenai River at a height of about 100 feet above the river below. Crossing the bridge on foot is an absolute thrill for those who like to experience a genuine adventure.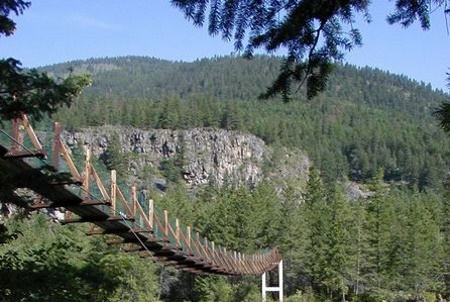 Swinging Bridge spanning 220 feet across the Kootenai River, a few miles down river from Libby, Montana. Photo by Maggie Craig, courtesy of LibbyMT.com. Bridge shown in this photo is the old Swinging Bridge which was replaced by a new similar Swinging Bridge in 2019 near the same location as the old one.
Huckleberry Paradise
Northwest Montana is a wild huckleberry paradise. Locals eagerly anticipate mid-July when huckleberries begin to ripen on national forest lands. Folks head for the mountains, buckets in hand, hoping to find a patch of huckleberries to pick.
More adventurous tourists may also want to experience huckleberry picking. Huckleberries are a delicious fruit and after harvest are used in a variety of tasty delights such as jams, pies, and flavored ice cream. Low volume pickers (fruit for personal consumption) generally don't need a permit from national forest officials.
Stock up on huckleberry treats at the Huckleberry Patch in Hungry Horse, Montana. Huckleberry Patch is east of Columbia Falls on U.S. highway 2 on the way to Glacier National Park. Photo courtesy of Huckleberry Patch.
Black bears and grizzly bears love huckleberries too. Safety from bears is a concern of pickers. Advice: if you go, always be on lookout for bears and carry bear spray for protection.
More Wilderness Areas:
If you enjoy nature and want to avoid touristy destinations, visit Kootenai National Forest, a largely uninhabited mountainous area with vast forests and wild rivers. The Yaak Valley and Yaak River are a path through the mountains.  Wildlife abound in the Yaak. Access is by Montana Highway 508, a road that follows the Yaak River as it meanders through the  Yaak Valley. To get a flavor of this area before you go, watch the History Channel and view the "Mountain Men" series, a segment of which features Tom Oar, a local who has lived and survived in the Yaak for over 35 years. The Yaak is a special place.
Lake Koocanusa is a genuine treasure in northwest Montana. This huge lake was created by a dam built on the Kootenai River.  Montana State Highway 37 connects Libby with Eureka and runs along the east side of Lake Koocanusa. Many recreational opportunities await tourists. Local promoters say this area is "Glacier Park without the crowds." Well, not by any stretch Glacier Park, but still attractive.  Go and check out everything that Kootenai National Forest and local communities have to offer.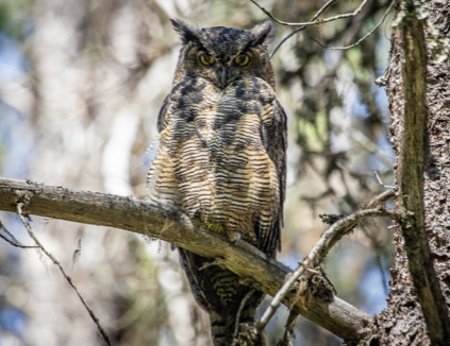 Great Horned Owl searches for food while perched from a limb of a giant conifer tree in the wilderness of northwest Montana. Photo courtesy U.S. National Park Service.
More wilderness is located east of Montana State Highway 83. This area extends over 80 miles south from Glacier National Park and is divided into three parts: Great Bear Wilderness, Bob Marshall Wilderness, and Scapegoat Wilderness. Combined this area is larger than Delaware and very remote. Wilderness areas can be hard to navigate. If you go, a local guide service may help you have a more enjoyable experience.
Montana is well know for its natural wonders, but few people have heard of the Chinese Wall in the Bob Marshall Wilderness. The Chinese Wall is as spectacular as any of the rest. The wall is a massive limestone escarpment over twelve miles in length with an abrupt vertical rise of more than 1,000 feet. 
Access is by hiking on trails deep into the wilderness. Some hikers start their journey from an area 30 miles west of Augusta. If you go, plan very carefully days if not weeks in advance. You'll hike for several miles in rugged mountainous terrain just one way before getting a first glimpse of the wall and then take another long hike back to the trailhead. This is a journey for only experienced and strong hikers.
Travel tip: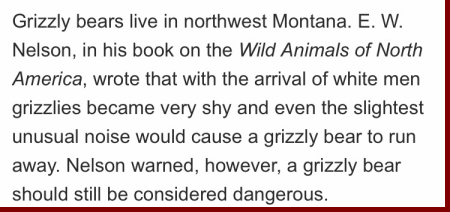 Montana Fish, Wildlife, and Parks estimates that 1,250 grizzlies prowl various wild areas in western Montana. As recent as 2001, a conservation organization paid Montana ranchers $16,000 for the lose of 25 cows and calves, 11 sheep and lambs, and several fowl caused by hungry grizzly bears.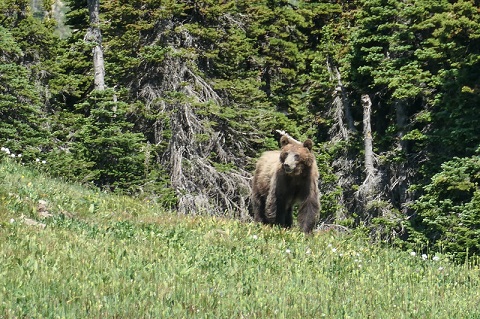 Grizzly bears inhabit the wilderness of northwest Montana, including Glacier National Park. Photo courtesy Sandy Garrison, sandygarrisonphotography dot com.
Travel tip:
A good map is handy even if you think you know the way. It's also helpful for planning alternate routes which may turn out to be more scenic and less traveled than roads drivers usually take. Plan your trip using the official Montana state highway map.
Many tourists visit northwest Montana to see the grandeur of mountains and enjoy outdoor activities in a pristine environment. Others want to experience wild nature. Every region of Montana has much to offer, but The Wilderness may top all.
Enjoy northwest Montana.

Absaroka Mountain, Mont.
© 2022 John Sandy