RED LODGE POST
Fire Lookout Cabins in Montana National Forests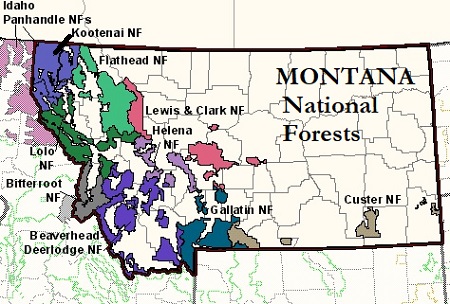 Some travelers seek a place to get off the grid. Lookout cabins fit this description. Lookout cabins are rustic accommodations owned by the National Forest Service. Located in remote areas, they are available to the public for modest rental fees.
Over many years, the National Forest Service built lookout towers to watch for forest fires. To make life a bit better for the ranger on duty, a cabin of sorts with some basic amenities was added to the top of lookout towers.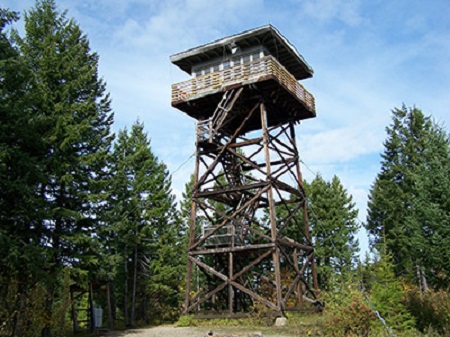 Access to lookouts is usually over primitive, rough roads, so a high-clearance vehicle is strongly recommended. In some cases, parking is some distance away from the lookout and visitors have to hike in. A strenuous three and one-half mile hike uphill gets you to Medicine Point Lookout in Lolo National Forest, for example.
Here is a list of lookout cabins for rent in Montana's National Forests.
Flathead National Forest
Mission Lookout: 40-ft tower, near Bigfork
Hornet Lookout: 2-story lookout, near Polebridge
Kootenai National Forest
Yaak Mountain Lookout: 45-ft tower, near Troy
Baldy-Buckhorn Ridge: 26-ft tower, near Troy
Garver Mountain Lookout: 40-ft tower, near Troy
Sex (yes, correct spelling) Peak Lookout: cabin, near Trout Creek
Minton Peak Lookout: 5-ft tower, near Libby
Gem Peak Lookout: 30-ft tower, near Noxon
Big Creek Baldy Lookout: 52-ft tower, near Libby
Webb Mountain Lookout: short tower, near Rexford
Wam Lookout: cabin, near Eureka
McGuire Mountain Lookout: cabin, near Rexford
Bitterroot National Forest
McCart Lookout: 10-ft tower, near Sula
Gird Point Lookout: 8-ft tower, near Darby
Medicine Point Lookout: 10-ft tower, near Conner
Lolo National Forest
Up Up Lookout: 40-ft tower, near Haugen
Thompson Peak Lookout: multiple-story, near Superior
Double Arrow Lookout: 20-ft tower, near Seeley Lake
Cougar Peak Lookout: cabin, near Thompson Falls
West Fork Butte Lookout: cabin, near Lolo
Custer-Gallatin National Forest
Diamond Butte Lookout: 30-ft tower, near Broadus
Garnet Mountain Lookout: short tower, near Gallatin Gateway
Lewis & Clark National Forest
Monument Peak Lookout: cabin, near White Sulphur Springs
Helena National Forest
Granite Butte Lookout: 20-ft tower, near Lincoln
For a complete description of lookout cabins in Montana's national forests go to Recreation.gov.  Just type in the name of the lookout you're interested in. This Website has a ton of essential information on each lookout.
Read the information carefully so you know what to expect when you arrive at a particular lookout. Some amenities are usually provided at lookout cabins, but a lot of things that you'll need must be brought from home.
Granite Butte Lookout, near Lincoln, Montana, is an example of how lookouts are furnished. This lookout has a twin bed, with mattress, and three twin costs. The lookout comes with a table and chairs. A propane stove, propane lantern, and a wood stove are also provided. However, bring your own propane.
As a reminder that this lookout is off the grid, there is no electricity or running water. Guests bring drinking water and water for washing with them. Guests also bring their own bedding, towels, and other personal necessities. A vault toilet is nearby.
After leaving the lookout, guests are expected to clean up facilities and pack out garbage. Bring garbage bags. A broom and basic cleaning supplies are on site.
Granite Butte Lookout accommodates four guests. Furnishings may vary from one lookout to another, so carefully read details about the site you plan to visit in advance.
Reservations for lookouts can be booked on the Recreation.gov Website. A search for a specific lookout on Google or Bing also leads to a Web page on Recreation.gov which provides full information.
Lookouts come with hazards, so be aware. Weather can get nasty, navigating/climbing steps from ground level to the top of a lookout can be challenging, and bears roam the forests, to name a few. Recreation.gov says, "guests are responsible for their own safety."
Lookout cabins are a great way to experience nature. Views of forests and mountains from the top of lookout towers are spectacular. And, as an added benefit, you can enjoy wildlife which may be nearby. Solitude for sure!

Absaroka Mountain, Mont.
© 2021 John Sandy