A little more than two-hundred years ago, the region that later became Montana was an unexplored land, no towns, no roads, no other signs of Western civilization – a vast, uncharted wilderness.  At about the same time, around the year 1800, the United States was a growing nation with thriving cities in New York, Pennsylvania and other areas on the East Coast.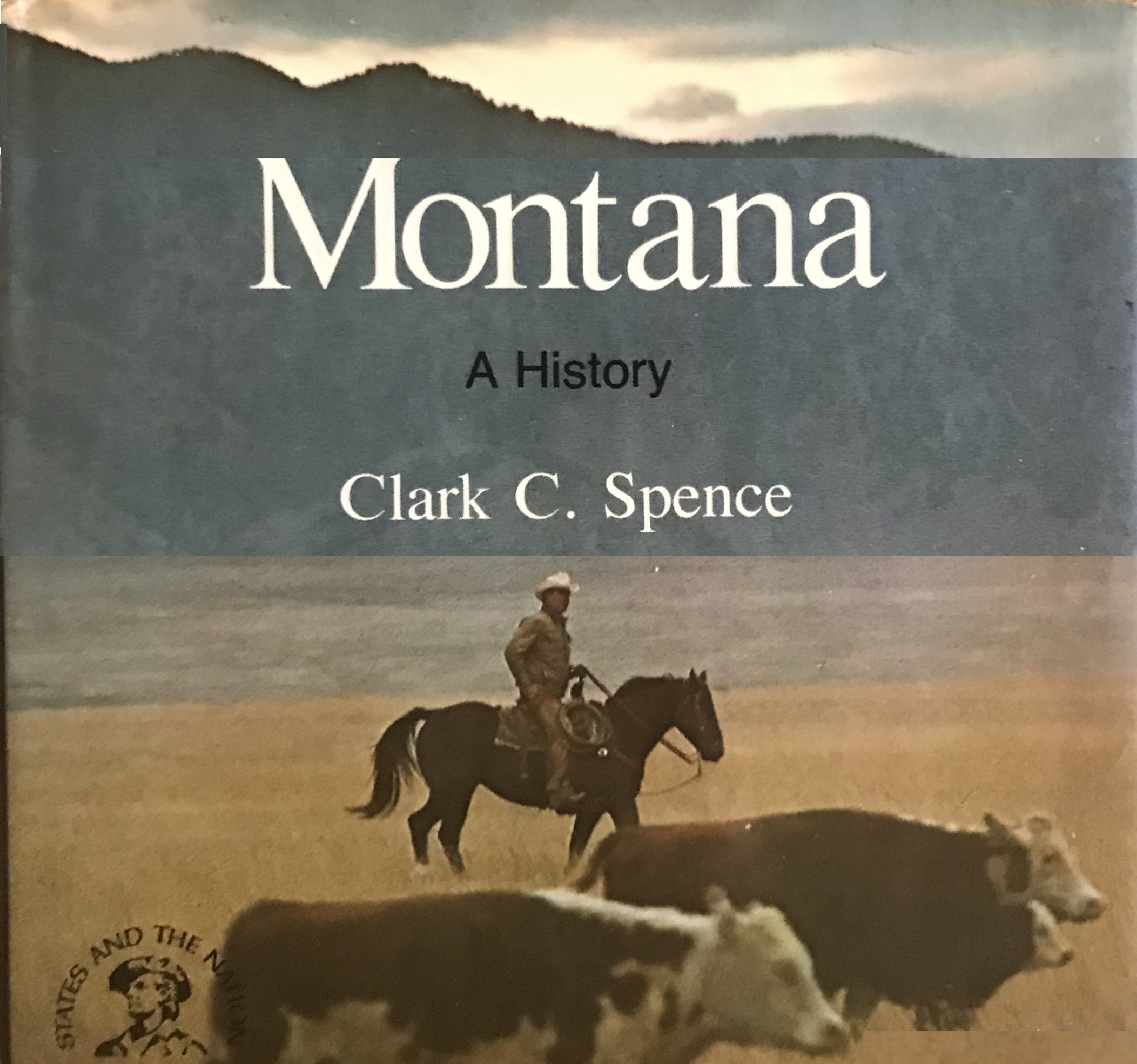 Thousands of Native Americans lived in this region for 10,000 years or more before people of European descent started to arrive in the early 1800s. In early times, Native Americans thrived on bountiful fruits of the land, especially buffalo, while enjoying the wild landscape.
"The name 'Montana' properly belongs to a certain part of Spain, and means 'mountainons,' a name that is applicable to the country, for a wonder. Still, I think that the Snake Indian name of 'Tóyabe-Shockup,' or 'The Country of the Mountains,' would have been more appropriate, for some parts of Montana have been the home of these Indians from a time far anterior to the discovery of America." Granville Stuart, 1865.
During the years 1804-1806, Lewis and Clark explored this region and the Northwest, under the direction of President Thomas Jefferson. Following their historic exploration, things soon began to change.
In the early 1800s, mountain men arrived to harvest fur bearing animals, especially beaver. The era of mountain men was short-lived ending before mid-century.
In the 1860s, prospectors rushed to mountainous regions of  Montana Territory to mine gold and silver. This era would pass quickly too, as rich deposits were mined out.
By the 1870s, cattle ranches had been established in many areas. Livestock grazed on open range owned by the federal government. A few enterprising cattlemen made huge sums of money from the cattle industry.
Before 1880 and the arrival of cattle, this same land was occupied by massive herds of buffalo. During the winter of 1886-1887, the buffalo, all but gone, got their revenge when extreme cold and snow hit Montana, the harsh weather causing death, by exposure and starvation, to millions of cattle on the range.
During the homesteading era beginning in 1862 and especially in the early 1900s  thousands of farmers settled in Montana. In just one year, 1918, more than 14,000 homestead claims were filed in the state. Soon hard times followed for the homesteaders. Drought, insects, low commodity prices, and taxes doomed thousands. They packed up and moved away, sometimes to far away destinations.
Over time the Native Americans were forced to live on reservations. Their way of life and culture broken and pushed aside. Today, the Montana tribes seek to remember and embrace their ancient native ways with schooling  of youth and celebrations.
On May 26, 1864, this region was organized as Montana Territory.  It remained as a territory of the United States until November 8, 1889, when it was admitted to the Union as the 41st state and became the State of Montana.
During the twentieth century, many Montanans made a living from harvesting timber, mining, and agriculture.  All these industries still remain important to the state's economy, but tourism has grown rapidly and is now a major source of income for business owners and workers.
Montana is a tourist mecca. Visits peak in summer and then drop off.  For visitors, there's more demand for resources such as lodging and recreational activities in the summer and this often leads to higher prices. Late spring and early fall are  wonderful in Montana, too. The winter season is a favorite for skiers and lovers of outdoor winter sports.
Montana (MT) has a population of about 1,042,520 (German, Irish, English, and Norwegian ancestry being common), plus a large population of Native Americans.  Montana is sparsely populated, with it's residents scattered over a huge area of 147,000 square miles.
Population of Major Montana Cities and Towns:
•Billings, pop. 110,323 •Missoula, pop. 72,364 •Bozeman, pop. 45,250 •Helena, pop. 31,169 •Great Falls, pop. 59,178 •Butte, pop. 34,553
•Glendive, pop. 5,332 •Kalispell, pop. 22,761 •Miles City, pop. 8,647 •Lewistown, pop. 5,870  •Havre, pop. 9.846 •Dillon, pop. 4,257
State Bird: Western Meadowlark; State Flower: Bitterroot; State Animal: Grizzly Bear; State Fish: Cutthroat Trout; State Tree: Ponderosa Pine
Major Wildlife – Mammals:  •grizzly bear •mule deer  •antelope  •buffalo •elk  •black bear •mountain lion •white-tailed deer •gray wolf •mountain goat •wolverine
Major Rivers: •Yellowstone River (south-central and southeast Montana) •Missouri River (north-central and northeast Montana) •Clark Fork River (western Montana) •Bitterroot River (southwest Montana); •Madison River (southwest Montana) •Milk River (north-central Montana) •Marias River (north-central Montana).
Major Lakes: •Flathead Lake (near Kalispell) •Canyon Ferry Lake (near Helena) •Lake Koocanusa (near Libby) •Whitefish Lake (near Whitefish •Fort Peck Lake (near Wolf Point) •Lake McDonald (in Glacier National Park) •Hebgen Lake (near West Yellowstone).
Major Mountain Ranges: •Absaroksa Range (Near Livingston); •Beartooth Range (near Red Lodge); •Flint Creek Range (near Deer Lodge); •Crazy Mountains (near Big Timber) •Gallatin Range (near Bozeman)
•Bitterroot Mountains (near Missoula) •Madison Range (near Ennis) •Mission Mountains (near Polson) •Big Snowy Mountains (near Lewistown) Elkhorn Mountains (near Helena) •Pryor Mountains (near Billings) •Flathead Range (near Kalispell) •Cabinet Mountains (near Thompson Falls).
Mountain ranges divide Montana into two very different ecological systems. In western mountainous parts of the state forests are common, whereas in the eastern part plains and grasslands rule.   Climate in the west differs from that in the east.
State Gemstones: Agate and Sapphire; State Motto: Oro y Plata (Gold and Silver); Nicknames: The Treasure State; Big Sky Country; The Land of the Shining Mountains.
Montana roads and highways are a delight to travel on. The speed limit is posted on the DOJ traveler info Web page. Traffic is moderate to light on highways in central and eastern Montana, so there's plenty of opportunity to see and enjoy the spectacular scenery.
In western Montana, on some U.S. (federal) and MT (state) highways, traffic can, at times, be heavy, so drive carefully and watch for changes in the speed limit. Highways with higher traffic counts include:
U.S. Highway 12/IH 90 (between Helena and Missoula);
U.S. Highway 93 (north-south through cities of  Whitefish, Kalispell, Polson, Missoula, and Hamilton).
U.S. Highway 287 (between Bozeman and Helena);
U.S. Highway 191 between Bozeman and West Yellowstone);
U.S. Highway 87  (between Lewistown and Great Falls and between Great Falls and Havre;
MT Highway 200 (between Missoula and Great Falls).
and U.S. Highway 212 and U.S. Highway 310 southwest of Billings on the way to Red Lodge and Bridger.
The Interstate Highways in Montana and U.S. Highway 2  also carry considerable traffic.
"Montana's curvy, mountainous roads and weather —which can change quickly even during summer months— require drivers to be alert to conditions at all times and to adjust speeds accordingly," warns the Montana DOJ Web site. Great advice!
Some folks may choose to fly to Montana. Modern airports are found in Montana's major cities. The Billings (BIL), Bozeman (BZN), Missoula (MSO), Helena (HLN), Kalispell (FCA), Butte (BTM), and Great Falls (GTF) airports are especially nice and all are served by major airlines and conveniently located near downtown areas.
Booking airline tickets on Expedia, Travelocity or other travel Web sites is easy. Many flights go to Montana. Bus transportation is available for many Montana cities. Check out Greyhound. Another choice, travel across Montana by train on AMTRAK'S Empire Builder.
Travel tip: 
Google Maps
are a traveler's best friend. When navigating city streets, searching highway routes, or locating hotels and other businesses, you can depend on Google Maps. Be sure to download the app for Google Maps and place the icon  for Google Maps on the first screen of your smartphone for quick reference.
Travel tip: Montana is far away from all major population centers in the U.S. and Canada. Still it is possible for many folks to drive to Montana in one day. Sometimes it's a long day! Day trips are possible, such as: Seattle to Missoula; Fargo or Winnipeg to Glendive; Salt Lake City to Helena; Calgary to Great Falls; Portland to Missoula; and Denver to Billings.

Absaroka Mountain, Mont.
© 2022 John Sandy