Northwest Montana
Glacier National Park – Conrad Mansion
Flathead Lake – Trails
The city of Kalispell is a welcome center, a place from which many tourists launch a personal experience with nature's generous bounty. Flathead Lake, Glacier National Park, and Flathead National Forest are unrivaled places of spectacular scenery near Kalispell. All are amazing venues for outdoor recreation. Wilderness is everywhere.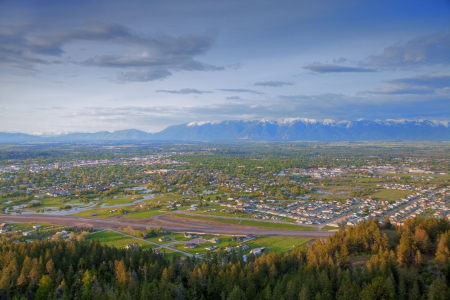 City of Kalispell, Montana. Photo courtesy Discover Kalispell.
Kalispell, MT (pop. 22,761) is the largest city in northwest Montana. Kalispell is located on U.S. Highway 93, north of Missoula. The Kalispell area is very remote even by Montana standards. No Interstate highways in sight around Kalispell. A good thing.
Attractions
For family fun go to Kalispell's Woodland Water Park. Two three-storied water slides and a six-lane lap pool are big hits. This facility is outdoors, so open only during warm weather months, mid-June through late August.
If time allows while you are visiting in Kalispell and Glacier National Park, experience excitement at Glacier Highline. Lots of family fun here: Glacier Highline offers a zipline, climbing wall, inflatable water course, plus an aerial adventure course. Glacier Highline is on U.S. Highway 2, east of Kalispell between Columbia Falls and West Glacier.
For a glimpse of what life was like for the rich in Kalispell during the late 19th and early 20th centuries, tour Conrad Mansion Museum.  A mansion, indeed, with three floors, 26 rooms, and eight  fireplaces.
This historic home is filled with period furnishing and possessions of the Conrad family who built and owned the mansion. Visitors see the family's clothing, artwork, taxidermy, and children's toys and dolls. The Conrad Mansion is of the same vintage as Biltmore House (historic Vanderbilt home) in Asheville, North Carolina.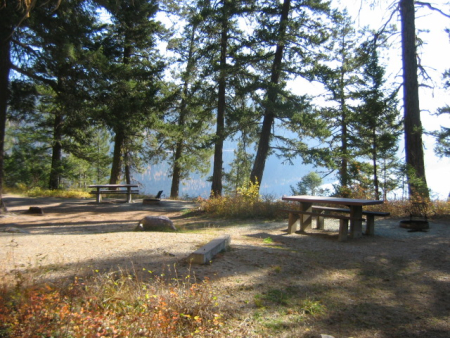 Flathead National Forest is a huge attraction near Kalispell. Picture of Tally Lake Campground in Flathead National Forest. Photo courtesy U.S. Forest Service.
Hockaday Museum of Art is a must visit, too. Hockaday has impressive permanent collections consisting of paintings, sculptures, Native American artifacts, and more. The building that houses the collections is an architectural gem, to admire in and of itself.
If you love culture, the Glacier Symphony and Chorale in Kalispell offers amazing programs. For dates, times, and venues check the symphony's Web site.
History buffs will want to view exhibits at the Northwest Montana History Museum.  Artifacts of Native American culture are featured in this museum, among other exhibits on northwest Montana history.  A touch table is a cool "exhibit." Visitors can put their hands on and touch antlers, fur, and leather. The museum is housed in old school building near downtown Kalispell. The museum is open Monday thru Friday and charges a modest admission fee.
Kalispell hosts the Northwest Montana Fair and Rodeo. Concerts, rodeo, carnival rides, and thousands of hand-crafted exhibits make this a wonderful event for all. In 2021, this event runs August 18-22.
In Glacier National Park, visitors see some of North America's most spectacular landscape. Viewing high mountains, glaciers, alpine meadows, and pristine lakes, fed by melting snows, is an experience to last a lifetime.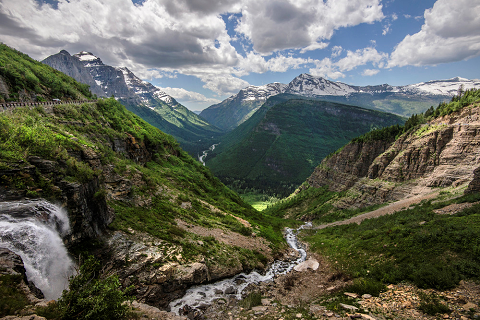 View inside Glacier National Park. Courtesy U.S. National Park Service. Photo by Tim Rains.
Flathead Lake is a destination attraction in and of itself. The lake is located a few miles south of Kalispell on U.S. highway 93. Flathead Lake is great for fishing and water sports. It is the largest, natural freshwater lake in the West. Flathead Lake is about 30 miles long and 12 to 14 miles wide.
Dragon boats cruising on a wilderness lake is not what you'd expect to see in Montana. Be surprised. The Annual Montana Dragon Boat Festival is the latest outdoor entertainment in the Kalispell area.  Hong Kong inspired dragon boats, with twenty paddlers for power, race across Flathead Lake. As many as 45 teams compete. Fun for all. In 2020, this event is at Wayfarers State Park south of Bigfork and runs September 12-13.
There are plenty of trails for hiking and biking around Kalispell. The Great Northern Rail Trail is very popular. As the name suggests, part of the trail is built on the route followed by the old Great Northern Railroad. Great Northern Rail Trail is several miles of paved trail and is just south of Kalispell. Great Northern Rail Trail runs from the town of Somers of the north shore of Flathead Lake west to the village of Kila and Smith Lake Waterfowl Production Area.
Horseback riding is another favorite activity. Try some action at Lonesome Dove Guest Ranch near Kalispell. (406) 756-3056
Restaurants
Tourists can choose from many good restaurants in Kalispell. Vivienne's Fifth Street Cafe serves breakfast and lunch. Cislo's Family Restaurant has served locals and tourists for more than 35 years.
The Desoto Grill is tops for delicious BBQ. Hop's Downtown Grill makes the best burghers in town.  Rocco's Restaurant, located east of Kalispell on U.S. Highway 2, is another favorite.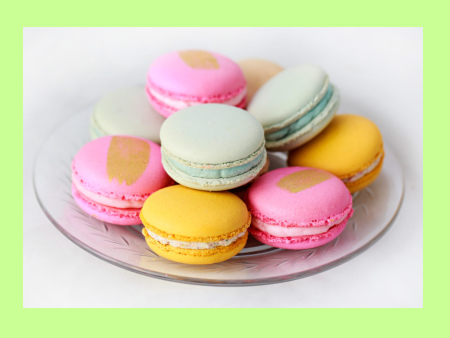 Macarons. Baked fresh daily by Ephemera Confection on Main Street in Kalispell, Mont. $3 each. YUM! Make this your first stop in Kalispell. Photo courtesy Flathead Beacon.
The Montana Club restaurant is downtown near Main Street. Open for breakfast, lunch, and dinner. Sometimes it's hard to find a restaurant that serves breakfast. A good choice.
For  fine dining, Jagz Restaurant in Kalispell is tops. Steaks, pasta, and seafood are on the menu. Try Chicken Marsala, boneless chicken breast sauteed with mushrooms and garlic and finished in Marsala brown sauce. $17.95.
Favorite Kalispell Restaurants:
Vivienne's Fifth Street Café
Montana Club
The Desoto Grill
Jagz Restaurant
Ceres Bakery
Sweet Peaks (for ice cream)
ScottiBelli's Ristorante Italiano
Rocco's Restaurant
Top Ethnic Cuisine:
Scottibelli's (Italian)
Casa Mexico
Chinatown Restaurant
Blue Samurai Sushi Bar & Grill (Japanese)
Edelweiss Bistro (German, in Missoula, Montana)
Starbucks is a popular destination for coffee. Kalispell has four stores. The Starbucks on Main Street (U.S, highway 93) is easy to find downtown a couple of blocks north of the county courthouse. Another is in Kalispell's Target store.
Craft breweries are common in Montana. In Kalispell, head for Kalispell Brewing downtown on Main Street.  At SunRift Brewing beers always have interesting names: Sundown Honey Brown, Blonde Bomber, and Sol-Gravy Stout are a few of the best.
If you like fine wine, a tasting room is open at Montavino Winery located off Main Street in Kalispell.  Petit Verdot by the glass $8, by the bottle $38.
Shopping
The Kalispell area is not exactly cowboy country, but western wear is still popular in this part of Montana. Locals and tourists alike can find a huge selection of western boots, hats, and much more at Western Outdoor in downtown Kalispell. Western Outdoor stocks over 2500 boots,1500 hats, and a huge selection of jeans, shirts and blouses. Reason enough to check this place out during your next trip to Kalispell.
Hotels
Kaslispell has excellent lodging
Red Lion Hotel
(406) 751-5050
Kalispell Grand Hotel
(406) 755-8100
Hampton Inn
(406) 755-7900
Country Inn & Suites by Radisson
(406) 751-9000
Best Western Flathead Lake
(406) 857-2400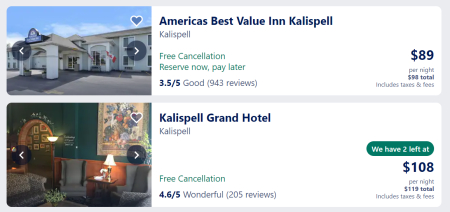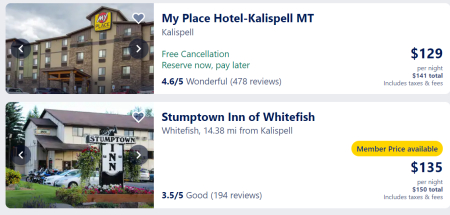 Transportation
Car rentals are available at the Glacier Park International Airport: Avis (406) 257-2727, Hertz (406) 758-2220, Alamo (406) 257-7144. For taxi service in Kalispell, Whitefish, and Columbia Falls call Glacier Taxi (406) 250-3603. Arrow Shuttle also provides ground transportation in the Kalispell area (406) 300-2301.
View map of Kalispell. Use + or – to zoom in or zoom out:
Kalispell History Remembered: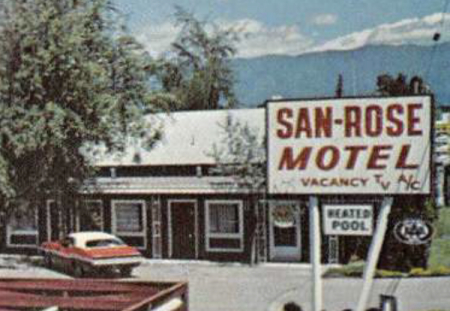 Lodging in the 1960s in Kalispell. Park in front of the door to your private room. Outdoor heated pool included. If only like this today. Photo from a postcard distributed by the owners, Ida Sandy and William De Rose. Circa 1969.
Kalispell is a friendly city to visit. The great Montana wilderness and Glacier National Park beckon
nearby.

Absaroka Mountain, Mont.
© 2022 John Sandy