Southwest Montana
  Nightlife – Outdoor Fun
University of Montana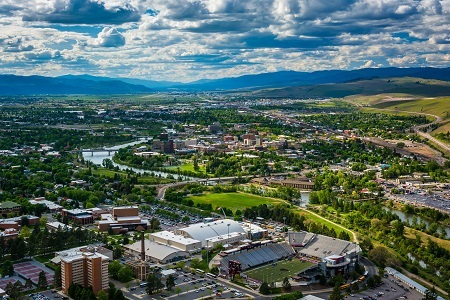 Aerial view of downtown Missoula, Montana, with Bitterroot Mountains in the background. Photo courtesy Missoula Parks and Recreation, City of Missoula.
As might be expected in a college town, many tea sippers populate local hangouts in Missoula. But away from the university, Missoula is a regular sort of town.
Missoula, MT (pop. 74,428) is the gateway to the beautiful Bitterroot Valley in southwest Montana. The Bitterroot Valley is flanked by the rough and ragged peaks of the Bitterroot Mountains on the west and the Sapphire Mountains on the east. Many folks work in forestry and forest products industries.
Wilderness Highway (an unofficial name for U.S. Highway 93 in Montana) which runs from Sula in the south to Eureka in the north is the primary road through the Bitterroot Valley. The region is an outdoor paradise.
Missoula is  home to the University of Montana and the mighty Grizzlies. The Grizzlies hang around the University's athletic department and are famous for smashing opponents in the Big Sky Conference. The Grizzly football team won NCAA Division I-AA national championships in 1995 and 2001. Enrollment at the University of Montana is about 12,668.
Attractions
The Rocky Mountain Elk Foundation Wildlife Visitor Center in Missoula draws nature lovers and conservationists to Missoula.  Visitors to the Center enjoy educational exhibits, a display of trophy elk mounts, wildlife conservation films, plus a gift shop with clothing, wildlife art, and calendars. The 22-acre site features a delightful Outdoor Walking Trail. Native wildlife can often be viewed on the property. Don't miss this place!
The natural environment is on full display wherever you go in Montana. You can get a head start on understanding nature in Montana by visiting the Montana Natural History Center. Some very well-done and educational exhibits are found here.
The Historical Museum at Fort Missoula is another top attraction in Missoula. The museum features over 22,000 objects and 13 historical structures. On site are five fort buildings, a homestead cabin and barn (circa 1900), a rural schoolhouse (1907), a church (1863) built by the Jesuits, and a railroad depot (1910). The museum offers a rare opportunity to see how pioneers lived in western Montana.
Missoula offers old-fashioned family fun too. The Missoula Carousel features 40 ponies, chariots, and dragons. This is a cool place, even if just to visit.
Missoula's events are highlighted by Missoula Downtown. Order a guide to Missoula.
Shopping
Shopping is great in Missoula, Montana. Southgate Mall has many shops, including major department stores. Located on Highway 93 South.
Three downtown specialty stores are sure to delight many shoppers:
Mood Boutique (Higgins Ave.)
One Eleven (Higgins Ave.)
Aporta (Front Street)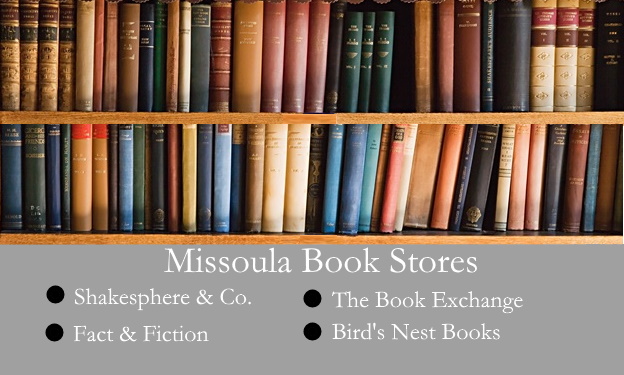 Hotels
Missoula has excellent lodging
Holiday Inn
Missoula Downtown
(406) 721-8550
Gibson Mansion
Bed & Breakfast
(406) 251-1345
DoubleTree by Hilton -
Hotel Missoula
Edgewater

(406) 728-3100
Residence Inn by
Marriott Missoula
(406) 542-6252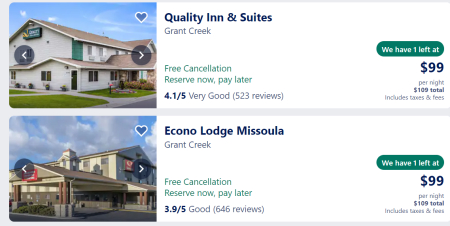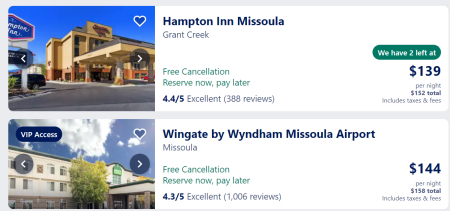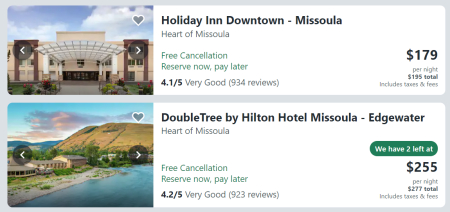 For a nice evening rest in complete privacy and a rural setting try the Farmhouse on Burnt Fork Creek guesthouse (866-776-3992) in Stevensville. An added bonus, Stevensville visitors can pick the best java around at Bitterroot Coffee Roasters.
Restaurants
Missoula restaurants and bars are tops. Most of the best restaurants and bars are concentrated along a five-block section of Higgins Avenue, a major north-south artery though the downtown area. The Shack Cafe is a good choice for breakfast, lunch and evening dining. For fresh pastries, breads, and desserts, don't miss Bernice's Bakery.
The Pearl Café  is open for upscale dining. Try the "Boneless trout with Dungeness crab," cost a mere $29. The menu at Caffe Dolce  lists house-made pasta, pizza, salmon, lamb burger and more. Wines are from Italy, France, and Spain. Scotty's Table has tasty delights, local meat, produce, and grains for an exceptional dining experience.
Plonk Wine Missoula on Higgins Avenue has, what else, a great selection of premium wines. Top shelf red is a bottle of 2009 Domaine Clerget Echezeaux Burgundy, only $320. More budget friendly is a 2013 Tangent Grenache Blanc, Edna Valley, $32.  Cocktails served too. Plonk serves tasty cuisine, often prepared from products sourced from local farms and ranches. Alaskan halibut, $32. and grilled local bone-in park chops, $25., are favorites on the menu. A special ambience makes Plonk Wine a most satisfying experience.
If you're just looking for a snack head for KornUtopia downtown on Higgins Avenue.  This is Missoula's popcorn destination. Gift tins available too.
Top Ethnic Cuisine:
Caffe Dolce (Italian)
El Cazador (Mexican)
China Garden
Saketome Sushi (Japanese)
Masala (Indian)
Kobe Seafood and Steak (Japanese)
Edelweiss Bistro (in Bayern Brewery building) German restaurant
The Iron Horse Brew Pub sells every beverage imaginable, plus has good food, especially sandwiches. The Iron Horse Brew Pub rocks even on weekdays. Tasty sandwiches and veggies are served at Worden's Market and Deli. Tamarack Brewing (downtown) is a popular sports pub with a low-key, dining experience on the upper level.
Beer drinkers in Missoula, Montana stop at the Bayern Brewery for a mug of Bayern Pilsener or Bayern Amber, brewed by the resident Master Brewer. The brewery, the only German microbrewery in the Rockies, is know for its quality lager beers.
Dancing Trout, Dump Truck, and Face Plant show this guys have an imagination when choosing names for Bayern Brewing beers. A part of the brewery, Edelweiss Bistro serves food sourced from local farms and ranches. Order a Weisswurst, two poached white sausages served Bier Hall-style with a pretzel and Händlmaier's Sweet Bavarian mustard. $9. Yum!
View a map of Missoula. Use + or – to zoom in or out.
Transportation
Car rentals are available at the Missoula International Airport:  Avis (406) 549-4711, Hertz (406) 549-9511, Alamo (406) 543-0926.  airport. For taxi service, call Missoula Green Taxi (406) 728-8294 or Yellow Cab of Missoula (406) 543-6644. A Web page by Missoula airport lists shuttle services.
Missoula has suburbs, too. Sort of. The city of Stevensville (pop. 2,187) is located 30 miles south of Missoula on U.S. Highway 93. Stevensville claims to be Montana's oldest town, dating back to a Jesuit settlement founded in 1841.
Montana history remembered
The year was 1845, near St. Mary's Mission, Bitterroot Valley, northern Rocky Mountains (modern day western Montana). A band of Blackfoot Indians entered land of the Flathead tribe on a mission to steal horses. One Indian in the Blackfoot war party was discovered and captured. The Flatheads took the captured Blackfoot warrior back to their camp and after brief questioning sent him off on a journey to the Happy Hunting Ground. Among the Flathead Indians in 1845, attempted theft was punishable by death, at least in this case.
Source: Father L. B. Palladino, S.J., in a book with title Indian and White in the Northwest.
Enjoy Missoula, Montana and the scenic Bitterroot Valley.

Absaroka Mountain, Mont.
© 2022 John Sandy