RED LODGE POST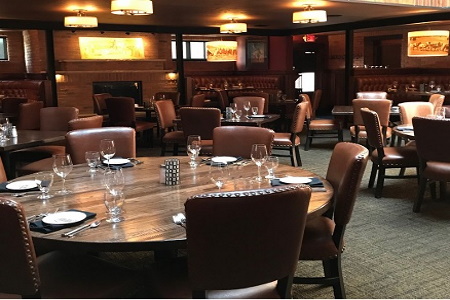 BILLINGS
Being a large city, Billings offers many great dining options. Bistecca at the Granary has the best food and atmosphere in Billings. The Granary's bar is special and a delightful place to have a seat even if you only order a Coke. The Granary is open for lunch and evening dining and located in a quiet neighborhood on Poly Drive.
The City Vineyard is on Grand Avenue in far west Billings. This place is exceptional. Don't miss!   Sandwiches, salads and soups, desserts, and more. Try the "create your own meat and cheese board." Great selection of Montana craft beers and wines are served.
City Vineyard sells a very large selection of quality wines. Deer Creek Field Medal cheese from Wisconsin and other treats found here too. Next door and adjoining City Vineyard is the City Brew Coffee shop. This is a very, very nice coffee shop. MTbest™
Harper and Madison is another top eatery in Billings. Pastries, desserts, sandwiches, salads, and locally roasted coffee are on the menu. Great breakfast menu. This restaurant is very popular with locals and is located near the hospital-Billings Clinic area north of downtown area. The setting is in a local neighborhood. Open Tuesday thru Friday (7:00 am – 2:00 pm), and Saturday (7:00 am thru 1:00 pm. casual surroundings. Great Harvest Bread is always another good choice.
Bratwursts, schnitzels, apple strudel and many tasty German foods are on the menu at Oktoberfest German Restaurant on Grand Avenue in west Billings. The food is authentic German. The restaurant's owner is from Stuttgart.  MTbest™
For an extra nice atmosphere and good prices dine at Jake's restaurant downtown. For yummy seafood and ribs, try Montana's Rib & Chop House on Majestic Lane in the far west end of Billings.  Don't miss McCormick Café's sandwiches and fresh-baked goods.  McCormick Cafe is on Montana Avenue downtown.
Meatloaf sandwiches just like you mom used to make are on the menu at The Fieldhouse restaurant in downtown Billing on Montana Avenue. The Fieldhouse has many other delicious foods too: Burrata (Benton's ham, crouton, flathead cherry, sage); Lamb Bolognese (with orecchiette pasta, herbs, pecorino, shaved fennel salad); and many more savory temptations.
The 406 Kitchen & Taproom has a great location on north 27th Street, not far from downtown, the airport, and area colleges. On the menu Famous 406 nachos, halibut sandwich, are many more tasty delights. The atmosphere at 406 Kitchen & Taproom is very average but the kitchen has good hours of service.
The Burger Dive in downtown Billings is a favorite for a quick bite in casual surroundings. Great Harvest Bread is always another good choice.
BOZEMAN
To find dining in Bozeman, head for Main Street. Western Café on east Main Street is a favorite of locals. It's easy to understand why.  A Western Breakfast Sandwich (large biscuit, egg, cheese, ham and sausage OR bacon) cost all of $6.50. Management at The Nova Cafe claims to serve "the best breakfast in town." Too boastful? Well go and find out. Starbucks coffee is served on west Main Street.
Don't miss the Baxter Hotel. This establishment features Ted's Montana Grille and the Bacchus Pub.  As you leave the Baxter Hotel pick up some fine chocolates and other gourmet treats at the La Châatelaine Chocolat Co.
Plonk Wine Bozeman on east Main Street has, what else, a great selection of premium wines. Top shelf red is a bottle of 2014 Mommessin Monopole Grand Cru Clos de Tart, Morey St-Denis, only $495. More budget friendly is a 2016 Cliff Lede Sauvignon Blanc, Napa Valley, $42.  Cocktails served too. Plonk serves tasty cuisine, often prepared from products sourced from local farms and ranches. Beef tartare and pan roasted chick breast are favorites on the menu. A special ambience makes Plonk Wine a most satisfying experience.
Blackbird Kitchen is a Bozeman dining place on everyone's list of top restaurants. You know the cuisine great when management advertise "happy local organic wood fired casual dining." On the menu: goat shank, beef sirloin, spaghetti and meatballs, and a large selection of delicious pizzas. Find a super wine list here. If your taste is birra, order Kloster-Andechs Weissbier Heil or Propolis Brewing Spruce.
bisl offers another fine dining experience in Bozeman. As with Plonk Wine locally sourced ingredients are used when possible. Montana Short Rib and Scallop run about $31. Enjoy your meal with wine or beer, carefully selected from local, national, and international sources.  bisl is on east Main Street.
Italian cuisine is the regular fare at Blacksmith Italian restaurant. The Open Range is another restaurant with great reviews. Dining at the Bay Bar & Grille is convenient while shopping at the Gallatin Valley Mall. Other good dining options are:  Squire House, Urban Kitchen, South 9th Bistro, and Seven Sushi.
MISSOULA
Missoula restaurants and bars are tops. Most of the best restaurants and bars are concentrated along a five-block section of Higgins Avenue, a major north-south artery though the downtown area. The Shack Cafe is a good choice for breakfast, lunch and evening dining. For fresh pastries, breads, and desserts, don't miss Bernice's Bakery.
The Iron Horse Brew Pub sells every beverage imaginable, plus has good food, especially sandwiches. The Iron Horse Brew Pub rocks even on weekdays. Tasty sandwiches and veggies are served at Worden's Market and Deli. Tamarack Brewing (downtown) is a popular sports pub with a low-key, dining experience on the upper level.
The Pearl Café is open for upscale dining. Try the "Boneless trout with Dungeness crab," cost a mere $29. The menu at Caffe Dolce lists house-made pasta, pizza, salmon, lamb burger and more. Wines are from Italy, France, and Spain.  Red Bird at 111 N. Higgins offers upscale dining.  Scotty's Table has tasty delights, local meat, produce, and grains for an exceptional dining experience.
Plonk Wine Missoula on Higgins Avenue has, what else, a great selection of premium wines. Top shelf red is a bottle of 2009 Domaine Clerget Echezeaux Burgundy, only $320. More budget friendly is a 2013 Tangent Grenache Blanc, Edna Valley, $32.  Cocktails served too. Plonk serves tasty cuisine, often prepared from products sourced from local farms and ranches. Alaskan halibut, $32. and grilled local bone-in park chops, $25., are favorites on the menu. A special ambience makes Plonk Wine a most satisfying experience.
GREAT FALLS
Great Falls has many good dining spots. Tops is the Celtic Cowboy in the Hotel Arvon in downtown Great Falls. The Celtic Cowboy is a pub and restaurant. On the Menu for breakfast try "Scotch Eggs" for $9  or Irish Porridge (Irish oatmeal) $6. For lunch try their Celtic Burger (ground bison or elk, with cheese, tomato, and slaw) $15. A favorite for dinner is Irish Whiskey Glazed Salmon, $24.
On the pub side, the Celtic Cowboy offers about 35 craft beers made in Montana. Go for a craft beer or to dine, the Celtic Cowboy is an amazing place. MTbest™
Dante's Creative Cuisine has a nice atmosphere and, according to management, offers "casual [dining] elegance in the heart of Great Falls, Montana.  Perfect steaks and prime rib, delicious seafood entrees, southwestern specialties and delectable desserts make us hard to resist!" On the menu, Manicotti Italiano, $18.95, Chicken Milano, $19.95, Charbroiled Salmon, $28.95, and Grilled Ribeye, $29.95. A great selection of wine, beer, and spirits here, too.
Wheat Montana Bakery and Deli makes delightful sweet baked goods, soups and salads, and sandwiches. Made from the best Montana ingredients. Great Harvest Bread is always a good choice. JB's Restaurant is a family dining restaurant near major shopping areas and the city's main mall.
HELENA
Restaurants are plentiful in Helena. Those who like superior Italian cuisine and good wine dine at Lucca's on Last Chance Gulch.  Exceptional service here.
For other upscale dining, try The Wassweiler Dinner House & Pub.  Pan Seared Salmon with creamy goat cheese couscous, tomato, mushroom, sweet corn, spinach, and lemon caper beurre blanc is on the menu at $34. Drive a short distance west of Helena on U.S. Highway 12 to arrive at the Wassweiler.
For a good wine selection and splendid cuisine, many dine at On Broadway near the downtown. The Brewhouse Pub & Grille in the Great Northern Town Center, a few blocks north of the downtown area, is very popular.
The Parrot Confectionery, located downtown on Last Chance Gulch, opened in 1922 and serves famous chili, malts, and milk shakes. Best of all you can try over 100 kinds of home-made, hand-dipped chocolates and caramels. This place has an old-time atmosphere, sort of like out of the 1950s. A neat spot if you have a sweet tooth.
Try Steve's Café for the best breakfast. For tasty coffee, tea, baked treats, and lunch in Helena try Hub Coffee on Last Chance Gulch downtown. Great Harvest Bread is always a good choice.  The Grub-Stake, a few miles north of Helena on I-15, is an interesting hang out for locals.
KALISPELL
For upscale dining in Kalispell, try Jagz Fine Dining. A full pound center cut ribeye, char-grilled and topped with bourbon onion sauce goes for $32.95. The Desoto Grill is wildly popular too. The Desoto Grill serves BBQ, sandwiches, desserts, and beer. A smoked chicken sandwich, $12.25. Banana pudding, $4.75. Yum!
The Montana Club restaurant is in the downtown area just off Main Street. Open for breakfast, lunch, and dinner.  For this reason, the Montana Club is a good choice. Sometimes it's hard to find a restaurant that serves breakfast.
RED LODGE
The Carbon County Steakhouse on Main Street has a wonderful dining atmosphere and cuisine is first-rate. A large wine selection is served. This is upscale dining Red Lodge, so don't look at prices on the menu.
Locals and visitors enjoy tasty cuisine at the Carbon Fork Restaurant in downtown Red Lodge. Try their Huckleberry ice cream for dessert, so good. There's a lot to love at the Carbon Fork.  Foster & Logan's Pub & Grill on Main Street is another spot to have a good meal. A special at Foster and Logan's is a Folo's Dog, a 1/4 pound all beef hot dog with extras for only $7.95.  Bogart's serves a variety of Mexican food.
For a tradition pub atmosphere, go to the Snag Bar. A beer at the Snag goes for $3.00, a burger $8.00. A pool table and a few video gaming machine attract some visitors to the Snag Bar.
The Rock Creek Resort (1-800-667-1119) is located a few miles south of Red Lodge on U.S. Highway 212. The nearby Old Piney Dell Restaurant and Bar is a favorite dining spot for locals. The restaurant has a very rustic  setting, along the banks of Rock Creek.

Absaroka Mountain, Mont.
© 2021 John Sandy