RED LODGE POST
What is the weather like in Glacier National Park? How crowded is the park? And when do visitors arrive? Savvy visitors usually  weigh all three factors when timing their visit to Glacier. Data in the charts below is useful for planning a trip to Glacier.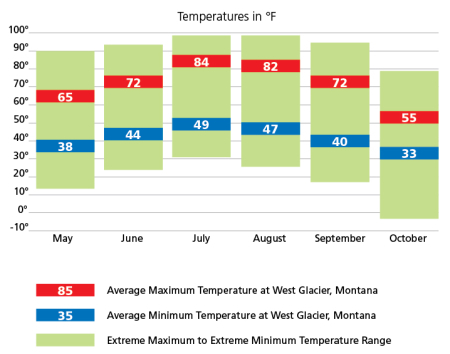 Data in this chart is for West Glacier, Montana, at 3,200 feet in elevation. This weather station is at the west entrance to Glacier National Park. At Logan Pass, along Going-to-the-Sun Road, inside the park, the elevation is 6,647 feet. Expect much cooler temperatures at Logan Pass, as temperatures decrease with increasing elevation.
During July and August, the weather is very pleasant with comfortable, warm, daytime highs and cool nights. As can be expected for northerly latitudes, average daytime highs are still nice in June and September. In May and October, however, it's time to wear cold weather clothing.
With average low temperatures in the 40s or less in every month, extra clothing is always a necessity.
Most visitors to the park arrive from May through September.  The peak months are July and August, with somewhat fewer visitors in June and September. Earlier and later in the season, the number of visitors is low. The park's opening and closing, plus the weather are big factors in the number of visitors going to the park. And, of course, mid-summer is when many Americans and others hit the trail.
During the peak tourist season, Glacier National Park gets very crowded. Only one road, Going-to-the-Sun Road, runs through the Park. In a word, think traffic. It's not uncommon for NPS to report that Apgar parking lot near Lake McDonald is full early in the day. NPS on its Website says, "Expect crowding and congestion in many areas of the park. Plan accordingly."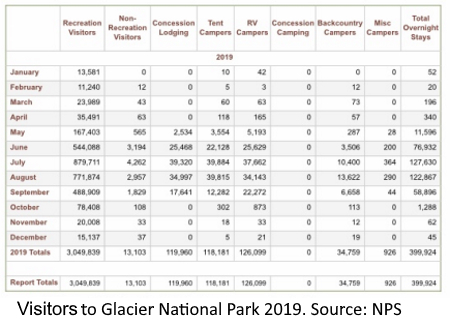 Data in the chart show visitors to Glacier National Park in 2019. The table provides statistics for categories of use and by month. Annual totals for each category of use:
Recreation visitors (3,049,839)
Non-recreation visitors (13,103)
Concession lodging (119,960)
Tent campers (118,181)
RV campers (126,099)
Concession camping (0)
Backcountry campers (34,759)
Misc. campers (926)
Total overnight stays (399,924)
Many visitors choose to stays in tents or RVs. This arrangement puts visitors close to nature. The National Park Service provides wonderful campgrounds to accommodate. Tents and RVs are  expected as regular lodging is limited inside the park. And the lodging, such as Many Glacier Hotel and Lake McDonald Lodge, may be too expensive for some family budgets.
Some Facts About Glacier (source: NPS)
number of glaciers: 26
number of lakes: 762
number of species of mammals: 71
number of species of birds: 276
number of mountains: 175
number of class A campgrounds: 8; 943 sites
number of class B campgrounds: 5; 61 sites
number of backcountry campgrounds: 65; 208 sites
number of trails: 151; total length, 745.6 miles
Travel Tip:
As for size of Glacier National Park, measured on Google Earth,  east-west distance is about 35 miles; from north to south, distance is about 60 miles.

Absaroka Mountain, Mont.
© 2021 John Sandy