Glacier National Park
With thousands of people visiting Glacier National Park each day during the peak season, July and August, transportation in the park can be a real challenge. Basically, visitors have three options for motorized transportation: free Shuttle Buses (courtesy NPS); the iconic Red Buses (for a fee); or by private vehicle.
Each option comes with pros and cons. With the free Shuttle Buses, riders can sit back and enjoy the scenery. The buses make multiple stops traveling up and down Going-to-the-Sun Road. Shuttle Buses add to your enjoyment with interpretive and educational materials at shuttle stops. On the downside, the free Shuttle Buses are almost always crowded. And people often to wait in line to catch a ride. On Shuttle Buses, it takes a full day to get from one side of the park to the other and return to the point of departure. The Shuttle Buses operate July through Labor Day.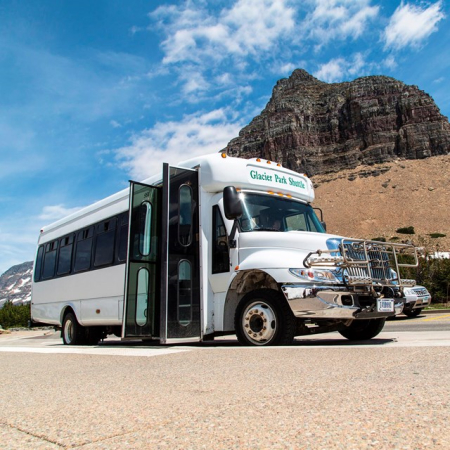 The Red Buses are few, only 33 operate in the Park. With open, roll-back, tops, the Red Buses are an ideal way to view the wildlife and magnificent scenery in the Park. The Red Buses depart from both the east and west sides of the Park. The ride is round trip and departure and return are to the same location.  As with the Shuttle Buses, the Red Buses fill up fast, with a seating limit of 17 on each bus. Because demand is high, it may be difficult to snag a ride on the Red Buses.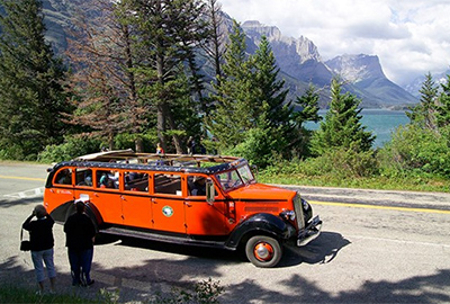 Both the Shuttle Buses and Red Buses leave the stress of driving on a narrow, winding, mountain road to others. This may be important, especially for older visitors as well as many others.
Private transportation may be the best option. With private transportation, you can take along plenty of food, beverages, clothing, hiking equipment, binoculars and whatever else suits your needs. In this case, the driver is disadvantaged as full attention to navigating the road is a must. And parking can be a real hassle. However, at stops along the way, outlooks/pull-outs, you can take as much time as wanted to view wildlife and scenery.
Officials at Glacier acknowledge that the Park is a busy place. Transportation inside the Park, regardless of the option you choose, can be difficult. The best advice, choose transportation wisely and, above all, allow lots of time to make sure you can see and do the things you came for and, at the same time, get to where you want to go, safely and conveniently.
Due to the Pandemic, Shuttle Bus and Red Bus services are cancelled for the 2020 season. Check the Park's Website before you go.

Absaroka Mountain, Mont.
© 2021 John Sandy