Glacier National Park
Glacier National Park boasts over 700 miles of trails. A hiker's paradise to be sure. No matter the trail, magnificent scenery can be seen in every direction.
Five nature trails are very popular:
Forest and Fire Nature Trail
Hidden Lake
Running Eagle Falls
Trail of the Cedars
Swiftcurrent Nature Trail
Trails often mentioned by hiking pros:
Iceberg Lake
Grinnell Glacier
Highline Trail
Cracker Lake
Easy to hike trails:
Avalanche Lake
Upper McDonald Creek
Bullhead Lake
Baring Falls
St. Mary Falls
The National Park Service wants hikers to have a fun time and an enjoyable experience when hiking in the park.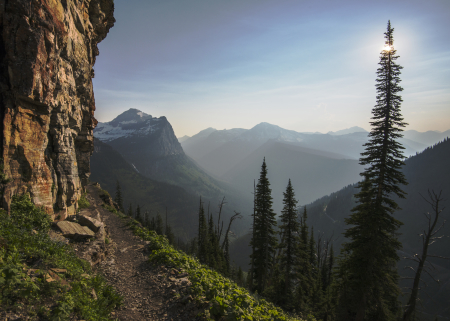 Some good advice is offered by the National Park Service and hiking professionals:
Always take along bear spray
Let someone know where you are going (including route), description of what clothing you're wearing, when you plan to return, and a description of your car (including where parked and license plate number)
Don't count on cell phone service in the park
Be prepared to help yourself as help from others may be a long time coming
Get familiar with the hazards associated with hiking
Learn about the trail(s) you will be hiking on before you go
If available carry a map of the trail(s)
Always check the weather before heading out on a trail
Stay close together with your hiking group
Above all always hike with a group for safety
Some good advice to prepare yourself for hiking:
Wear suitable hiking shoes
Take along first-aid supplies
Carry plenty of water
Pack some food and ready-to-eat snacks
Physically condition yourself for walking in rough, often steep, terrain
Tackle only trails that match your abilities and condition
Be prepared for changes in weather conditions
A light rain jacket and suitable clothing (think layers) are essential
Take along sunscreen, a hat, sunglasses, and insect repellent
Carry a sturdy water-proof backpack
There are many challenges in hiking Glacier as there would be in any mountainous area. It's unlike a stroll in a city park. But the rewards that come with hiking Glacier are well worth the effort. If you plan to hike on other than easy and nature trails, it is a good idea to watch a YouTube video of the trail you want to hike so that you know what to expect.
The publishing world has many guides for happy and successful hiking. Read one.
Consider:
Day Hikes of Glacier National Park Map-Guide by Jake Bramante
Top Trails: Glacier National Park by Jean Arthur
Day Hiking: Glacier National park & Western Montana, by Aaron Theisen
Excellent trail maps by the National Park Service are online.
A Web site ALLTRAILS.com is very useful too.
The authors of Hiking in Glacier have published a very good online guide to 65 trails in Glacier. They did some sifting and came up with a list of the 10 best trails in the park.
If you'd like a guide to take you out on the trail contact Glacier Guides.   They have experienced guides and much knowledge of Glacier trails.
Another trail map: Glacier and Waterton Lakes National Parks (National Geographic Trails).

Absaroka Mountain, Mont.
© 2021 John Sandy