Glacier National Park
Do you want to enjoy travel lodging in the northern Rockies as it was more than 100 years back in time? You can at Lake McDonald Lodge in Glacier National Park. The Lodge was very upscale when it opened in 1914, a few years after Glacier National Park was created in 1910. In the present day, Lake McDonald Lodge still offers visitors a unique and special lodging experience.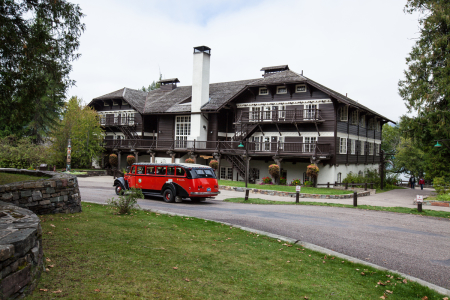 Lake McDonald Lodge is a complete package: Guests experience a page from history in a beautiful wilderness setting, while enjoying the normal amenities of travel. The Lodge faces Lake McDonald, a story-book glacial lake. Mountains are a prominent part of the landscape near the Lodge. The Lodge, lake, and surrounding alpine environment are nothing short of spectacular.
The Lodge was designed in Swiss-style architecture common to structures found in the Alps of Europe. The Lodge features a huge lobby which rises three stories, nearly to the top of the building. A massive stone fireplace is a focal point in the lobby. Adding to the Lodge's historical appeal, many furnishings from when the Lodge was first built remain for visitors to awe over.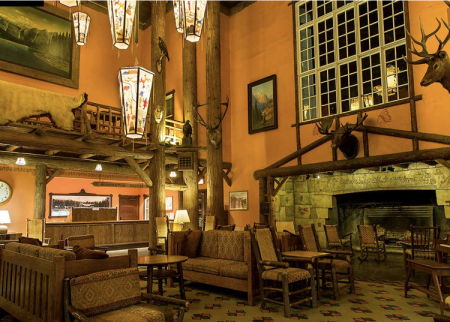 Lake McDonald Lodge has 82 rooms for guests, many in the main Lodge, a few in nearby cabins and two other buildings, Cobb House and Snyder Hall. Rooms inside the main lodge have a rustic vibe even while retaining many comforts for guests to enjoy.
The Lodge offers three dining options: Jammer Joe's Grill and Pizzeria; Lucke's Lounge; and Russell's Fireside Dining Room. Breakfast, lunch and dinner are served on premises. And visitors can order beer, wines, and cocktails. An Elk Burger, with grilled mushrooms, swiss, lettuce, tomato, onion, goes for $12.95. Huckleberry ice cream is a special delight on the menu.
The Lodge has a General Store to pick up a few supplies. In the Lodge's Gift Store, visitors can buy niffy gifts, some crafted by Montana artisans, and cool souvenirs.
Lake McDonald Lodge is owned by the United States federal government. The Lodge is, at present, assigned to Glacier National Park Lodges to operate as part of a concessions contract.
Lake McDonald Lodge is located on Going-to-the-Sun Road about 10 miles inside the west entrance of Glacier National Park, not far from the small village of West Glacier, Montana. A classic for sure, Lake McDonald Lodge!

Absaroka Mountain, Mont.
© 2021 John Sandy