Glacier National Park
Many Glacier Campground is a favorite of many folks who like to stay close to nature in Glacier National Park. The setting is unrivaled in nature with high mountain peaks in view from inside the campground. Swiftcurrent Creek and Lake are nearby.
Many Glacier Campground is located on the east side of the park, along Many Glacier Road which runs east to west inside the park and is a continuation of Glacier Route 3 from near the tiny village of Babb, Montana. Elevation at the campground is about 4,500 feet, so after sunset it can get cool outside.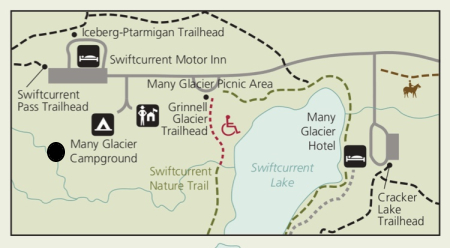 The area around the campground is heavily forested. Large lodgepole pine, Douglas fir, quaking aspen, and other vegetation blanket the landscape. Wildlife including bear, bighorn sheep, and moose live in the mountains near the campground.
Space is available for tents and RVs: 109 sites. The campground has potable water, restroom facilities, and bear proof food lockers. Each campsite has a picnic table.
This campground is a good stop for hikers, since Grinnell Glacier, Iceberg-Ptarmigan, Swiftcurrent Pass, and Cracker Lake Trailheads are nearby. Swiftcurrent Nature Trail in this area is an outdoorsy delight.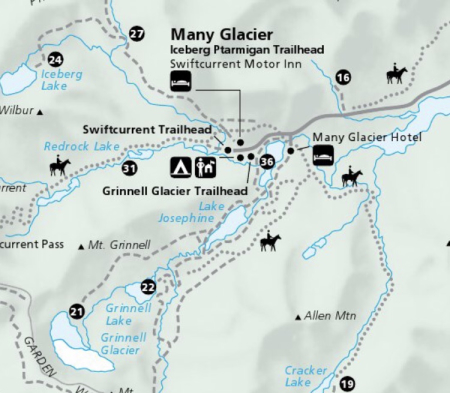 For services, Swiftcurrent Motor Inn is a short distance from the campground. The Inn has a restaurant, some groceries and shower facilities (for a fee). More services are available in the town of Babb, about 12 miles east of the campground, outside the east entrance to the park. Babb has general store, gas station, general store, restaurants, and a U.S. Post Office.
Check for details about the Many Glacier Campground on the park's Website. Notice: NPS says Many Glacier Campground is closed for the 2020 season.
Campgrounds in Glacier National Park have regulations on length of stay and the types of RVs allowed. Other rules for using the park's campgrounds must be followed, as well.
In addition to Many Glacier Campground, other popular campgrounds in Glacier are at Apgar (west side); Avalanche (west of Continental Divide); and St. Mary's (east side). All three campgrounds are along Going-to-the-Sun Road inside the park.
Most campgrounds in the park are first-come, first-served, signed up for at entrances to the park. For some campgrounds, however, advanced reservations may be allowed. Check the park's Website.

Absaroka Mountain, Mont.
© 2021 John Sandy