RED LODGE POST
Billings (pop. 109,550) is called Montana's Trailhead. From Billings, travelers can easily reach many destinations in south-central Montana and the Bighorn Basin in northwest Wyoming. The northeast entrance to Yellowstone National park is a short drive from Billings.
One major interstate highway, IH 94, connects Billings with points to the east including Bismarck and Minneapolis. A second interstate highway, IH 25, connects Billings with cities in central Wyoming and south to Denver.  Going west from Billings yet another interstate highway, IH 90, connects with Missoula, Spokane, and Seattle. Many flights arrive at Billings Logan International Airport each day.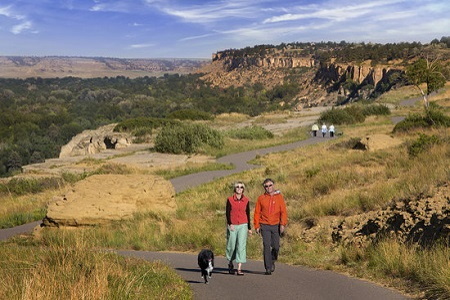 Billings is a major trade, medical, and entertainment center. And the city is a shopping hub for a huge geographic area. Great dining choices here, even yummy German cuisine at the Oktoberfest German Restaurant in west Billings.
Billings offers plenty of opportunities for outdoor activities, and major attractions are nearby. At the top of the list are the Absaroka-Beartooth Wilderness Area southwest of Billings and, for history buffs, the Little Bighorn Battlefield National Monument located a few miles southeast of Billings. Visitors to Billings often stop by Zoo Montana to learn about and experience nature, without having to take a trip into the wild.
For extra nice lodging at reasonable prices, try the Riversage Billings Inn or the Hilltop Inn by Riversage.
Read more about  Billings and the Yellowstone region.

Absaroka Mountain, Mont.
© 2021 John Sandy