RED LODGE POST
Bozeman (pop.48,532) is a small city with a big city attitude. The city sort of feels like it would fit nicely anywhere in the Rocky Mountain region.  Say as a neighboring city to Steamboat Springs, Colorado. Main Street in the downtown area is always busy.  A beehive for sure.
From Bozeman, travelers can easily reach many popular vacation hot spots in southwest Montana. The north entrance to Yellowstone, near the small town of Gardiner, is south of Livingston on U.S. Highway 89.  And the west entrance to Yellowstone, near the small town of West Yellowstone, is directly south of Bozeman on U.S. Highway 191.
One major interstate highway, IH 94, going east, connects Bozeman with Billings and states in the Midwest. Going west from Bozeman, IH 94 leads to Missoula, Spokane and Seattle. Many flights arrive daily at Bozeman Yellowstone International Airport.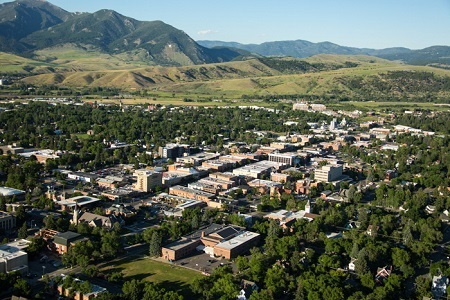 Bozeman is an education center and a vacation hub. Montana State University is headquartered in Bozeman. The city has limited shopping in a traditional way. But many stores supply visitors with all sorts of goods for having fun in the outdoors.
Is Bozeman a party town? Maybe. Many bars and good restaurants are ready to serve visitors. Some great dining choices here, even extra nice places like Plonk Wine which, you may have guessed, has imported wines from Europe that can set you back $400 a bottle.
Bozeman offers plenty of opportunities for outdoor activities. At the top of the list is fly-fishing for trout in the Gallatin and Madison Rivers. During winter months, many ski bums head for Bridger Bowl near Bozeman. Hiking, bicycling, and whitewater rafting are other major activities enjoyed by many outdoor enthusiasts.
Two attractions standout in the Bozeman, leaving aside Yellowstone. The Museum of the Rockies with its splendid dinosaur collection is a must see. If wildlife is of interest, Montana Grizzly Encounter is a few miles east of Bozeman.
Lots of traffic on Bozeman streets at most hours of the day. Parking spots are hard to find especially on Main Street downtown. City leaders have noticed.  Parking lots on streets to  the north and south of Main Street are ready to serve drivers.
Bozeman tends to cater to visitors who have fatter wallets than most. But some of the outdoors stuff is FREE.
Red more about Bozeman and the Wonderland region.

Absaroka Mountain, Mont.
© 2021 John Sandy