RED LODGE POST
Montana's small towns are not of the cookie-cutter variety so often found in other states. Why is this? Simply put, most small towns in Montana have retained their heritage and historical roots. Urbanization and rapid population growth have not arrived, at least not yet.
Livingston (pop. 7,784) fits this picture very nicely. Someone who left Livingston for greener pastures 50 years ago and came back to visit in 2020 would feel right at home. A good thing in a fast-paced world for sure.
It is worth contrasting Livingston with Bozeman, a city a few miles to the west on IH 90. So much about Bozeman is fast paced, while Livingston is more about take your time and enjoy life.
In history, Livingston was a hub for the railroads as they pushed rails to the West Coast. Due to industrial activity associated with the railroads, the city flourished. The city was also a destination city for many who wanted to experience the wonders of Yellowstone. Not much has changed, but the railroad industry has moved on.
Many beautiful buildings were built in the downtown area in the early 1900s, and they remain today, used for commerce and cultural activities. Go to the Murray Hotel for starters. The Murray was built in 1904. The building and its amenities retain a historical flavor, from the time when first built. The public library in Livingston is a Carnegie Library. Check it out.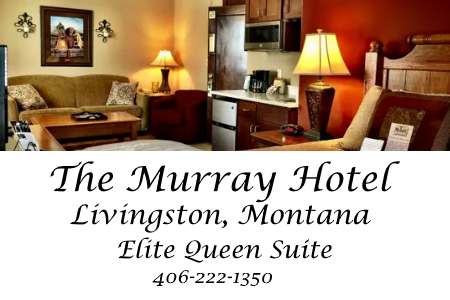 Livingston is located in the upper Yellowstone Valley. Yellowstone National Park is 56 miles south of Livingston on U.S. Highway 89. The wild and pristine Yellowstone River flows near the city. The Absaroka Mountains tower over Main Street looking to the south of the downtown. A picture postcard setting for sure.
Livingstone is proud of its rich history. The artifacts and exhibits housed in the Yellowstone Gateway Museum showcase and tell the story of the city's rich industrial, ranching, and cultural beginnings. Learn about Native Americans, Lewis & Clark, and the pioneers. This museum is a genuine treasure.
Livingston is not overrun by chain hotels and restaurants. In Livingston, visitors experience homegrown businesses, lodging, art galleries and small shops such as the Elk River Books. Dan Bailey's Fly Shop is a first stop for many, even if wading in the trout-filled Yellowstone near town is not of interest.
For upscale dining, go to Second Street Bistro in the Murray Hotel. Beef, chicken, lamb, and produce are locally sourced, says the manager of the restaurant. On the menu: Bistro sirloin and fries pan-seared Yellowstone grasslands flat-iron, herbed french fries, red wine demi pan sauce, whole grain dijon mustard. $28. Gil's Goods is another eatery adjoining the Murray. Great breakfasts, pizzas, and sandwiches served at Gil's.
Livingston ranks high among the many small towns in Montana. Enjoy!
Read more about the Yellowstone region.

Absaroka Mountain, Mont.
© 2021 John Sandy