Travel planning is half the fun of being there. This Web site is packed with information to get you started.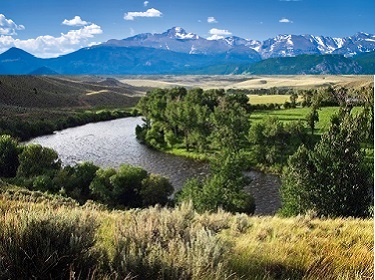 Major Cities and Towns
Major cities: •Billings, pop. 110,323 •Missoula, pop. 72,364 •Bozeman, pop. 45,250 •Helena, pop. 31,169 •Great Falls, pop. 59,178 •Butte, pop. 34,553
•Glendive, pop. 5,332 •Kalispell, pop. 22,761 •Miles City, pop. 8,647 •Lewistown, pop. 5,870 •Havre, pop. 9.846 •Dillon, pop. 4,257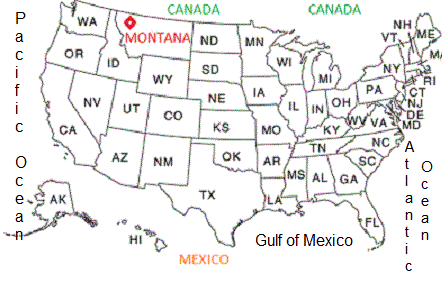 Highways
When traveling, you may want to check on road conditions. For information about road conditions, road closures and more dial 511 on your phone. Another choice is to simply call 800-226-7623.
"Montana's curvy, mountainous roads and weather—which can change quickly even during summer months—require drivers to be alert to conditions at all times and to adjust speeds accordingly," warns the the DOJ Web site. Great advice!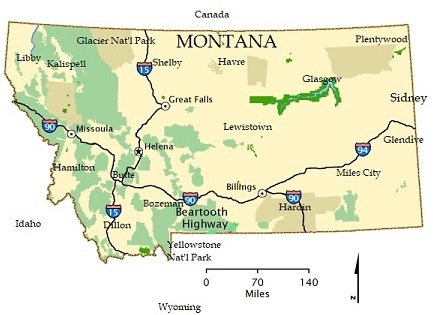 Motoring is FUN! The speed limit is posted on the DOJ Web site. Traffic is light on many highways, so there's plenty of opportunity to see and enjoy the spectacular scenery very common in every travel region.
Travel tip: How far is Missoula? Montana is a very big state and distances between major cities can be as much as 100 miles or more. Plan ahead with the DOT's distance calculator.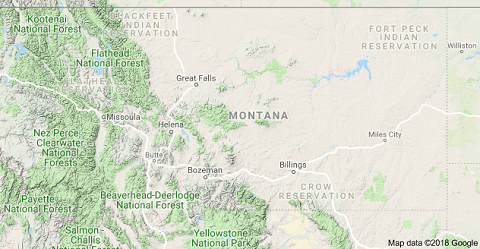 Airports
Some folks may choose to fly. Modern airports are found in major cities. Billings (BIL), Bozeman (BZN), Missoula (MSO), Helena (HLN), Kalispell (FCA), Butte (BTM), and Great Falls (GTF) airports are especially nice and all are served by major airlines and conveniently located near downtown areas. Booking flights on Expedia or other travel Web site is easy.
Bus Lines
Bus transportation is available for many cities. Check out Greyhound or Jefferson Lines.  Another choice, travel by train on AMTRAK'S Empire Builder.
Try MTsearch
Many Montana businesses and organizations showcase their services and products on Web sites. MTsearch was launched to help find these local Web sites. MTsearch covers things to do, attractions, lodging, guest ranches, restaurants, parks, museums, and more. Some local Web sites also offer beautiful art, western wear, and special gifts. MTsearch uncovers Web sites not easily found in regular Bing and Google searches. Note, national chain businesses are generally not included in this database, so searching other sources may be helpful too.
To find top eateries in Helena, for example, enter: Helena restaurants; or to find special lodging, enter: cabins

Consider Special Montana Places to Stay
⇒ Airbnb
⇒ VRBO
Visitor Centers
Visitor centers provide lots of information on things to do and see in Montana. The Billings Visitor Information Center is at 815 South 27th Street; The Bozeman Convention and Visitors Bureau is at 2000 Commerce Way; The Helena Convention and Visitors Bureau is at 225 North Cruse Avenue; the Missoula Convention and Visitors Bureau is at 101 East Main Street; the Kalispell Convention and Visitors Bureau is at 15 Depot Park; and the Great Falls Convention an Visitors Bureau is at 15 Overlook Drive. Many smaller cities also have visitor centers.
For more information, the state Office of Tourism can be reached at P.O. Box 200553, Helena, MT 59620, or call 800-847-4868.
Some usefull hashtags: #solotravel #Montana #Wyoming #MontanaTraveler #guestranch  #flyfishing #hotels #lodging #attractions #museums #restaurants #Yellowstone #Glacier #Billings #Bozeman #Missoula #Helena #Kalispell #travel #maps #vacation
https://www.MontanaTraveler.com
Copyright © 2019 John Sandy