RED LODGE POST
Today grizzly bears thrive in the Greater Yellowstone Ecosystem (GYE). More than 700 grizzlies live in the GYE. Most of these bears are found in Yellowstone National Park.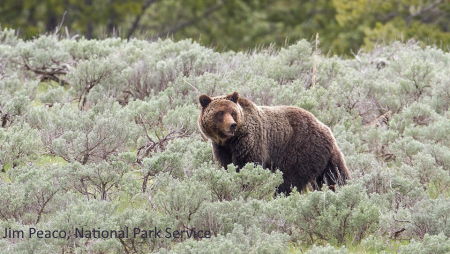 More grizzly bears Grizzly bears live in wilderness areas of northwest Montana. By some estimates 300 grizzly bears live in Glacier National Park.
E. W. Nelson, in his book on the Wild Animals of North America, wrote that with the arrival of white men grizzlies became very shy and even the slightest unusual noise would cause a grizzly bear to run away. Nelson warned, however, a grizzly bear should still be considered dangerous.
Over many years, several people have been injured during grizzly bear encounters in the wild. In one incident two young girls were killed by grizzlies on the night of August 13, 1967 in Glacier National Park. In 2016, a mountain biker was killed by a grizzly as he rode on a trail in Glacier National Park.
You can see grizzly bears in captivity at Grizzly & Wolf  Discovery Center in the town of West Yellowstone and at Montana Grizzly Encounter near Bozeman.

Absaroka Mountain, Mont.
© 2021 John Sandy