Planning for a vacation is half the fun of being there. Why take a vacation in Montana? To begin with, think about what best suits your tastes and lifestyle.
Consider a few questions:
Is your interest in fun and ready gratification? Try outdoor activities such as boating, fishing, horseback riding, and white-water rafting.
Are you eager to learn and discover new worlds? Visit museums, state parks, zoos, ghost towns, and historical sites.
Are you looking for things which bring pure pleasure?  Exquisite lodging, premium resorts, craft breweries, and fine dining come to mind.
Do you seek mental experiences and spiritual satisfaction?  Cultural events, concerts, art museums, national parks, and viewing wildlife and nature are very satisfying.
Do you want to develop your physical well-being? Cycling, hiking, hot springs, and skiing are examples of favorite activities in the Treasure State.
 Is shopping for the unique and special on your mind? Look for custom-made western boot and cowboy hat stores, made-in-Montana gift shops, art galleries. and antiques shops.
 Do you enjoy community celebrations for families? If so, plan your vacation around local fairs, festivals, rodeos, and other special events.
Of course, most people have a wide range of thoughts about how to spend vacation time. Still, before going, if you dig a little deeper in your interests and motivations, a better and more fulfilling  vacation will surely happen.
Top destinations

Millions of tourists visit Montana each and every year. Most likely come to experience Yellowstone and Glacier National Parks. Yellowstone and Glacier are spectacular places, offering landscapes and wildlife unrivaled by other parks in the United States. Communities near the parks thrive from the presence of all the tourists. Before embarking on a trip to the parks, visitors should take a little time to learn about the small communities, such as Red Lodge, Livingston, West Yellowstone, Kalispell, and Bozeman, surrounding the parks and find out what they have to offer. These communities are eager and ready to enrich your travel experience in western Montana.
Major Cities and Towns
Montana's cities and small towns are not of the cookie-cutter variety so often found in other states. Why is this? Simply put, most  places in Montana have retained their heritage and historical roots. Urbanization and rapid population growth have not arrived, at least not yet.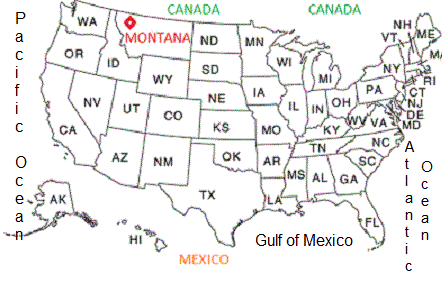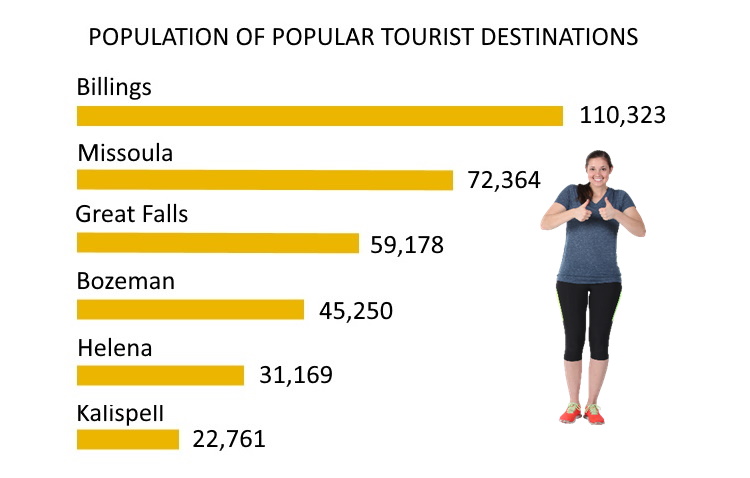 Others:  Glendive, pop. 5,332  •Miles City, pop. 8,647 •Lewistown, pop. 5,870 •Havre, pop. 9.846 •Dillon, pop. 4,257 •Silver Bow County, pop. 34,553
Travel Regions
Montana has five distinctive travel regions. The flavor varies a lot from region to region.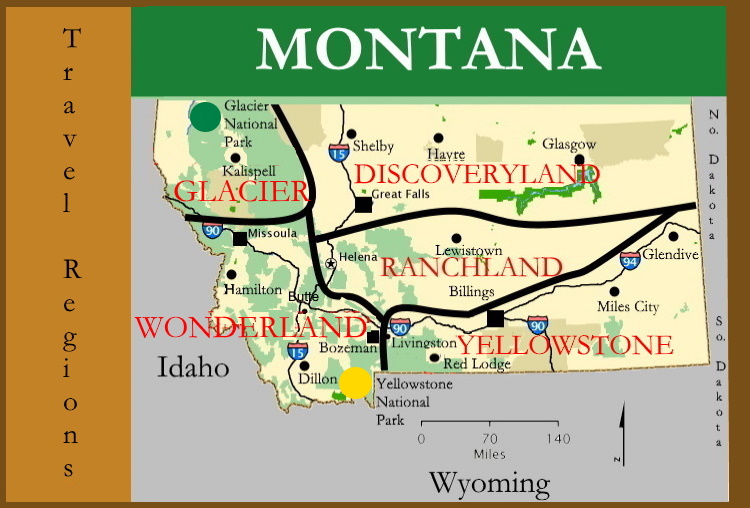 Find things to see and do that fit your interests and tastes. Follow the links below and learn more about Montana's travel regions.
Travel tip
When traveling, you may want to check for information about road conditions, road closures and more. Dial 511 on your phone. Another choice is to simply call 800-226-7623.
"Montana's curvy, mountainous roads and weather—which can change quickly even during summer months—require drivers to be alert to conditions at all times and to adjust speeds accordingly," warns the the DOJ Web site. Great advice!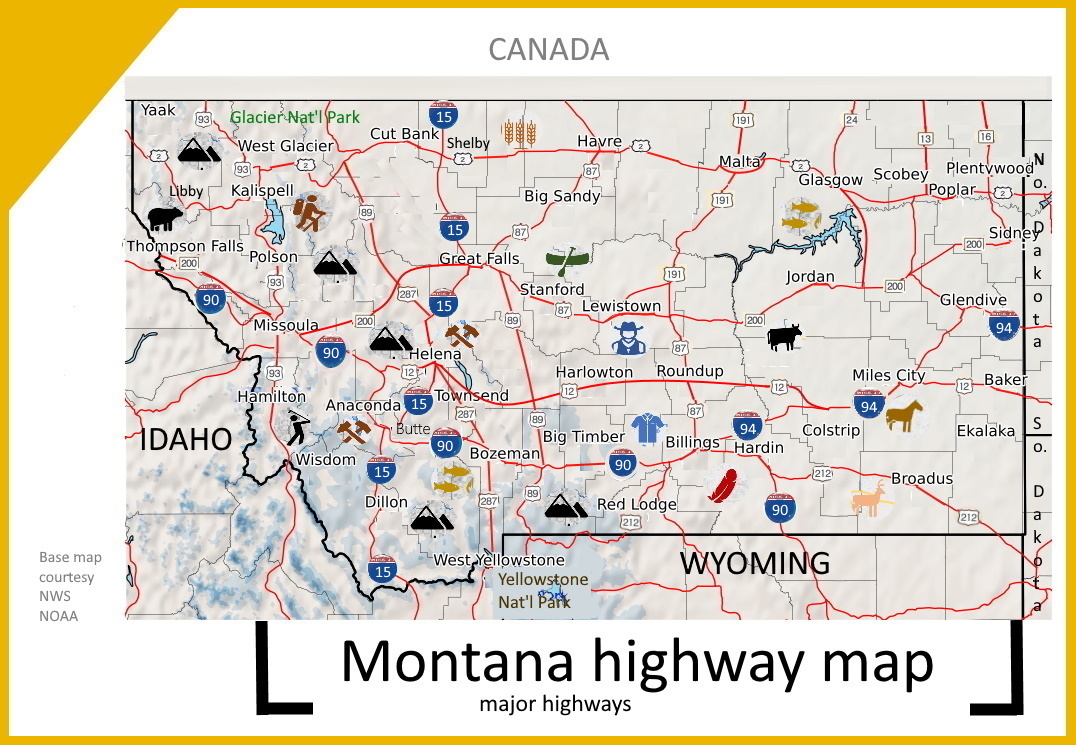 U.S Highway 2 runs east-west along the northern tier of counties over the complete length of the state. Travelers cross Marias Pass (the Continental Divide) at 5,213 feet, a relatively low elevation.  Montana Highway 200 and U.S. Highway 12 follow a east-west path roughly across the center of the state. A southern east-west route, IH-94 and IH-90,  passes though some major cities in the state.
IH-15 is a lightly traveled north-south route in western Montana passing from Idaho in the south to Canada in the north. From Helena north, IH-15 runs near the eastern flank of the Rocky Mountains. U.S. Highway 93, in western Montana, running from Hamilton to Kalispell, is a north-south route as well.  This is a heavily traveled highway and mostly a two-lane road for the full distance.
U.S. Highway 287 connects from West Yellowstone to points north and passes through Bozeman and Helena. This is a heavily traveled highway. U.S. 287 is a handy highway to take when traveling between Yellowstone and Glacier National Parks.
Except for the Interstate Highways, Montana's highways are often difficult to navigate especially in cases where the traffic is heavy or if a route passes through mountainous terrain. Even some of the federal highways appear a bit substandard, engineered and built back in the past century.
Motoring is FUN! The speed limit is posted on the DOJ Web site. Traffic is light on some highways, so there's plenty of opportunity to see and enjoy the spectacular scenery very common in every travel region.
A good map is handy even if you think you know the way. It's also helpful for planning alternate routes which may turn out to be more scenic and less traveled than roads drivers usually take. Plan your trip using the official Montana state highway map. A printed copy of the map can be ordered online here.
Travel tip: Except for the Interstate Highways, Montana's highways are often difficult to navigate especially in cases where the traffic is heavy or if a route passes through mountainous terrain. Even some of the federal highways appear a bit substandard, engineered and built back in the past century.
Distance in Miles Between Major Towns and Cities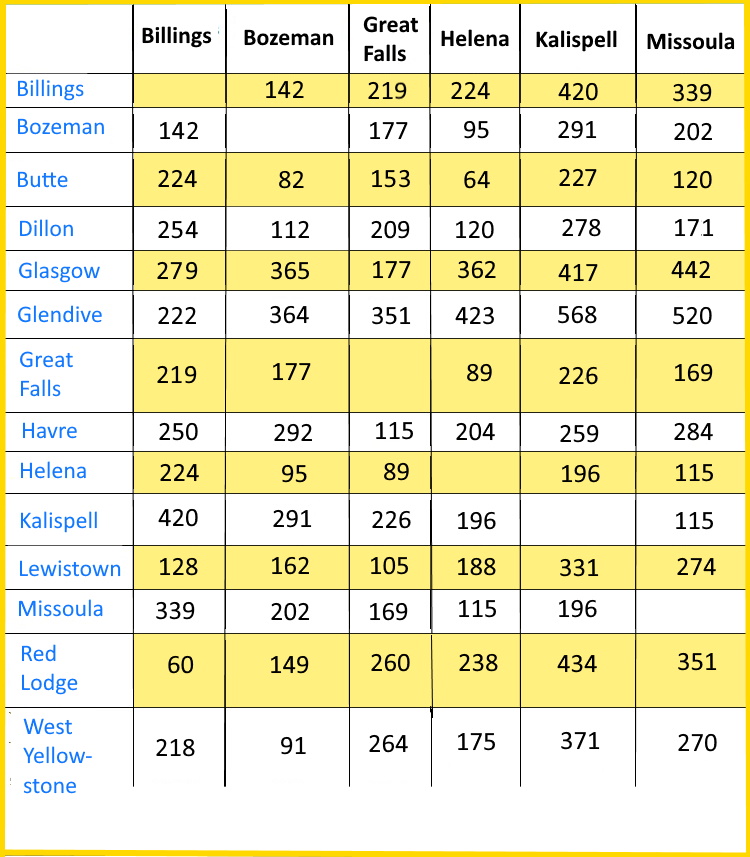 Travel tip How far is Missoula? Montana is a very big state and distances between major cities can be as much as 100 miles or more. Plan ahead.
Airports
Some folks may choose to fly. Modern airports are found in major cities. Billings (BIL), Bozeman (BZN), Missoula (MSO), Helena (HLN), Kalispell (FCA), Butte (BTM), and Great Falls (GTF) airports are especially nice and all are served by major airlines and conveniently located near downtown areas. Booking flights on Expedia or other travel Web site is easy.
How busy are these airports? At some airports, many passengers are buzzing around, at others the pace is slow and laid back. Of the busy sort, Bozeman is tops with 785,706 on boarding, followed by Billings, 463,555 boarding, and Missoula, 455,272 boarding. Data for Kalispell, a gateway town to Glacier National Park, show 356,297 boarding. Great Falls with 177,964 boarding and Helena 118,743 boarding come in on the sleepy side, a good thing if crowds are not of your liking. Remember, most of this passenger traffic comes during the summer months when tourists show up in droves. Figures are for 2019, a normal travel year.
Rentals, Taxi Services.  Shuttle Services.
BILLINGS:  Car rentals at Billings Logan International Airport:  Hertz (406) 248-9151, Alamo (406) 252-7626, Avis (406) 252-8007.  For taxi service call City Cab (406) 252-8700 or Yellow Cab (406) 245-3033.
BOZEMAN:  Car rentals at Bozeman Yellowstone International Airport:  Avis (406) 388-6414, Hertz (406) 388-6939, Alamo (406) 388-6694. North of Yellowstone Shuttle & Charter Service, operating out of Livingston, provides long-distance transportation to several towns in southwest Montana. They offer taxi, shuttle, and private car service to Big Sky, Livingston, Bozeman Yellowstone International Airport, Chico, Gardiner, West Yellowstone, and other locations (406) 580-2286. The company does not provide service in the city of Bozeman. For taxi service in Bozeman, call Greater Valley Taxi (406) 587-6303.
MISSOULA:  Car rentals at the Missoula International Airport:  Avis (406) 549-4711, Hertz (406) 549-9511, Alamo (406) 543-0926.  airport. For taxi service, call Missoula Green Taxi (406) 728-8294 or Yellow Cab of Missoula (406) 543-6644. A Web page by Missoula airport lists shuttle services
HELENA:  Car rentals at the Helena Regional Airport:  Alamo, (406) 442-1765, Avis (406) 442-4440, Hertz, (406) 449-4167. For taxi service, call Capitol Taxi (406) 449-5525.
KALISPELL:  Car rentals at the Glacier Park International Airport in Kalispell:  Avis (406) 257-2727, Hertz (406) 758-2220, Alamo (406) 257-7144. For taxi service in Kalispell, Whitefish, and Columbia Falls call Glacier Taxi (406) 250-3603. Arrow Shuttle also provides ground transportation in the Kalispell area (406) 300-2301.
GREAT FALLS:   Car rentals at the Great Falls International Airport:  Alamo (406) 727-0273, Avis (406) 761-7610, Hertz (406) 761-6641. For taxi service, call Diamond Cab (406) 453-3241.
Bus Lines
Bus transportation is available for many cities. Check out Greyhound or Jefferson Lines. For travelers starting from Salt Lake City, Salt Lake Express (bus service) goes north on IH 15 all the way to Great Falls, with many stops along the way including Dillon, Butte, Helena and other towns.
Another choice, travel by train on AMTRAK'S Empire Builder. The Empire Builder runs east-west across the northern part of the state, with service to towns such as Havre and Whitefish.
Consider Special Montana Places to Stay
Visitor Centers
Visitor centers provide lots of information on things to do and see in Montana. The Billings Visitor Information Center is at 815 South 27th Street; The Bozeman Convention and Visitors Bureau is at 2000 Commerce Way; The Helena Convention and Visitors Bureau is at 225 North Cruse Avenue; the Missoula Convention and Visitors Bureau is at 101 East Main Street; the Kalispell Convention and Visitors Bureau is at 15 Depot Park; and the Great Falls Convention an Visitors Bureau is at 15 Overlook Drive. Many smaller cities also have visitor centers.

Choose a season to visit
Travel opportunities vary with the seasons. Most people come in the summer. Beyond the national parks, cultural events, local celebrations, and museums offered by rural towns and larger cities are big attractions. Hiking, bicycling, skiing, and fly-fishing are popular.
During the winter months, several ski resorts in the western mountains draw many visitors. Since the ski resorts are usually near small towns such as Red Lodge and Whitefish, you don't have to compete as much for space on the slopes as is the case in Vail and Aspen in Colorado.
Montana offers a different kind of experience. The state is unlike other places people normally go when on vacation. First, the outdoors is spectacular and beautiful. Unspoiled landscapes are everywhere. Yellowstone and Glacier National Parks are America's best. Millions visit the parks annually.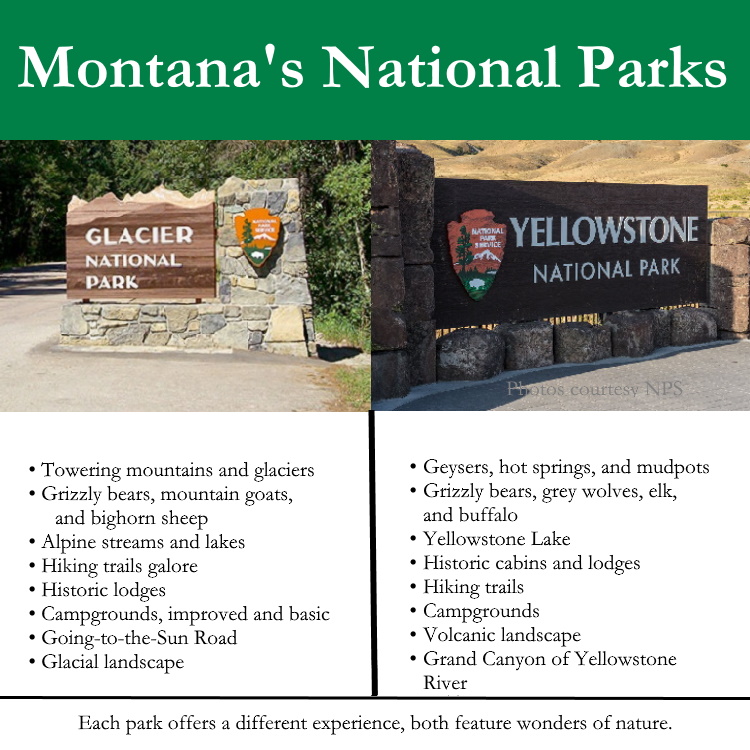 Montana has a very nice autumn season. Days are still warm, even while temperatures drop lower a lot overnight. Large crowds of tourists common during summer months have gone away, back to school or work in distant places. In September and October, there's more freedom to enjoy the lifestyle and pace that's traditional Montana.
View interactive map of Montana. Use + or – to zoon in or zoom out:
Satellite map of Montana:
Prairies, mostly treeless, cover the eastern third of the state. In central Montana, small, isolated mountain ranges dot the prairies. The Rocky Mountains dominate the landscape in western Montana.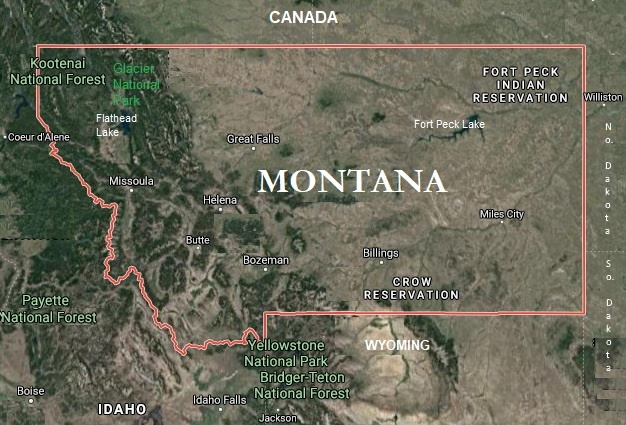 Travel tip: Google Maps is an essential tool for travelers. Google Maps offers a quick and convenient way to find and locate all kinds of services.
Travel tip:  Due to the pandemic, some events may be cancelled. Always check ahead if you plan to attend events in Montana in the next few months. Some may go on as scheduled, others may get scaled back or cancelled.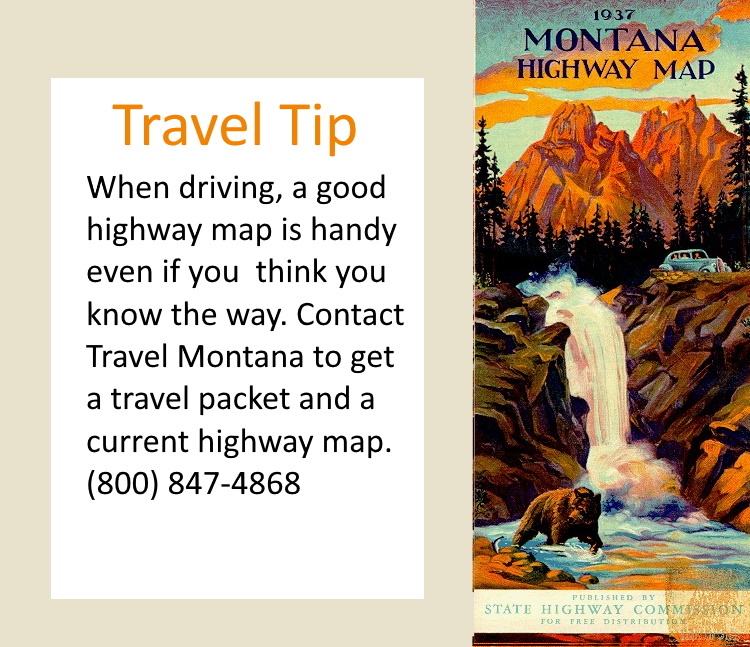 SEARCH ONLY MONTANATRAVELER.COM WEBSITE:
Readers can find specific information/pages/posts in this Website using a special search tool native to WordPress.  Look for the search box that displays on every page:
It is labeled SEARCH MONTANA TRAVELER
ENTER the terms horseback riding to get a feel for how the search engine works.
SEARCH FOR LOCAL, TRAVEL-RELATED, BUSINESSES AND ORGANIZATIONS IN MONTANA:
Many local Montana businesses and organizations showcase travel-related services and products on Websites. MTsearch was developed by MontanaTraveler.com to help find these local Web sites. MTsearch is based on and utilizes the power of Google Custom Search. MTsearch covers things to do, attractions, wildlife, parks, fishing, lodging, guest ranches, restaurants, museums, shopping, campgrounds, and more. This custom search engine includes thousands of local Websites.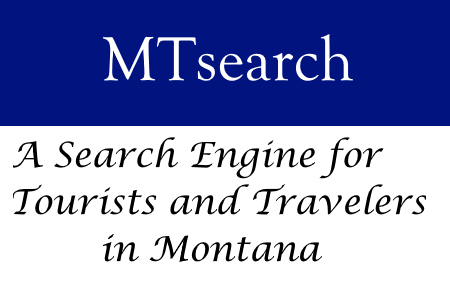 To find top eateries in Helena, for example, enter: Helena restaurants; or to find a special activity, enter: horseback riding
For more information, the state Office of Tourism can be reached at P.O. Box 200553, Helena, MT 59620, or call 800-847-4868.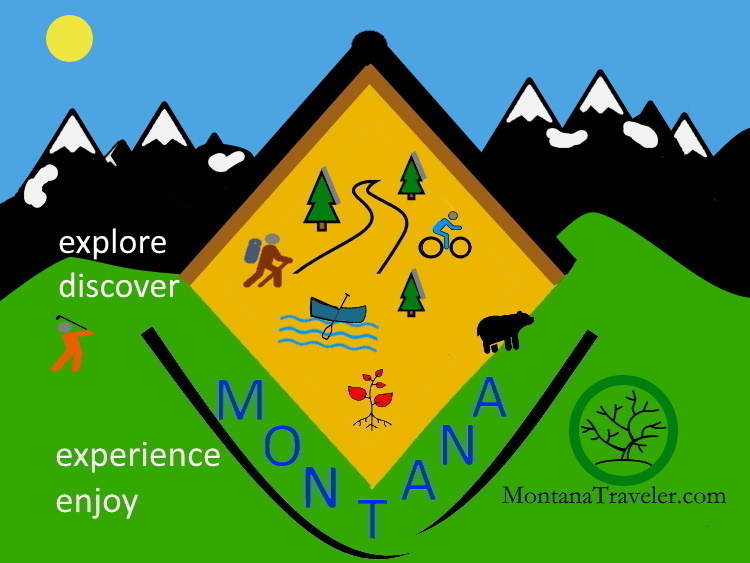 Montana Traveler
Absaroka Mountain, Mont.
© 2022 John Sandy