RED LODGE POST
The city of Kalispell (pop. 23,938) and the region around the city are a major tourist destination in northwest Montana. Glacier National Park, a few miles to the east of Kalispell, draws more than 3,000,000 visitors annually. Many arrive during peak season, June thru September.
It is not only Glacier Park that attracts. Vast wilderness areas near Kalispell offer limitless opportunities for outdoor recreation. Fishing, hiking, and boating to name a few. Outdoor recreation is king in the area around Kalispell.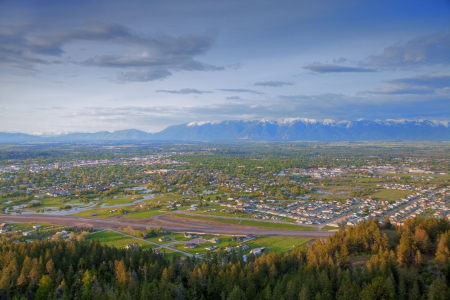 Many tourists arrive in Kalispell at Glacier International Airport. Many others arrive by auto, train, or tour bus. No interstate highways reach Kalispell. Two main U.S. highways connect Kalispell with the rest of Civilization. U.S. Highway 93 runs north-south from the Canadian border to Missoula and U.S. Highway 2 runs east-west connecting Kalispell with Spokane to the west and Havre and other cities to the east.
Many hotels and other types of lodging are available in Kalispell and the surrounding towns and rural areas. Due to the influx of so many visitors, an amazing variety of places to stay can be found here. Cabins, resorts, bed & breakfasts, lodges, and more. As for traditional lodging, the historic Kalispell Grand Hotel may be a better choice than most of the chain hotels in town. The Kalispell Grand offers a continental breakfast, massage studio, and art gallery to make your stay more enjoyable. (406) 755-8100.
Flathead Lake is a few miles south of Kalispell. Fishing and boating on Flathead Lake are a common activity. Five State Parks offer facilities for outdoor activities near the shores of Flathead Lake. Wayfarers/Flathead Lake, close to the village of Bigfork, draws many visitors: Picnicking, fishing, camping, boating, and swimming are a few of the activities allowed at this state park.
A couple of nice attractions are found in the city of Kalispell. The Conrad Mansion Museum, built in 1895, is a window into early pioneer days of Kalispell. Mr. Conrad, a rich businessman, built the house with income from hauling freight and other business activities. The museum features many exhibits and well-manicured gardens enhance beauty of the grounds.
For history buffs, the Northwest Montana History Museum is a must see. The museum showcases the history of early frontier days. A neat glimpse of the old central school in Kalispell is a special attraction in the museum. Artifacts and displays of Native American culture are also interesting.
For upscale dining in Kalispell, try Jagz Fine Dining. A full pound center cut ribeye, char-grilled and topped with bourbon onion sauce goes for $32.95. The Desoto Grill is wildly popular too. The Desoto Grill serves BBQ, sandwiches, desserts, and beer. A smoked chicken sandwich, $12.25. Banana pudding, $4.75. Yum!
Natural beauty is the hallmark of the region around Kalispell. Mountains, pristine lakes, and wild rivers add to the splendor. This part of the country is hard to match anywhere else in the United States. The Visitor Information Center,15 Depot Park in Kalispell, is ready to give good advice and help make your stay more enjoyable. Phone: (888) 888-2308.
Read more about Kalispell and the Wilderness region.

Absaroka Mountain, Mont.
© 2021 John Sandy