RED LODGE POST
Missoula (pop, 74,428) is home to the University of Montana. College towns tend to have a distinctive vibe, different from regular cities. Missoula does not completely fit this picture, since the city and the surrounding towns have some industry, especially related to forestry. And Missoula draws lots of tourists.
One major interstate highway, IH 94 going east, connects Missoula with Billings and states in the Midwest.  Going west from Missoula, IH 94 leads to Spokane and Seattle. Many flights arrive daily at Missoula International Airport. Missoula is far away from other centers of population. It's a drive of 200 miles to Spokane, and Billings is 342 miles to the east.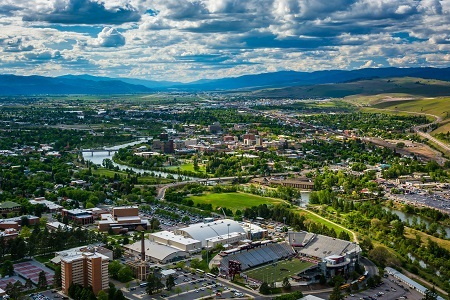 Missoula is a destination for outdoor activities. The Bitterroot River Valley and surrounding mountains south of town offer almost limitless opportunities for hiking, bicycling, fishing, and other outdoor recreation. For beautiful scenery, a drive south of Missoula in the Bitterroot Valley is special. The Bitterroot Mountains, carved by glaciers during the Ice Ages, are spectacular to see and experience.
Missoula has a shopping mall with lots of national chair stores. Beyond that shopping is spread throughout the city. Many stores are owned by local businesses, especially restaurants and shops that cater to needs of people who seek fun in the outdoors.
Since Missoula is mainly an education center and a commercial hub, few big attractions are in the city. The Rocky Mountain Elk Foundation appeals to a few folks. A carousel will surely keep the kids happy if they are traveling along. The downtown has a historical importance, with a few places listed on the National Register of Historic Places.
Given the mix of people who live in and visit Missoula, it is obvious why the city is noted for its excellent dining and drinking places. The Shack just off Higgins Street downtown snags many customers. Bernice's Bakery is always a good choice. Every visitor should stop at Worden's Market and Deli. Many young adults hang out at the Iron Horse Bar & Grill. For upscale dining, try the Pearl Café. The décor at the Pearl has an intimate feeling that appeals to many who pay big bucks for dinner.
Bayern Brewing is more than a place, it's a destination for many. Many beer labels sold here. Dancing Trout, Dump Truck, and Face Plant show this guys have an imagination when choosing names for Bayern Brewing beers. A part of the brewery, Edelweiss Bistro serves food sourced from local farms and ranches. Order a Weisswurst, two poached white sausages served Bier Hall-style with a pretzel and Händlmaier's Sweet Bavarian mustard. $9. Yum!
Read more about  Missoula and the Wonderland region.

Absaroka Mountain, Mont.
© 2021 John Sandy